CMU alumnus returns to share D-Day documentary
---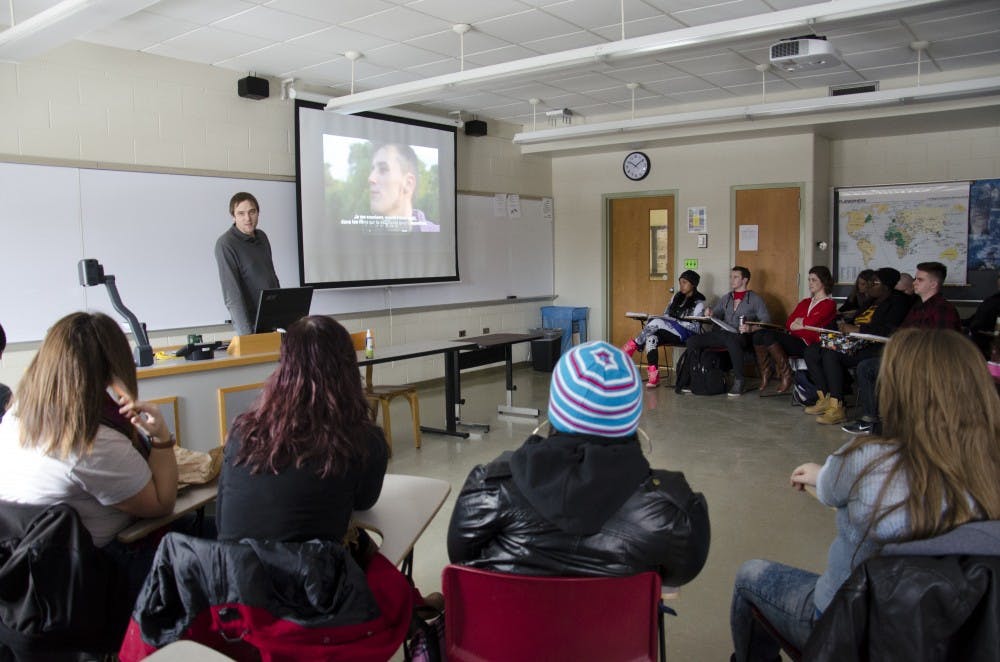 Breton language expert and Central Michigan University alumnus Wayne Mockerman returned to his alma-mater Wednesday to present a documentary he helped produce for the Brittany channel of France Télévisions.
"Hañvezh 44, va dever koun," or "My Duty to Remember," is a documentary covering the 70th anniversary of D-Day commemoration in Normandy. The film captures Mockerman and the film's creator, Jeremy Kostiou, as they interview veterans and inhabitants of the region about their experiences with the war, and the impact left behind in Europe
English: Child, beer, home, food, love, water, school, man, woman, tree
French: Enfant, bière, maison, nourriture, amour, eau, école, homme, femme, arbre
Breton: Bugel, bier, kêr, boued, karantez, dour, skol, paotr, plac'h, gwez
"The war was a very personal thing for many people in Europe," Mockerman said. "For many of us, our grandparents or great grandparents may have fought in the war, but other than that, it doesn't affect us. That's one of the big differences between here and Europe."
The host of Mockerman's presentation, Christi Brooks, associate professor of French, said that difference is one of the reasons she wanted Mockerman to address her class.
"I wanted the students to understand the presence of World War II as it lives on in France today, and how complex this is on an individual and regional level," Brooks said.
The documentary includes interviews with multiple veterans of different forces, a U.S. veteran who had participated in the liberation of the Buchenwald concentration camp, a French resistance fighter, and a Quebec soldier who, according to Mockerman, passed away on Tuesday.
For Katy McIntyre, Gaylord senior, the departure of a generation of people who witnessed historical moments like D-Day is a very emotional one.
"When you have something so poignant as this generation, which went through the Great Depression, WWII, and pivotal moments of our global history leave, as a younger person it makes you think: have I learned enough to carry it on after they're gone?" McIntyre said.
History in a rare language
For French television, Mockerman and Kostiou's documentary was unique in another way: it was spoken in a completely different language than modern French.
The film sought to provide coverage to a historical event in the Breton language, spoken by the people predominantly from the Brittany region of northwestern France.
The language differs from traditional French due in part to its Celtic origins. According to Mockerman, the Bretons arrived in France around 500 A.D., after fleeing Viking invasions from their ancestral homeland in Great Britain.
The language is also rather rare. Mackerman said polls done around 2011-2012 indicating only around 200,000 speakers still speak Breton.
"Out of the 4.5 million people in Brittany, that isn't a lot," Mockerman said.
For French television, that diminutive number plays into how frequently the language is broadcasted. Roughly one hour and thirty-five minutes a week on Sundays are dedicated to television broadcasted in the Breton language.
Mockerman said being able to create a documentary on a historic event in the Breton language symbolizes a way for residents of Brittany to celebrate their unique culture.
From CMU to France
Mockerman grew up on a farm in Alma, MI. After graduating high school in 2000, he enlisted in the U.S. Army, working mainly in reconnaissance. He served tour in Iraq, and also was posted in Germany for a brief period of time.
Mockerman enrolled at CMU after his first tour in the army in 2005, enlisted in the National Guard, and finished both his bachelor's degree in French language and his contract with the Army in 2010.
"Here's a student who—in spite of 2 tours of duty accompanied by some problems encountered in war as a soldier—stuck in there to get his degree at Central finally in 2010," Brooks said. " Wayne is, in short, a success story of our program, a very unique one. I wanted students to see that."
Mockerman is one of twelve students currently enrolled in a master's program at Kellenn, a school which focuses on language education in Quimper, France. After graduation, he intends on teaching elementary level children in language immersion schools, where he will teach students English, French and Breton.
Share:
---