New Venture competitors make last minute preparations
---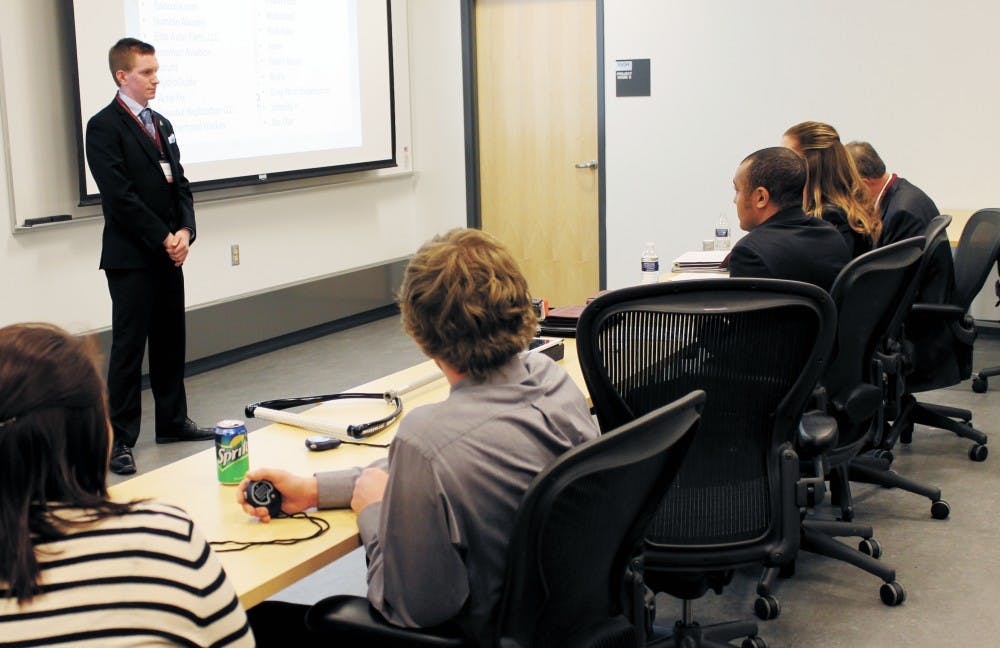 After almost two semesters of preparation, the New Venture Competition competitors are making last minute adjustments to their businesses in hopes of winning the $30,000 prize Friday.
The event registration begins at 8 a.m. and the first round of the competition begins at 9:30 in the Education and Human Services Building.
More than 70 students from 27 teams are expected to compete. While a majority of the competitors are students from the College of Business, a little less than half are majors from other colleges.
Mount Pleasant junior Sam Pina and her teammate, Mount Pleasant senior Joe Pina, of the Revolve Replication team will be spending the remaining days until the competition going over their presentation and making sure all loose ends are tied up by calling different organizations to receive last minute feedback.
"We are both pretty nervous. We are both excited to do it, we are just nervous to bring the idea to new people," Sam said. "We've done it enough to know it's a good idea, but bringing it to new people who don't know anything is a little nerve wracking."
More than $75,000 will be awarded to the winning teams. The first place team will be awarded $30,000 in seed money while additional prizes ranging from $5,000 to $10,000 will be awarded for titles like most impact on Michigan, best technology and best social venture.
"Even if students don't end up starting a business, if they use it during an interview for other jobs, it's the experience they get," said Associate Director of the New Venture Competition Robby Roberts. "It's not always about winning, but the networking. The whole process from August to competition day causes them to learn so much about different markets and their products."
The event has increased in size since starting five years ago, according to Entrepreneur-in-Residence of the competition Bruce Marble. Alumni, businesses, other universities, investors and state-sponsored resource groups have been invited to the event.
"It's become a very meaningful networking event for professionals in the entrepreneurship system," Bruce Marble said.
Share:
---