Dog Central to start serving alcohol
---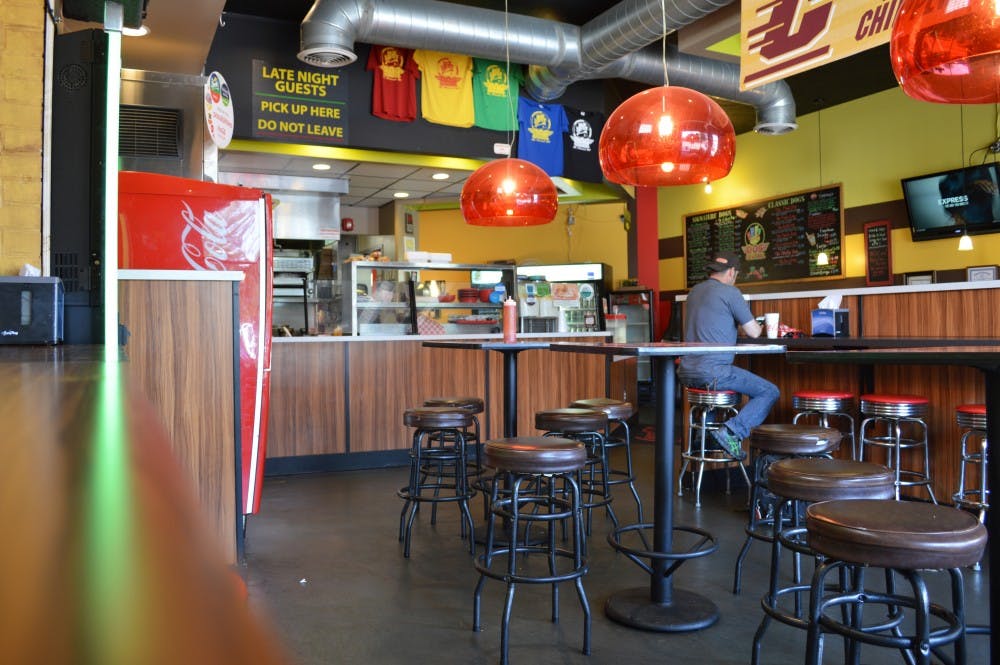 Starting Aug. 31, customers at Dog Central will be able to enjoy beers with their hot dogs.
The downtown restaurant, located at 111 E. Michigan St., will offer 16-ounce canned domestic beers including Budweiser, Pabst Blue Ribbon and Miller Lite. Craft beers from Michigan breweries such as Mountain Town Brewing Company, Founders Brewing Co. and Short's Brewing Company are also available.
Central Michigan University alumnus Paul McFall opened Dog Central in August 2012 and said he never planned on serving alcohol. He changed his mind when he learned about a state policy that provides liquor licenses to businesses that meet specific qualifications.
The Michigan Liquor Control Commission offers Redevelopment Liquor Licenses to businesses located in state recognized downtown development authorities, according to the MLLC. Those businesses must hold a capacity of at least 25 people, spend at least $75,000 rehabilitating the building in the preceding five years and must be in a district that had at least $200,000 in private or public investment in the preceding five years.
"It just made sense," McFall said. "We were always the last night stop — we still will be — but we saw the opportunity and thought it would be a great extension to our concept."
Dog Central will continue to serve food during its normal hours and will stop serving alcohol at 2 a.m., or earlier, depending on how business is affected, McFall said. He added the restaurant will offer outdoor seating in the future and there's a possibility they will begin operating on Sunday.
Cody Gulick, 23, is a regular patron of Dog Central and often visits the restaurant after a night of downtown drinking. The Breckenridge senior is excited about the change, but said he's worried about potential "unruly" behavior.
"I think it will be good in moderation," Gulick said. "I can see issues on a Thursday night when the jukebox playing and alcohol is served, but I think they'll have a handle on it."
McFall said safety is a concern. A doorman will be present outside Dog Central this weekend and the position will likely be permanent. He's also considering a policy barring entry to those under the age of 21 during certain hours.
Olivia Perry, a Royal Oak senior, recently turned 21 and started eating at Dog Central after going to bars downtown. She said alcohol could change the "vibe" of the restaurant for better or worse.
"It depends on how they go about it," Perry said. "This is the place I go to when I'm winding down for the night. I feel it could become a place where you go to keep drinking and that would be a change."
McFall doesn't know how beer will impact Dog Central, but said he's excited to find out.
"We've always let students dictate our vibe and I think this will change how new customers see us," he said. "We won't just be the place with awesome hotdogs. We'll be the place with great food, good beer and a good social atmosphere."
Dog Central will give away a free can koozie for their first 1,000 beer purchases. Thursdays will feature a deal for $1 Keystone Light beers and McFall said more promotions are planned.
Share:
---