Q&A: Bloomfield Hills senior discusses Semester at Sea experience
---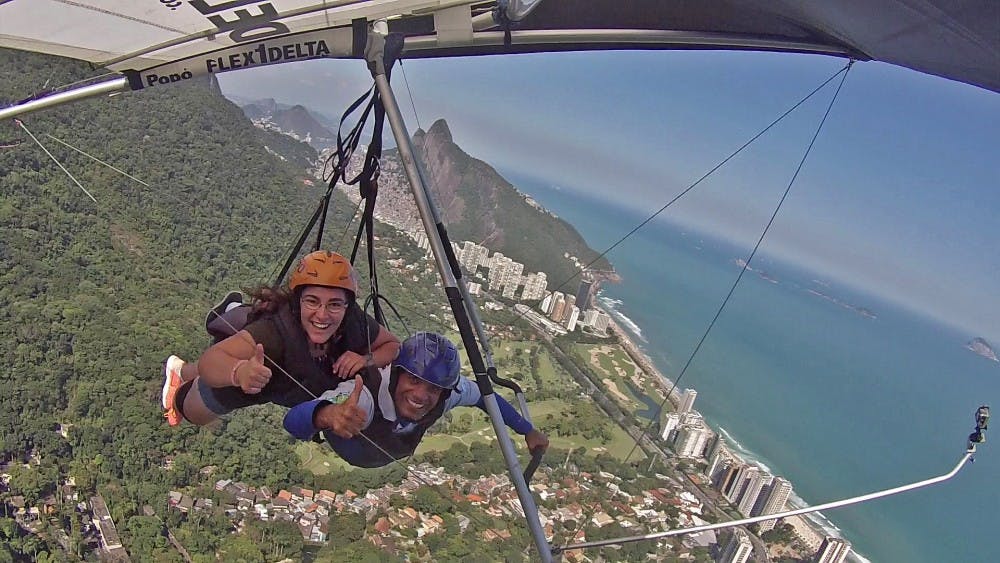 Erin Langan, a Bloomfield Hills senior, spent Fall 2016 taking classes on a ship and traveling the world through Semester at Sea, a multi-country study abroad program. She went to Greece, Italy, Spain, Morocco, Senegal, Brazil, Peru, Ecuador, Trinidad, Tobago and Costa Rica, spending four to six days in each place. This semester, she will study at Kingston University in England. Central Michigan Life sat down with Langan to discuss her experiences during the Semester at Sea program.
What did you do when you stopped in each country during the Semester at Sea program?
I took classes on the ship. I took the history of jazz. We had a field day in Barcelona and we went to a music practice for an orchestra, then saw this guy use his body as an instrument. That was interesting. (The field studies) were something you had to do for each class, just one time, then you could do anything you wanted. There were programs put on by Semester at Sea or you could do independent travel. In Peru, I went to Machu Picchu and stayed in Cusco. I went through Semester at Sea and there was a whole big group of us, then we split into little groups and toured Machu Picchu.
What was your favorite place you traveled to?
I liked every country for something different. I loved Brazil. I went to Rio with a few friends and went hang gliding. That was breathtaking. Seeing Machu Picchu was amazing. I loved all the history in Italy. Every country just really had something that made it unique and I don't know if I had a favorite one.
What classes did you take?
Everyone on the ship – there were about 600 of us – took Global Studies and that was about globalization. We learned about the countries we were going to specifically –the hardships they were having and their history. I took the history of jazz, cultural change, which was about how communities have grown, then I took introduction to poetry.
What did you learn?
I learned how what we do here affects other countries and how what they do affects us, and just how small the world really is. It's huge but everything's so connected. I feel like I grew as a person. Everyone says that but traveling just does that to you. You see things in a new light. Before I feel like I set limits for myself, not meaning to but just unconsciously, but now I really feel like anything you want to do is possible.
Did you travel a lot before doing Semester at Sea?
No. I traveled in the U.S. and I had been on a cruise in the Bahamas, to Bermuda and I've been to Canada but that's it. It was a whole new experience. I had never been to any place I was going to.
What sparked your interest in traveling abroad?
I've just always wanted to. I wanted to see what other cultures are like, learn more about the history of the world and meet people from other places. I just feel like that's a big part of life. For me personally, I want to know what other people are going through. I feel like it expands your horizons. It makes you more well-rounded. I just wanted to see what's out there.
Did you have the opportunity to meet a lot of different people from around the world?
Yeah. Everyone on the ship was from around the country and there were some international students. When we were in the countries, we were able to meet people. I did a homestay in Brazil so I stayed in this woman's house and she was very welcoming, told us about living there and showed us around her town. When we were in Costa Rica, we stayed in an Airbnb and the groundskeeper took us out on a waterfall hike and he told us if we ever come back, just let him know. He was very nice. There are so many nice people all over. When I was in Peru, we went to a village and they showed us how they do their farming and cooking. They prepared a meal for us and we helped them farm. They were small interactions but we were able to see a little bit into their lives.
What was your daily life like on the ship?
Living on a ship is amazing. Everything you need is within two minutes. My room, my classes, food, the gym and the library were all within two minutes. It was a lot of fun. I had a work-study in the audio visual department to help offset the costs so I would do that. Schedules were arranged by A days and B days. You would lose track of what day of the week it was but you always knew if it was A day or B day because that's what was important. On A day, I would have an 8 a.m. class for an hour and 20 minutes then I would have Global Studies with everyone at 9:30 a.m. After that, I would do my work-study until 12:30. For the rest of the day, I would just do homework, hang out and catch up on sleep. B days were pretty similar but I had three classes so I would have my work at 8:30 a.m. then go to my classes and I worked at night. My B days were more spread out and I felt more accomplished. It was very much like a day on campus, just a really small campus in the middle of the ocean.
What was your favorite memory?
Probably all the people I met. I feel like the people really make your experiences great. I met so many amazing people who I still keep in contact with and they just made it so much fun. As far as things I did, I can't say enough about hang gliding. It was just like flying. I ran off the cliff with the guy and then we just flew down to the beach. Seeing Machu Picchu was amazing. It's so tough to pick a favorite.
Was there anything challenging about the experience?
Honestly, for me, I don't think so. I'm pretty easygoing. I didn't really get homesick. I'm close with my family and I would email them but I didn't get homesick because I was still communicating with them. Saying goodbye to each country was difficult because I didn't want to leave.
Why did you decide to study abroad again this semester?
I wanted to branch out. It's my way of making the most of (my experience at CMU). I think England looks like so much fun. I don't speak another language so that was part of the reason. I'm going to Kingston University and it seems like there's so much to do. I picked it because there was a large assortment of classes and the price was right for me.
Is there anything else you'd like to share?
It was the best three and a half months of my life. It kind of feels like a dream but not because it affected me so much so I know it's real. At first the cost might seem limiting but with the right planning, there were so many people on the ship with scholarships. I did a work-study. I feel like that's something people might not know about the program.
Share:
---