CMU experiences growth from teacher and business college in early years to expansion after 125 years
---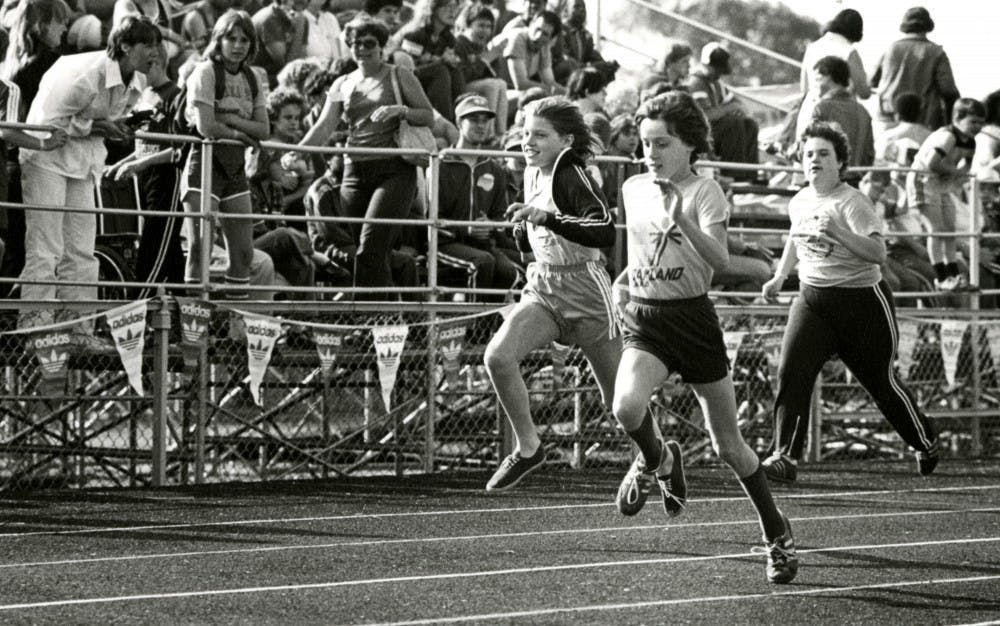 Central Michigan University is celebrating its 125th anniversary this year, kicking off with Wednesday's State of the University Address from university President George Ross.
This anniversary marks 125 years of education in Mount Pleasant. In a casino-town in the middle of Michigan, CMU has expanded from a school focused on business and education into one that is exploring research efforts.
On Wednesday, Jay Martin and Brittany Fremion, faculty in the Department of History, will present "Boundary Voices: Snapshots of the Student Experience at Central Michigan University." It takes place at 7 p.m. in the Park Library Auditorium.
Martin, an associate professor of History and director of the Museum of Cultural and Natural History, and Fremion are presenting their oral history project. They will highlight CMU history using people they have met over time and discuss how current students view CMU.
The university started out as Central Michigan Normal School and Business Institute, according to the History of CMU page on CMU's website. Martin said CMU's started as a business and teacher's college. It was created to offset a growing geographical issue, where people moving into north Michigan needed a place to study.
There was a lack of qualified, certified teachers in rural areas, Martin said. The school was founded as a private endeavor. State support was pursued and maintained to help make it one of the state's primary teacher colleges.
In his research, Martin said because CMU started in a relatively small community, it began to receive the reputation as Michigan's "friendly school" — a place where there is a lot of interaction and personal attention between students and faculty.
"We continue to have that reputation and a lot of that goes back to the way we were founded and the fact we were both focused on business and on teacher education," Martin said.
Bryan Whitledge is archivist for University Digital Records of the Clarke Historical Library, which houses the exhibit "125 Years through 125 Voices" — a look at the history of CMU. The event kicks off Wednesday, Sept. 13, with Martin and Fremion's presentation.
The Clarke Historical Library has presented a timeline of CMU's history for the 125th anniversary. That timeline can be found at clarke.cmich.edu/cmu125.
The timeline shows President William Howard Taft, Amelia Earhart, Eleanor Roosevelt, Jesse Owens, Ralph Nader, Chuck Berry, Muhammad Ali, Maya Angelou, President Gerald Ford and Jane Goodall are among to visit Mount Pleasant in the college's lifetime.
It also goes into detail about CMU's history. The following information was taken from the Clarke Historical Library Timeline.
On May 24, 1892, there were 16 people in who met in Mount Pleasant to form the "Mount Pleasant Improvement Company," according to the timeline. The group wanted to improve the local economy and wanted to link the community's progress to education — creating a "Normal College."
"It was all based on community involvement in supporting it," Whitledge said.
A large parcel of land was bought in southern Mount Pleasant. Ten acres were designated for the school and the remainder was divided into 224 lots sold for $110 each.
The first classes took place Sept. 13, 1892 in a rented space on the southeast corner of Main and Michigan Streets downtown. Charles Bellows served as the founding principal at the school, which was divided into five departments: Normal, Academic, Commercial, Industrial and Music and Art.
Construction began in 1893 and Central became a public institution in 1895. Football and baseball first appeared on campus in 1896, while the colors of Maroon and Gold first popped up in 1897. Although not official then, CMU identified with Maroon and Gold after the student body voted it to be the official of colors of the school 1924.
Whitledge said Central's location made it tough for people to get here. In 1896, he said the football team would bike 60 miles to get here.
"Geographically, we are centrally located, which is wonderful, but until you get a robust transportation infrastructure, it's tough to get here," he said.
Central continued to expand into the 20th century. In fall 1915, the first off-campus courses are offered in Cadillac and Owosso.
In fall 1918, Central organized a Student Army Training Corps (SATC) after the Secretary of War required all colleges to begin military training in June of that year. World War I ended on Nov. 11, 1918, with seven men from Central dying in the conflict.
The first Bachelor of Arts Degree was awarded in June 1919, with a Bachelor of Science degree given eight years later in 1927.
On Dec. 7, 1925, Old Main, the first building on campus, burned down.
"I shall never forget the all-gone feeling I had inside me standing two or three-hundred feet from the fiercely blazing structure," said Anna Barnard, a professor at the university. "I all at once realized that I was looking straight through and seeing the woods beyond."
There were plans to possibly relocate the school following the fire, but many, including newspaper editorials, opposed a switch. Warriner Hall, which was placed on the site of the Old Main building and was originally dubbed the Administration Building, opened its doors on June 17, 1928.
Central stopped granting short-term teaching certifications in 1931 and was nationally accredited for the first time the following year. Non-education degree programs started in 1934.
The first songbook, featuring the Alma Mater, was published in June 1935. Three years later, graduate courses began to be offered.
The Chippewas name was settled in 1941 after Central selected the Bearcats in 1927. Football coach Lawrence "Doc" Sweeney gave reasoning for the switch by pointing to the nearby Chippewa River and adding "most students have never seen or heard of a real Bearcat."
From 1942-45, CMU conducted military training for World War II using "V" programs, which prepared young men to become officers.
Martin said after WWII, the GI Bill offered soldiers the opportunity to attend college — helping CMU's size increase.
The first race and culture course was offered in fall 1944. A Master's Degree in elementary education was offered in 1951 and the ROTC began in 1952. Central became Central Michigan University by an act of legislature on June 1, 1959.
Transitioning with the times
The 1950s and 1960s were pivotal in Central's efforts to address racial discrimination, Whitledge said.
"We are changing as a society," he said.
In 1953, Central adopted a policy banning on-campus housing discrimination. But CMU didn't adopt an anti-discrimination policy until Feb. 17, 1965. Students of color were recruited to come to CMU starting in fall 1968. In fall 1969, CMU began its first systematic programs to address discrimination in employment.
The 60s also brought conflict with CMU administration and protests of the Vietnam War.
In April 1962, students threw rocks into the windows of the president's residence, which today is the Carlin Alumni House, and scuffles broke out as part of a protest. There were disagreements between the faculty, students and administration during this time. The conflict between the students and administration was over student rights.
CMU students protested the Vietnam War, including university President William Boyd, participated in an Oct. 15, 1969, moratorium to end the war in Vietnam. Students occupied Central Hall, the home of the ROTC program, and deemed it Freedom Hall on May 5, 1970.
Whitledge said the administration didn't mind protestors and supported their freedom to think.
In January 1973, Lt. Col William Nolde, former assistant professor of Military Science at CMU, was the last U.S. soldier to die in the Vietnam War.
In the 1970s was also CMU's plunge into the realm of Special Olympics. The university hosted the Michigan Special Olympics Summer State Games for the first time from June 1-3, 1973, and have taken place every summer since. In August 1975, CMU hosted the Special Olympics International Summer Games, bringing in more than 3,000 athletes from nine different countries.
"The amount of students that volunteer with Special Olympics every year, I think that's impressive," Whitledge said.
At spring commencement 1980, CMU awarded a doctoral degree for the first time. CMU used computers for freshman composition beginning in fall 1984.
In 1987, CMU celebrated Martin Luther King Jr. Celebration week for the first time — 18 years before classes would be suspended for the day. That same year, the Multicultural Center was established.
CMU celebrated its first Powwow in April 1989 — welcoming representatives from 20 to 30 tribal communities. The Chippewa name was also retained that same year, but all Native American references were removed from logos.
The year 1990 brought the Office of Gay and Lesbian Programming and the Native American Programs Office. The Student Volunteer Center was founded in 1991 and Alternative Breaks started in 1994.
In July 1997, the Academic Senate voted 28-27 to expand CMU from five colleges to eight: Business Administration, Communication and Fine Arts, Education and Human Services, Health Professions, Humanities and Social and Behavioral Sciences and Science and Technology. The College of Graduate Studies & Research and the College of Extended Learning were left unchanged.
The year 2000 brought the creation of the Threads Fashion Show, though it was then known as Fusion 2K. CMU was classified as a "Doctoral/Research Universities-Intensive" by the Carnegie Advancement of Teaching that same year.
In 2002, the yearbook printed for the final time and the library was renovated. Whitledge cites a lack of class cohesion for the ending of the yearbook.
The Museum of Cultural and Natural History was reestablished in 2005 after a temporary closure. Also in 2005, the Saginaw Chippewa Indian Tribe supported CMU after it landed on the NCAA's list of "hostile and abusive" mascots, team names or imagery.
Recently, CMU established the College of Medicine in 2008 and the Biosciences Building opened in 2016.
Whitledge said CMU has had unsung, talented people throughout history. With Special Olympics and CMU's hosting of the 1980 Women's Final Four, he said CMU has evolved into a special place.
"The people who are here are unsung amazing individuals, doing what they do and they make these events happen," he said.
Martin said a key point he has observed over time is how much people who choose to come to CMU come to think of the university and the people part of it as a family and that the university is a home away from home.
"That characteristic is deeply set among our students, our alumni and our faculty," Martin said. "I think it's unusual by comparison to other universities our size. That's something incredibly important and something to be proud of."
Share:
---