CHSBS Dean Pamela Gates announces retirement, effective January 2018
---
The dean of the College of Humanities and Social and Behavioral Sciences has announced her retirement, effective January 2018.
Pamela Gates, who has served as the full-time CHSBS dean since 2011, will serve her last day on the job Jan. 15, 2018, according to a Central Michigan University News Release issued Tuesday, Sept. 12.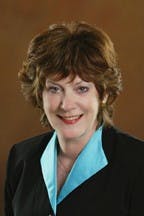 Gates was named CMU's Woman of the Year in 2011, according to the release. She served as the interim dean of CHBS in 2007 and from 2009-10. Gates was associate dean from 2001-09 and was a faculty member in the English department for more than 10 years prior to that.
Provost Michael Gealt stated in the release that CMU is grateful for the academic leadership Gates provided for more than three decades.
"Her impact will continue through the programs, scholarships and the endowed professorships, chair positions and speaker series she helped to create," Gealt stated. "We wish her the best in her retirement."
Gates received her bachelor's and master's degrees in English Language and Literature from CMU, according to the release.
She taught courses in children's literature, fantasy literature for children, young adult literature, multicultural literature for children, heroic traditions in literature for children and graduate seminars in children's literature, according to the release. For several years, Gates reviewed books for the WCMU Children's Bookshelf.
Share:
---