SGA leaders want to reach out, seek student feedback
---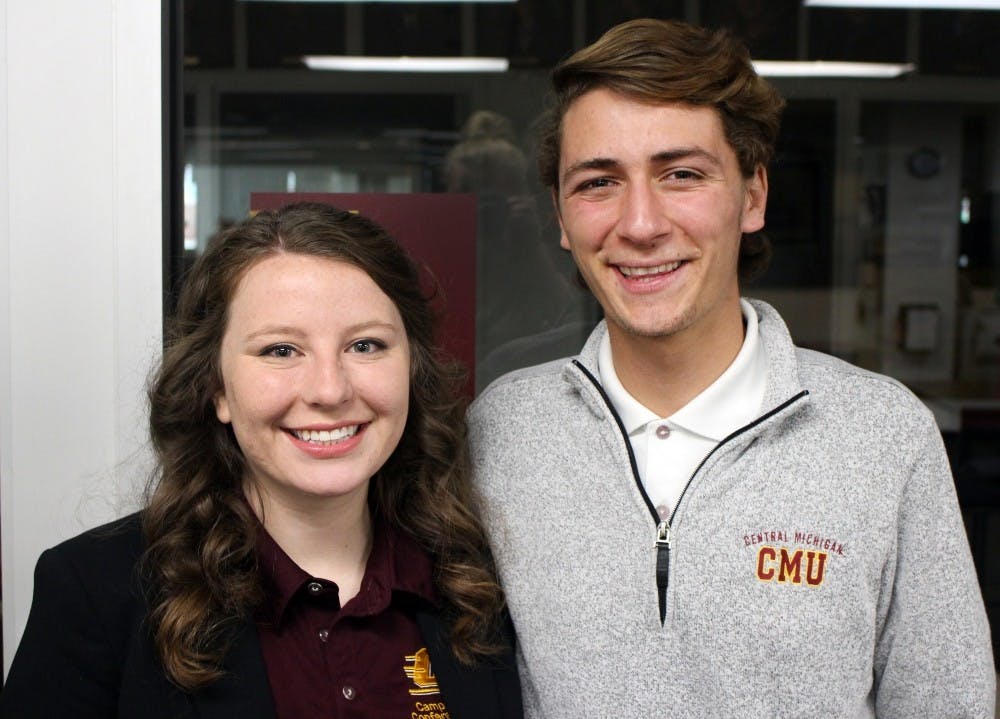 Student Government Association's top leaders say they want to create better relationships with people on campus.
President Anna Owens, a senior from Midland, has been involved with SGA since her freshman year, holding titles like senator, senate leader and vice president. Vice President Derek Sturvist, a junior from Cheboygan, has also been involved since his freshman year and previously held roles of senator and city commission liaison.
During their campaign last year, the two stressed their desire to be a voice for campus and for registered student organizations.
"We definitely want to put out a lot more material as far as giving the student body updates of what we're doing, what we're working towards (and) reaching out to get ideas," Sturvist said. "If someone is passionate about something, tell us."
There are more than 300 RSOs on campus, but only around 150 were represented in SGA last year. Owens and Sturvist want to change that.
"(We want to) reach out to other presidents of RSOs," Owens said. "(We want to) make sure as many RSOs as possible come to meetings because we're here for those RSOs. We need to find out what they want from us, not what we want from them."
They advised students who aren't involved with an RSO on campus who want to voice their opinion or see what SGA is working on to attend the weekly meetings. The meetings are open to the public with a time for public comment.
SGA is made up of a House of Representatives, which consists of representatives from RSOs and a Senate consisting of elected candidates. SGA writes and votes on legislation to create change for students.
Owens and Sturvist want SGA to have a vocal and visible presence by doing activities like tabling and being out on campus more often. They're also concerned about getting feedback from students and encourage them to attend meetings, email them, message them via social media or visit their office.
"It's definitely something we want to work on all year long, trying to better understand how to get students involved with this," Sturvist said.
When it comes to working with Central Michigan University's administration to create change, Sturvist said they want the administration to understand SGA is the voice of the campus. While running for election, Owens and Sturvist prioritized the creation of a Gender and Sexuality Center.
"In the end all we can do is just consistently and constantly remind (the administration) and pester them about the fact that this (Gender and Sexuality Center) is important to the student body," Sturvist said.
Owens and Sturvist said if students are interested in running for Senate they should attend the General Board meeting at 7 p.m., Monday, Sept. 18, in the Bovee University Center. Candidates will have a time to speak about why they want to be elected and answer questions from the audience.
From there they will do a paper ballot, and candidates will be elected until the Senate is full.
Share:
---