Speak Up, Speak Out panel discusses politics, civility
---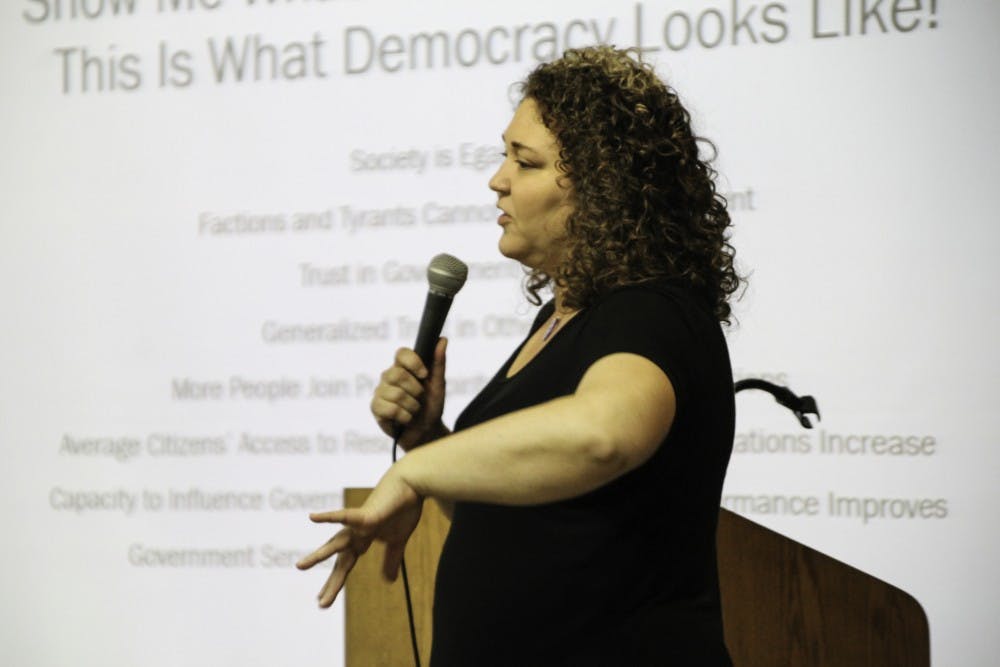 More than 50 people gathered Thursday, Sept. 21 in the Bovee University Center Auditorium to take part in a Speak Up, Speak Out discussion titled "Staying Engaged: How Central Michigan University Students Do Politics."
Panelists included Cherie Strachan, political science and public administration faculty member; Rockford senior Evan Wittenbach; , Student Government Association President Anna Owens; Danielle Rossman, assistant director of student organizations; and Andrew Blom, philosophy and religion faculty member and Speak Up, Speak Out organizing committee chair.
Lisa Nuszkowski, a 2001 CMU alumna and executive director of MoGo Detroit, a public bike share system, also participated in the panel.
Questions were not asked only to panelists, but students also reciprocated with answers on how and why citizens must learn the skills required to be engaged civically and politically.
Strachan said there is a difference between being a Good Samaritan and being a good citizen, and people need to see the significance of being both. She noted the distrust citizens have in the government, explaining it has fallen from 80 percent to 20 percent.
"People are retreating to personal life while neglecting their civic duty," Strachan said.
"Maybe we are distrustful because we aren't learning how to make civic skills transferable to politics anymore, therefore, we aren't understanding the system."
Strachan said there has been a generational erosion of understanding how self-interest affects people. Since polarization has decreased government involvement, Americans are pulling away and not wanting to participate in matters that affect them because of the fear of scrutiny.
"Millennials students should remain motivated rather than discouraged," Strachan said, adding millennials have the most access in forcing a political hand, with their outnumbering population.
"This is why students must be engaged. Politicians still need to win elections and drive voters to the polls."
The panelists and audience members agreed social media plays a major role in politics today and the way they are perceived. They discussed how fake news has been a consistent topic of discussion and it questions validity.
The panelists advised people to educate themselves and check facts since social media allows for error.
A skeptic of receiving news through social media, Nuszkowksi said her reasoning is how often social media news is subject to mistakes.
There are two more Speak Up, Speak Out forums this semester. "Immigration and What It Means in the USA" is scheduled for Oct. 23 and "Justifying Force" is slated for Nov. 14. Both forums take place at 7 p.m. in the UC Auditorium.
Share:
---