Anderson, O'Neil earn All-Conference honors at MAC Championships
---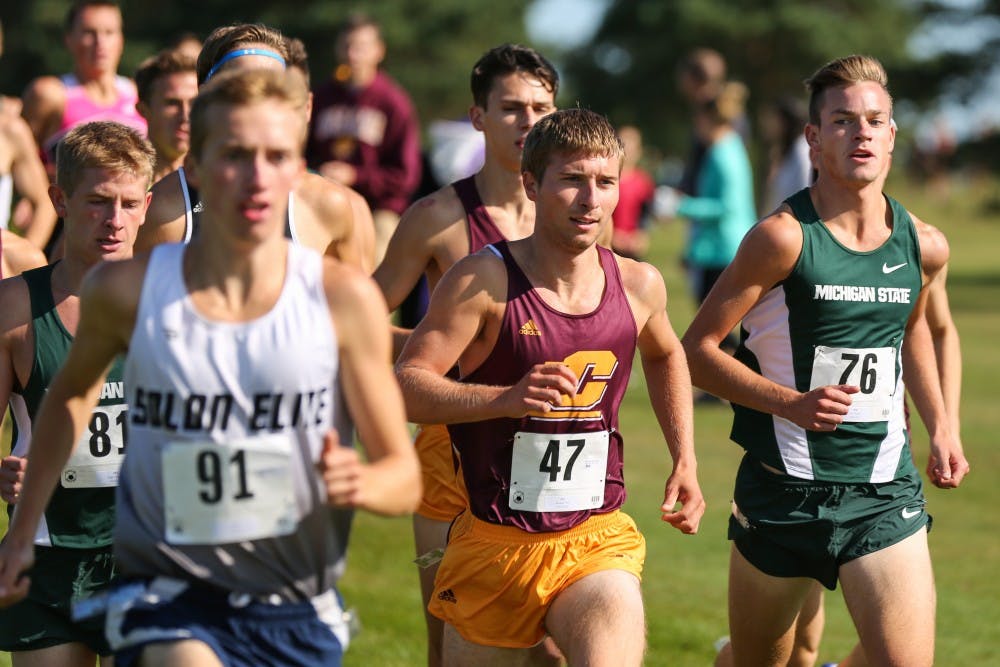 In a cold, rainy afternoon Saturday, sophomore Luke Anderson and junior Megan O'Neil earned all-conference honors for the Central Michigan cross country team at the Mid-American Conference Championships in Oxford, Ohio.
O'Neil (20:58.8) – who made all-conference last year with a ninth-place finish – took fifth overall in the women's 6k. Her performance led the CMU women's team to a sixth-place finish among 12 teams.
"Megan is a stud," said women's coach Jenny Sweiton. "The course was flat, but that allowed for puddles with all of the rain. She showed that – if you're tough – something great can happen.
"They gave everything they had today. They showed improvement from a couple weeks ago. I'm excited to see what the future holds."
Anderson (25:09.3) finished 12th in the men's 8k, leading the men to a seventh-place finish among nine teams.
In the final 800 meters, Anderson passed a handful of runners to keep places 11-13 tight. He finished .3 seconds behind Ohio's 11th-place finisher and .3 seconds ahead of 13th from Miami (OH).
"I was thinking (when Anderson came in as a freshman) that he'd be somewhere in this vicinity," said men's coach Matt Kaczor, "but I didn't think it'd be this year. I thought he was still a year away.
"It was a stellar and gutsy performance for sure."
Freshman star Logan Kleam – who has led the men's team consistently and had high hopes for all-MAC recognition – fell to 63rd today (26:28.1) after back spasms slowed him in the first mile.
"We haven't had that issue all season," Kaczor said. "It just goes to show, you never know what's going to happen."
Kaczor said his team had higher hopes, but is excited for the future of his young team.
"Obviously you've always got big plans for what you want to accomplish, but it doesn't always work out that way," he said. "We've got to keep reminding ourselves that it's just one race or just one day. That doesn't define a career or a life."
Women's results
There was a logjam of Chippewas after O'Neil, with senior Hannah Davis (21:56.9), senior Taylor Aguillon (21:58.4), and freshman Alexis Grandys (22:02.9) packed together for 27th, 28th, and 30th, respectively.
Aguillon, who's regularly been in the top one or two spots, was affected by the poor weather conditions more than most.
"When it's hot, everyone else struggles and she thrives," Sweiton said. "Most of the team does better in colder weather, but she struggled a lot more in this weather. We went in knowing it'd be a little harder for her."
Sweiton also said she was particularly impressed with Grandys' performance.
"Alexis had a great day, but she always wants more," Sweiton said. "That's exactly what you're looking for as a coach. Every time she's run a 6k, she gets better."
Rounding out the top five CMU runners was junior Samantha Allmacher (22:47.8) at 65th.
Junior Erin Zdrosewski (23:20.4, 80th), freshman Ana Garcia (23:52.9, 93rd) and sophomore Natalie Beaulieu (24:18.0, 99th) brought up the rear in a field of 103 runners.
Men's results
With Kleam's injury, the top five was shaken up a bit for the men's team.
Sophomore Mark Beckmann (25:29.0) was the second Chippewa across the line, finishing 29th.
"The championships aren't about how fast you go, but where you finish," coach Kaczor said. "Mark ran consistently, about what he's been doing all season. Most times weren't as fast with the weather, but you definitely saw who the strong guys were."
Freshman Conor Naughton (25:38.1) came up next at 34th, trailed closely by senior Alec Omell (25:51.6) at 41st.
"Today was huge for Alec," Kaczor said. "With Kleam injured, (Omell) stepped up and took the fourth spot for us. It's another special memory for a senior to have, having one of his best times as the MAC meet in his final year."
Sophomore Bransen Stimpfel (26:02.1) finished the top five at 47th, leaving Kleam out of the top five for the first time this season.
After Kleam, the back three were freshman Kenny Goolsby (26:48.0, 69th), junior Alec Esparza (27:01.3, 72nd) and junior Ben Yagiela (27:30.7, 79th) in a field of 80.
Next up
Qualifiers from both the men's and women's team will travel to Terre Haute, Indiana for the NCAA Great Lakes Regional Meet on Nov. 10. The meet will be a 10k for the men - the first of their season. The women will run their standard 6k.
Share:
---