Cross country looks to 'separate from the pack' at Pre-Nationals
---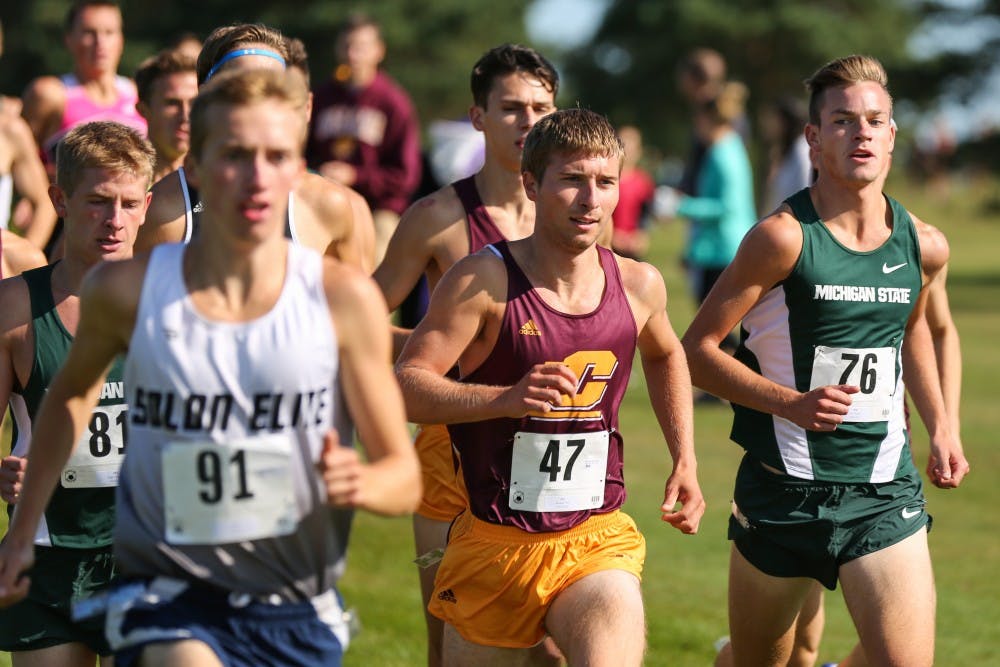 The season is quickly coming to a close for Central Michigan's cross country team as the Chippewas head to Louisville, Kentucky on Saturday for Pre-Nationals.
This will be the final meet before the Mid-American Conference Championships on Oct. 28.
Men's head coach Matt Kaczor said Pre-Nationals is helpful to preview the course for the NCAA Championships (on Nov. 18) and see how his team stacks up against the competition.
"We're young, we're a hungry group," he said. "We've already seen the course at the Greater Louisville Classic (on Sept. 30), but we're going to see a lot of teams with aspirations for the NCAA Championships.
"(The Greater Louisville Classic) demonstrated just how good this young crew is and it moves us into the regional rankings. With another solid meet, we could quite possibly move up more."
The men's team is ranked 13th in the Great Lakes Region, with the top two schools earning automatic bids to the NCAA Championships.
CMU will bring 10 runners to Pre-Nationals and will take its top nine to the MAC Championships.
Kaczor said redshirt freshman Logan Kleam is the team's clear-cut No. 1.
"Just look at what he's done," he said. "He was the sixth-best freshman at the Greater Louisville in a meet with Northern Arizona – defending national champions – and other pretty legit teams. He comes out and breaks a great race.
"I can't recall the last time a freshman's been breaking 24 (minutes)."
Kaczor said Kleam should spread out the CMU runners, but said that if his 2-5 runners close the gap this Saturday, they'll have what they need going into the MAC Championships.
Kaczor also said that, while his top-five runners are pretty set, there's some flexibility with the 7-9. Senior Alec Omell has been on Kaczor's radar for one of the final spots.
"(Senior) Alec Omell was first for us at Oakland, sixth at Greater Louisville," Kaczor said. "Louisville was the first time he'd broken 26 (minutes) in a couple years. He's really been stepping up in his senior year."
The women's team has been making waves in the Great Lakes region as well, ranking 15th.
"We left Greater Louisville confident, but knowing we could do better," said women's head coach Jenny Sweiton. "There were probably a few tactical things we could change, so going in this time, we're just hoping to make those changes."
Sweiton said the main change will be going out of the gates a little quicker and getting ahead of the pack sooner. She'll also be bringing 10 runners, with nine going on to the MAC Championships.
"We've had a couple weeks of tough training so this will probably be the most tired going into a meet," she said. "That's just the nature of this time of year."
Junior Megan O'Neil and senior Taylor Aguillon have been the top two for the women's team all season, but Sweiton reiterated Kaczor's statement.
It doesn't matter how good her top two are if the top seven don't close the gap.
"I think everything's starting to click," Sweiton said. "I'm just hoping to see that this weekend before heading into the MAC (Championships).
Pre-Nationals begins with the men starting at 10 a.m. before the women line up at 10:45 a.m. Saturday.
Share:
---