Field hockey trio moves to United States in search of opportunity
---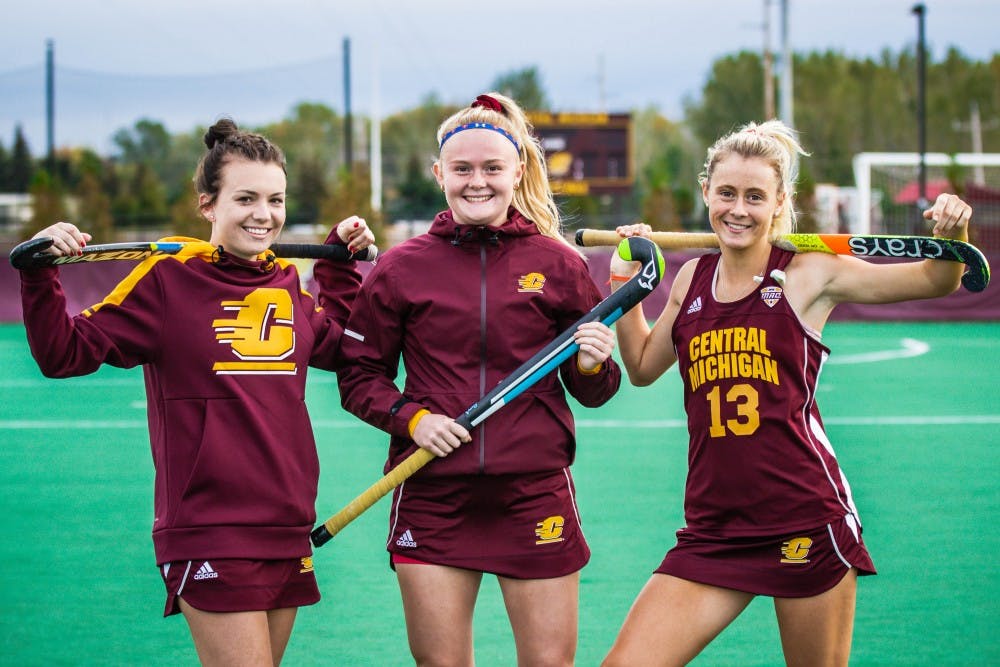 Many students who come to Central Michigan University have the luxury of driving a couple of hours to be with family and eat home-cooked meals.
That is not the case for Harriet Aburn, Georgina Minta and Jasmine Banks.
Altogether, the three field hockey members traveled a combined 15,848 miles from their respective countries for an opportunity to become student athletes.
8,536 Miles Later
Harriet Aburn came from Wellington, New Zealand, the nation's capital that sits at the North Island's southernmost point.
Aburn was contacted by multiple Division I schools early on in the Mid-American Conference and in Pennsylvania.
Aburn's desire to play in America began when she was 15. Her parents were not 100 percent sold on her intentions, but she persisted.
"They didn't believe me," Aburn said. "I kept on talking about it and they realized I was serious."
Mount Pleasant's small-town feel was an important factor in her choosing CMU.
"I got a good vibe from the school and the atmosphere," Aburn said. "I really liked the academic focus here."
Although the adjustment from Wellington to Mount Pleasant served as a challenge for Aburn, she always knew she was in the right place.
"It was kind of a hard time," Aburn said. "I'm one of those people that loves to stay busy. I wasn't too stressed out and I was really happy to be here."
Aburn made a promise to her mother to come home after graduation. She plans on keeping her promise when she graduates in May.
English Chippewa
Forward/midfielder Georgina Minta was originally committed to playing field hockey at Monmouth University in New Jersey.
After a voluntary leave from the program and a year to regroup, Minta transferred to CMU.
Minta grew up in Saxmundham, England, just over two hours northeast of London. She came to the United States because the college athletic system isn't as supportive overseas.
"You get very little scholarship (money) if you're good enough (in England)," Minta said. "I came for an official (visit) with my father and we thought 'yeah, why not Mount Pleasant.'"
Minta praised the way people act in America.
"The U.S. people as a whole are a lot friendlier," Minta said. "The English people are very stiff off the lip and conceal everything. American people let their emotions out all the time, which is really nice because I'm very bubbly."
When Minta told her parents her intent to continue her education in America, her father, Peter, had mixed emotions.
"It was a brave decision," Peter said. "It's a life changing experience to go to college thousands of miles away from home. It's a lot quieter around the house."
Peter was in attendance for this past weekend's matchups with Appalachian State.
He was finally able to watch his daughter play in person.
"I'm so proud of her to make that decision and see it through," he said.
Scotland to Mount Pleasant
Forward Jasmine Banks was on the cusp of committing to another school in America, until one phone call from head coach Molly Pelwoski changed everything.
"Molly said they were really interested in me, I said I'd sleep on the decision," Banks said. "I woke up the next morning, looked into it quite a bit and thought 'why not, I'm just going to do it.'"
Banks' decision to leave Scotland's capital city, Edinburgh, was based on new opportunities that America had to offer.
"It's not like everyone at home goes to (college) and stays in the same country," Banks said. "Here, I'm playing a Division 1 sport. I can play my sport every single day."
When Banks made the decision, her parents were left with mixed emotions.
"It broke their heart, although they couldn't be happier at the same time," she said. "It was bittersweet."
Share:
---