Offense struggles as Field Hockey falls 7-0 to Kent State
---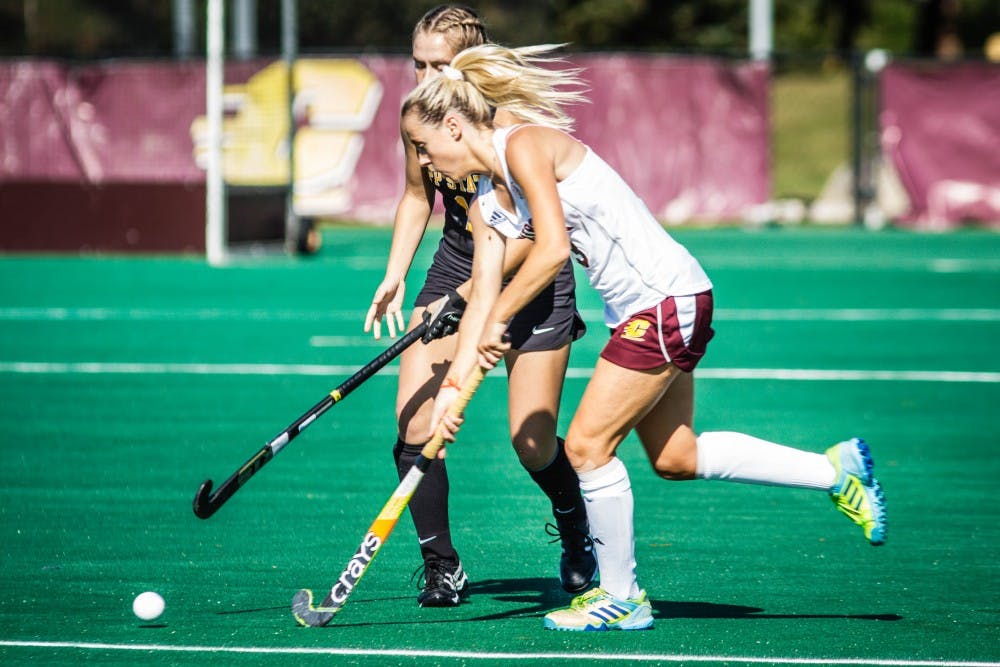 With only three shots on goal, the Central Michigan Field Hockey team fell 7-0 to Mid-American Conference opponent Kent State Friday night at the CMU Field Hockey Complex.
The Chippewas (0-15, 0-4 MAC) were out-shot 13-3 by the Golden Flashes (6-9, 4-1) and have now gone scoreless in 10-consecutive games.
The team has now lost 29-straight games.
One of the three shots came within the first five minutes of play when the Chippewas were aggressive on offense.
"I was really pleased with the start of the game" said head coach Molly Pelowski. "We had some chances, a corner and looked strong to start."
The Chippewas had their best chance in several games to score when redshirt freshman Samantha Glapinski deked the goalie and appeared to have a wide-open shot. Kent State defenseman Ines Delpech, however, denied the scoring opportunity.
Despite the forceful start for CMU, Kent State quickly turned the game around with a goal from substitute player Helen Harper. KSU tacked on an additional two goals before halftime.
"Once we gave up that first goal, we didn't respond well to that," Pelowski said. "It's something we need to continue to work on and we will speak to our leaders about."
Down 3-0 at half, CMU decided to make a change at Goalkeeper.
Sophomore, Abigail Ebersole came into the game, looking to help stop the rapid shots from the Golden Flashes. Ebersole made eight saves, but ultimately gave up four goals.
"We put Abigail into a challenging position," Pelowski said. "She made some good saves, and some decisions that need improvement."
Delpech and Helen Harper each had two goals on the day for KSU.
The Chippewas will have a week off until their next game against Miami (Ohio).
"We're going to make some adjustments, but more importantly we just have to do the things that we do, better," Pelowski said.
That game is scheduled for 3 p.m. Friday in Muncie, Indiana.
Share:
---