Research discussed at Oct. 27 McNair Poster event
---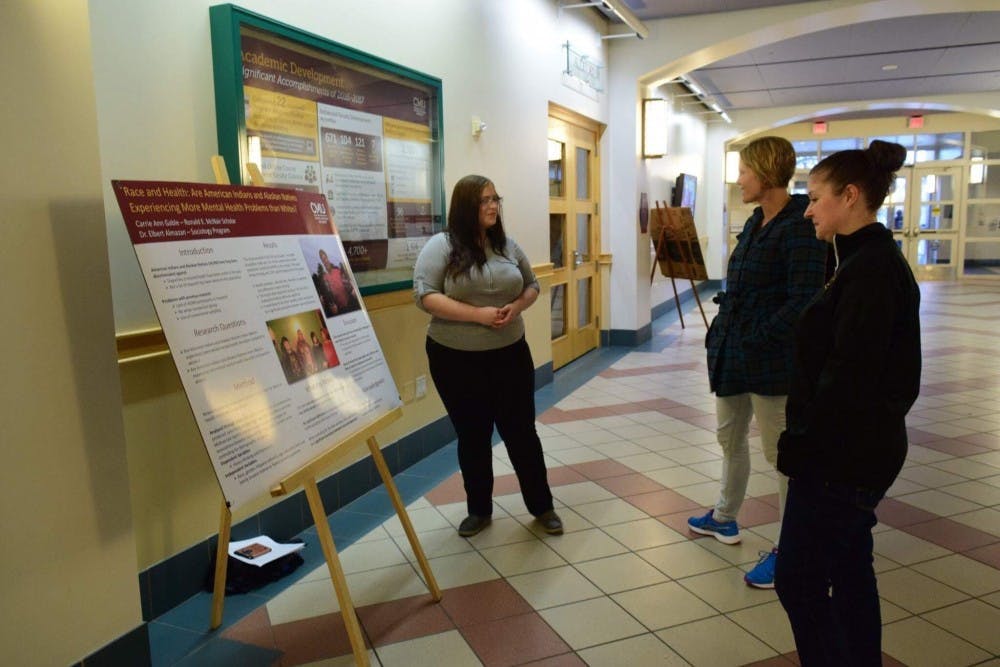 Central Michigan University's McNair Scholars presented research on Friday to a new audience: the general public.
For two hours, the Charles V. Park Library corridor was lined up with posters the Scholars presided over. They took questions and had one-on-one conversations with those who approached them.
The topics of research spanned several areas of study, including biology, psychology and sociology.
The McNair Program is a federal TRiO program, allowing first-generation and underrepresented students to pursue a doctorate degree. The program has them start on research in the Spring semester, which they then present to conferences around the country.
They last presented their work to CMU in the Fall Symposium on Sept. 30.
"The symposium was mostly for friends, family and mentors," Kim Whitney, program assistant for the CMU chapter of the McNair Program said. "In this environment, they are taking questions from strangers, which simulates a conference setting."
Brooke Harrison, who teaches the research writing seminar for the scholars, said the event is a smaller version of what they will have to present at conferences.
"They end up taking these posters on the road, so it's not much different," she said.
Rudyard senior and first-generation college student Carrie A. Gable took questions about her research about Native Americans and mental health problems from about 10 different people.
"It's a very important issue for me because it involves my community," she said. "I'm a part of the Sioux-Chippewa tribe."
CMU employee Sarah Hall was one of those who talked with Gable. She said she enjoyed the conversation she had and was impressed with the passion the Scholars had for their research.
Sydney Griffin, who researched skull shape of microcephalic and normocephalic modern humans, was proud to present her research to the public. She also liked the fact the McNair Program allowed for intersectionality between majors, as it supported her research.
Seniors Victoria Hager of Sunfield and Tristyn Bean of Livonia were in the class where Tiniyja Burney did her research on undergraduates working with dementia patients. Both were impressed with what they saw from Burney's poster.
"It's great her research came from our class," Bean said. "It was a beneficial experience for all of us."
Whitney said the next CMU event will feature the scholars is the Student Research and Creative Endeavors Exhibition, which is similar a conference setting in terms of size, allowing CMU students to showcase their work. After that, the 2018 McNair recruits will start their research.
Share:
---