Women's basketball players reunite at annual scrimmage
---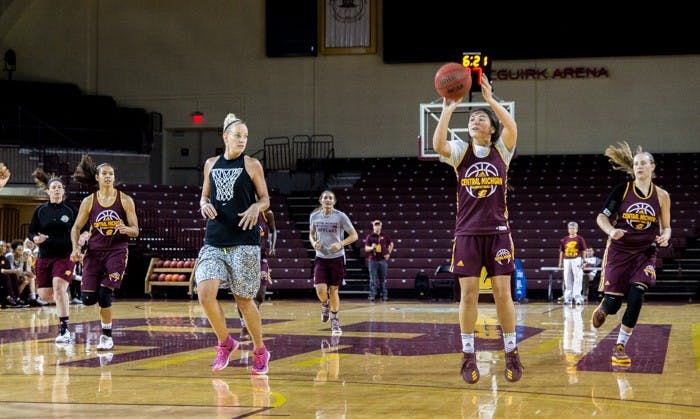 Players from the 2016-17 Central Michigan women's basketball team received their championship rings before the Maroon and Gold scrimmage Saturday.
Last season's Mid-American Conference regular season championship was CMU's first since 1985.
"It was awesome," head coach Sue Guevara said. "We have had (the rings) for a little bit, but it was really nice to do that in front of fans and family."
At the annual Maroon and Gold game, the current women's basketball team (Maroon) topped a team of former players (Gold). Alumnus Jewel Cotton headlined the group of nine former women's basketball players.
Senior guard Cassie Breen started the game with two three-pointers and junior guard Presley Hudson took advantage of the alumnus slow transition to shoot at the top of the three-point line for the Maroon team.
Hudson, an All-MAC selection last season, showed her passing and shooting ability as a point guard in today's scrimmage.
By halftime, it was clear that the 2017-18 team could shoot three-pointers. Maroon led 32-23 after the second quarter ended.
The Maroon team kept their pace throughout the rest of the second half and ended up winning by 19 points.
The game was played in 10-minute quarters with a running clock. The women's basketball team was hosting a tailgate before the football game at 12 p.m. after the Maroon and Gold game.
Guevara was excited to start another season at CMU.
"It means everything to me," Guevara said. "This program is my passion and I love these players. We really are (a family)."
The Chippewas open regular season play at 7:30 p.m. against Purdue on Nov. 10 in McGuirk Arena.
Share:
---