Two cross-country runners draw on unique backgrounds for effective team leadership
---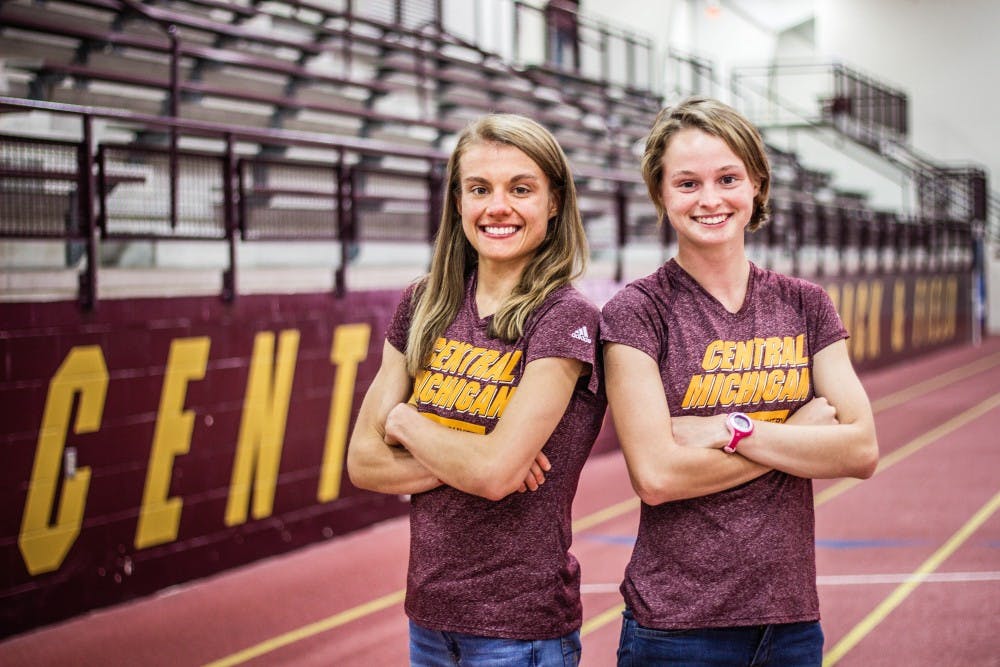 Redshirt junior Megan O'Neil and senior newcomer Taylor Aguillon are leading the Central Michigan women's cross-country team through the first two months.
In the season-opening home meet, Aguillon took second and O'Neil placed third. At the Michigan State Invitational, O'Neil finished sixth and Aguillon placed seventh.
In her third season with CMU, O'Neil is on the "Leadership Council," a group of the teams' captains, voted on by athletes. She's been competing since her stint as a redshirt freshman at Wisconsin — taking ninth last year at the Mid-American Conference Championships.
Aguillon, a recent transfer from Lansing Community College, didn't pick up running until after high school.
"Playmakers, a shoe store in Lansing, has a series of races and different 5Ks over the summer," Aguillon said. "Most of them are for charities, so I started picking up running from there and then running and training on my own."
She joined the running club at CMU last year, and later was recruited to join the varsity team.
"It's been amazing," Aguillon said. "I never did cross (country) or track in high school, so to be running for a school like Central is just a crazy story for me."
O'Neil said it's her job to help the newcomers like Aguillon.
"We have a lot of new people to this level of cross country," she said. "That makes it all really exciting."
By using her background in dietetics, O'Neil excels as a team captain. She said knowing about nutrition is very helpful because runners fuel themselves before every meet.
"It's thinking about what can I get for not only myself, but for my teammates, too. Being able to spot a budding eating disorder in a teammate is really helpful because that's probably one of the top things that takes girls down."
Coaching change
In her first year as CMU director of track and field/cross country, Jenny Sweiton said having a veteran like O'Neil help with the transition has been a blessing.
"Megan's always been one of the top runners on the team," Sweiton said. "It's been amazing to have her because I'm new to the program, so I've been able to sound off her questions like, 'how can I make this transition as easy as possible for everybody?'"
O'Neil thinks very highly of Sweiton.
"We only have a couple returners," O'Neil said. "Most don't know anything other than Jenny. At first, we weren't too sure about the change in leadership. Then, as soon as she stepped on campus, we were like, 'Wow, we're definitely going places."
Aguillon said having a coach to whom she can relate has been very helpful in making a comfortable situation for the both of them.
The feeling is mutual. Sweiton calls Aguillon "fearless."
"For (Aguillon) to have the success she has, being so new to the sport, it's one of the things you love about cross," Sweiton said. "Thank goodness she finally found her thing and she's so good at it. It'd be a shame for her to never compete. When she goes out into a race, it's like she's unstoppable."
Slow start
In the Greater Louisville Classic on Sept. 30, O'Neil paced the Chippewas with 17:26.43, but Aguillon fell behind. She ran just over 18 minutes, which was 40 seconds slower than her previous 5K time.
Aguillon said her time suffered because of a slow start.
"It was the biggest run we've had this year," O'Neil said. "We basically had a brawl for the first two miles. We were going too slow with a lot of pushing and shoving in a pack. We're really good at running, but not into wrestling.
"We should work on that. Maybe like get an MMA coach in the weight room or something."
Share:
---