Men's basketball heads to Anchorage for Great Alaska Shootout
---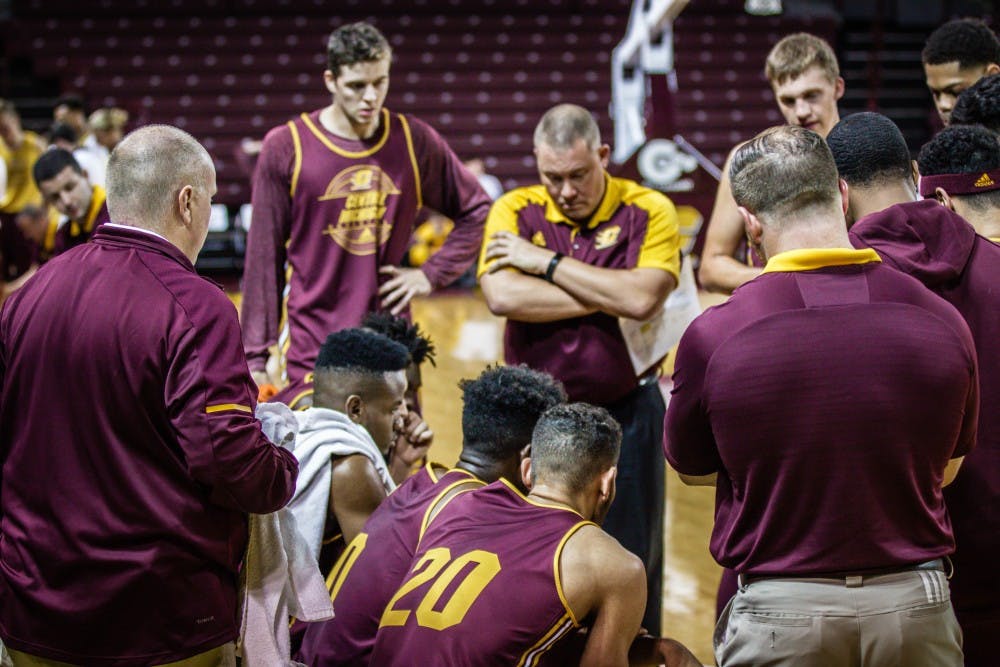 Following a 103-68 win over Eureka, the Central Michigan men's basketball team is headed to play in the Great Alaska Shootout -- an annual tournament hosted by the University of Alaska Anchorage.
The Chippewas (2-1) will take on Sam Houston State (2-1) in the first game of the tournament, which will be played at 6:30 p.m. Wednesday at the Alaskan Airlines Center.
"I feel like playing in these tournaments help you move your team forward," CMU head coach Keno Davis said. "You get to play against some teams you might not have been able to schedule in a short period of time. Also, the team gets prepared for March."
Along with CMU and Sam Houston State, the tournament includes Cal Poly, College of Charleston, Idaho, Santa Clara, CSU Bakersfield and the home Seawolves. .
The Chippewas have eight players averaging over15 minutes per game, along with 9.5 and 8.3 minutes per game from redshirt freshman center Innocent Nwoko and sophomore guard Corey Redman, respectively.
"We are a deep team," senior guard Josh Kozinksi said. "That's going to be important going into the Alaska tournament. We go so deep guys aren't pushing in the upper 30 minutes. We are hungry."
The winner of CMU's first game against the Bearkats will battle against Cal Poly or College of Charleston at 9:30 p.m. Friday, Nov. 24.
As for the time change, Michigan is four hours ahead of Alaska.
"I think it's going to be different," Kozinksi. "The coaches are going to do a great job of making sure our bodies are right and we are mentally focused going into the tournament.
Central Michigan is led by a barrage of players, including sophomore guard David DiLeo, senior forwards Cecil Williams and Luke Meyer, and junior guards Shawn Roundtree and Gavin Peppers.
Williams is averaging near a double-double per game, logging 14.7 points and 9.7 rebounds. He also is averaging 3.7 assists per game. DiLeo, who has played the most minutes on the team, has an average of 15.0 points, 6.7 rebounds, and 2.7 assists per game.
Following Williams and DiLeo, top scorers include Roundtree (13.3), Peppers (11.7) and Meyer (10.3).
In 1978, the Great Alaska Shootout began with North Carolina State winning 72-66 over Louisville. The most previous tournament in 2016 showcased Iona's 75-73 victory over Nevada.
This season is the final year of the Great Alaska Shootout, marking its 40th edition. As other tournaments in warm locations draw away top teams, there has been less funding for the shootout, causing for it to be shutdown.
"Playing in a tournament with this kind of history is more important," Davis said. "When most people talk about a tournament like the Great Alaska Shootout, they have their memory. It's a shame they will not be having in anymore."
Davis has his own special memory of the Great Alaska Shootout. In the 1986-87 season, his father, Tom Davis, coached Iowa to a win in the tournament. The team included Kevin Gamble, who is now an assistant coach to Keno.
Share:
---