Competitiveness leads men's basketball to near upset at Michigan
---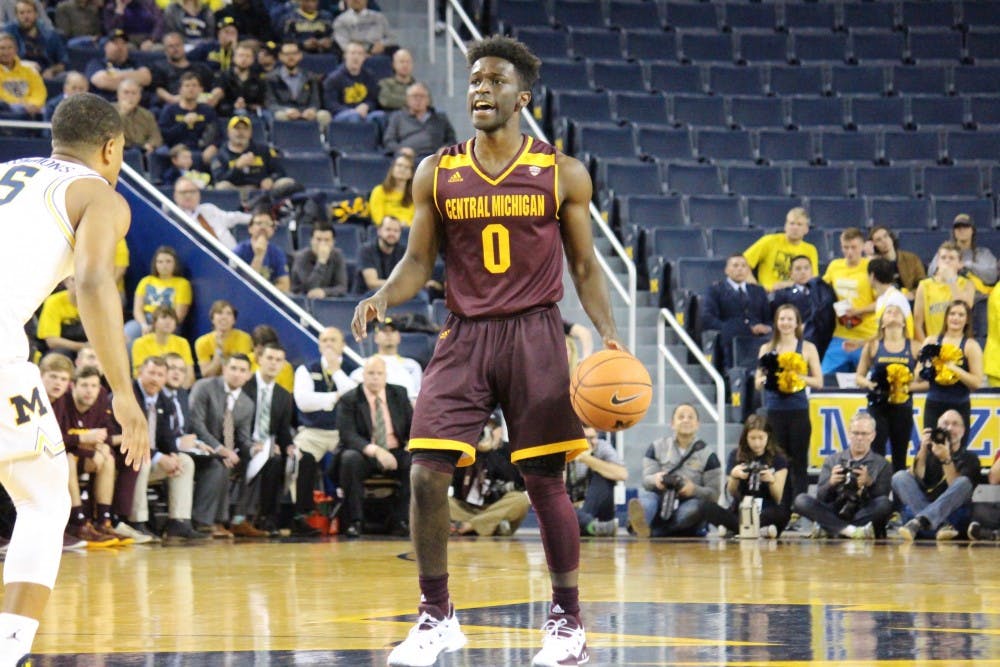 If there was one aspect Keno Davis was most proud of Monday night, it was the competitiveness his team showed against the University of Michigan.
Despite losing 72-65, the Central Michigan men's basketball team (1-1) put up a fight, trading basket-for-basket all game long against the Wolverines (2-0) at the Crisler Center.
"It (said) a lot about this team and what we can do this season," said Davis, the CMU head coach. "When you look back, you couldn't have asked for more out of this team tonight."
When the Wolverines earned a nine-point lead on a dunk from forward Moritz Wagner with 3:22 left in the game, CMU managed to respond, making the game interesting until the final seconds.
"I love their style and they have a good mix, a lot like us," U-M coach John Beilein said. "It's a little of our own medicine there. They shot the ball extremely well from three and ran some good stuff early. We made some adjustments."
The relentlessness, fight and competitiveness of the Chippewas was evident in all 40 minutes of play on Monday.
While CMU was undersized, senior forward Luke Meyer, along with senior forward Cecil Williams and sophomore forward David DiLeo contained Wagner, who was named to the 2017-18 preseason All-Big Ten team.
Wagner, at 6-foot-11, 245 pounds, was held to 10 points on 3-of-9 shooting from the field in 29 minutes of play. He pulled down 11 rebounds, but DiLeo, at 6-foot-7, 216 pounds, nearly matched with nine of his own.
As a matter of fact, the Chippewas outrebounded the Wolverines, 34-27. Besides Wagner, the second-leading rebounder for Michigan was point guard Zavier Simpson with three. Sophomore guard Kevin McKay pulled down six rebounds and Williams logged five for CMU.
"If we would've got blown out on the boards, it wouldn't have been a game," Meyer said. "Obviously, that kept us in the game and it led us to where we wanted to be."
The Chippewas got out to an 11-3 advantage. At different points in the first half, CMU led 22-14, 28-20 and 30-22. The Wolverines finished the first half on a 10-1 run, taking a one-point lead into halftime.
CMU junior guard Shawn Roundtree finished with 21 points on 7-of-11 shooting, including making 4-of-6 shots from 3-point range. The transfer added three assists and four rebounds. Meyer added 12 points and DiLeo chipped in seven.
"We showed great competitiveness," Roundtree said. "It felt good to see the ball go in, but I'm just really proud of my team and the way they played."
Michigan's five starters all scored in double figures. Junior guard Muhammad-Ali Abdur-Rahkman scored a team-high 17 points, followed by Simpson (13), Charles Matthews (13), Duncan Robinson (10) and Wagner (10). Abdur-Rahkman shot 7-of-15 from the field and 3-of-9 from downtown.
"It was pretty tense," Abdur-Rahkman said. "We knew it was going to be close. I tried to come out and be aggressive from the beginning and set the tone."
In a game between two high-powered offenses, CMU shot better from long range than U-M. The Chippewas made 10-of-24 (41.7 percent) of 3-pointers, while the Wolverines only managed to make 10-of-34 (29.4 percent) from deep.
CMU's ability to shoot the ball well throughout the game showed its relentlessness and fight. In front of 8,951 people, the Chippewas kept a level head and made shots to prove they were better than a 22.5-point underdog coming into the game.
All in all, the competitive Chippewas did not back down from a tough Big Ten Conference opponent on Monday night.
Davis believes CMU will be ready once Mid-American Conference play rolls around.
"If we play that hard, we'll win our share of games," Davis said. "Our guys are disappointed in the locker room, they're not excited that they played close. I like our chances to really improve as we get to (January)."
Share:
---