Students, faculty share thoughts on new Chief Diversity Officer position at open forum
---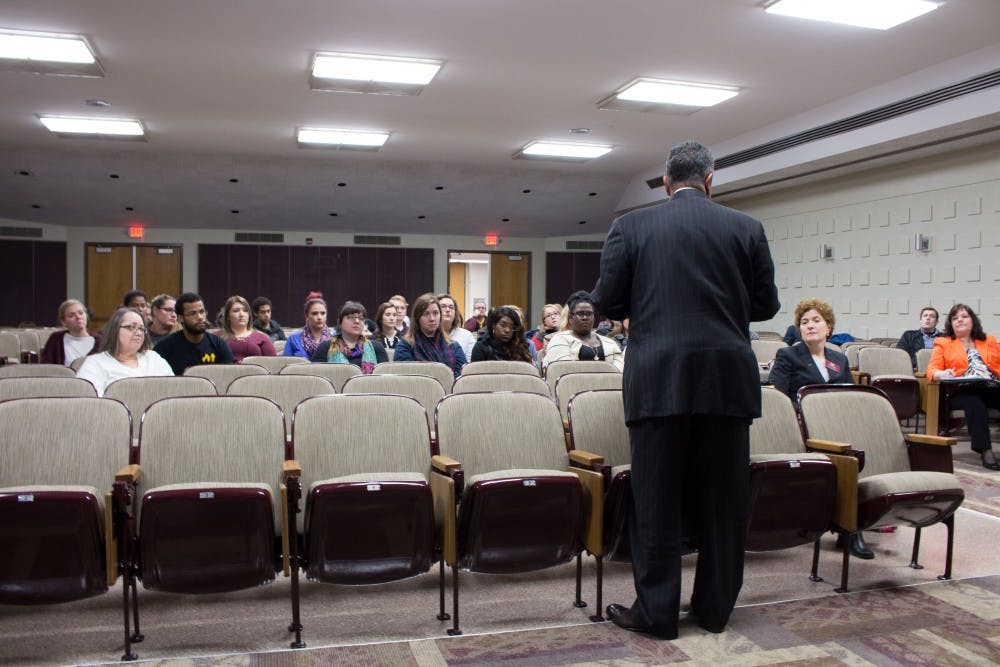 ---
Central Michigan University is on the hunt for a Chief Diversity Officer and administration officials want to hear what students want from the position.
Around 40 faculty and students shared their thoughts at a forum that took place in the Bovee University Center Auditorium on Wednesday, Nov 8. The CDO is a new position that will report directly to President George Ross to improve diversity at CMU.
Representatives from Witt/Kieffer, an executive search firm helping to find CDO candidates, were present at the forum. Jennifer Bauer, a consultant, said student feedback will help the firm develop requirements for the new position.
"This is the most important part of the search from our perspective," Bauer said. "It allows us to understand what the issues and challenges students, faculty the institution are facing. It informs our ability to understand what leader it takes to move the needle to where it needs to go."
Administration officials hope to present candidates at another forum sometime in March.
On-campus segregation is a major hurdle faced by CMU said Redford senior Shekinah Williams. She criticized the turnout at the forum, pointing out that roughly five African-American students were in attendance.
"We are segregated," she said. "If you walk on campus you will see black people come out of one room and white people come out of another. It's not that (black students) don't want to be here, it's that we don't feel safe enough in our community to come out."
Witt/Kieffer Senior Partner Oliver Tomlin asked Williams to clarify if African American students don't feel safe or comfortable.
"Both," Williams said, receiving support from the crowd.
Another student said he would like to see the demographics of CMU represent the diversity of the United States. He added the university doesn't do enough to educate students about the Saginaw Chippewa Indian Tribe or difficulties faced in the Native American community.
Kevin Daum, an application programmer in auxiliary information technology, said many of the diversity programs at CMU are superficial.
"These programs don't show much faculty support for diversity education than merely tolerating the existence of organizations that promote it," Daum said. "It's easy for students to become demoralized when the programs that are there to support them don't actually do that."
CMU is often resistant to change said Andrew Blom, associate professor of philosophy and religion. He added a CDO has to be strong and willing to challenge the university.
"It's important to have a person who has the confidence to shake up the status quo," Blom said. "We want things to stay the way they are and keep people comfortable. We don't want to irritate the Board of Trustees, we don't want to irritate our alumni and we don't want to irritate our majority students.
"We need someone with the strength to challenge all of us to change."
Other recommendations for the CDO from students and faculty
Expand diversity education outside university program requirements and include it throughout each college's curriculum.
Increase the advertising of initiatives and events that promote diversity education.
Create a sense of continuity for programs -- since students graduate and the population turns over, initiatives started by students often fall off the radar within a few years.
Work with Mount Pleasant officials to provide a welcoming atmosphere for students off campus.
Collaborate with groups across campus to organize programs and improve outreach.
Make "simple changes" such as offering on-campus food and prayer options for religious students.
Understand that diversity represents more than race and includes disability, class and age.
---
---