Marcy Taylor to become CHSBS interim dean starting January
---
Marcy Taylor has been named the interim dean of the College of Humanities and Social and Behavioral Sciences.
Provost Michael Gealt announced the appointment Nov. 13, according to a CMU News release. Taylor will start her new position Jan. 16, 2018.
"I look forward to helping the college in whatever way I can to transition during this time of change, keeping in mind that our primary goal and driving force has been and will continue to be the success of our students," Taylor said.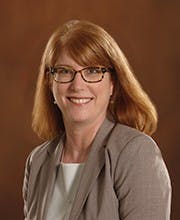 In September, current Dean Pamela Gates announced her retirement, effective January 2018. Taylor will be responsible for the leadership and operation of the college, according to CMU News.
Taylor has been interim associate dean of CHSBS since 2016, according to CMU News. She came to CMU as a faculty member in the English Language and Literature department in 1996.
In her time at CMU, Taylor has served as chair of the English department from 2005-11 and CHSBS assistant dean from 2012-16, among other roles. She also served as a senior administrative fellow in 2015-16.
Taylor earned a doctoral degree in English from the University of Washington and earned bachelor's and master's degrees from the University of Idaho, according to CMU News.
Share:
---