Students, faculty participate in Harry Potter multilingual reading marathon
---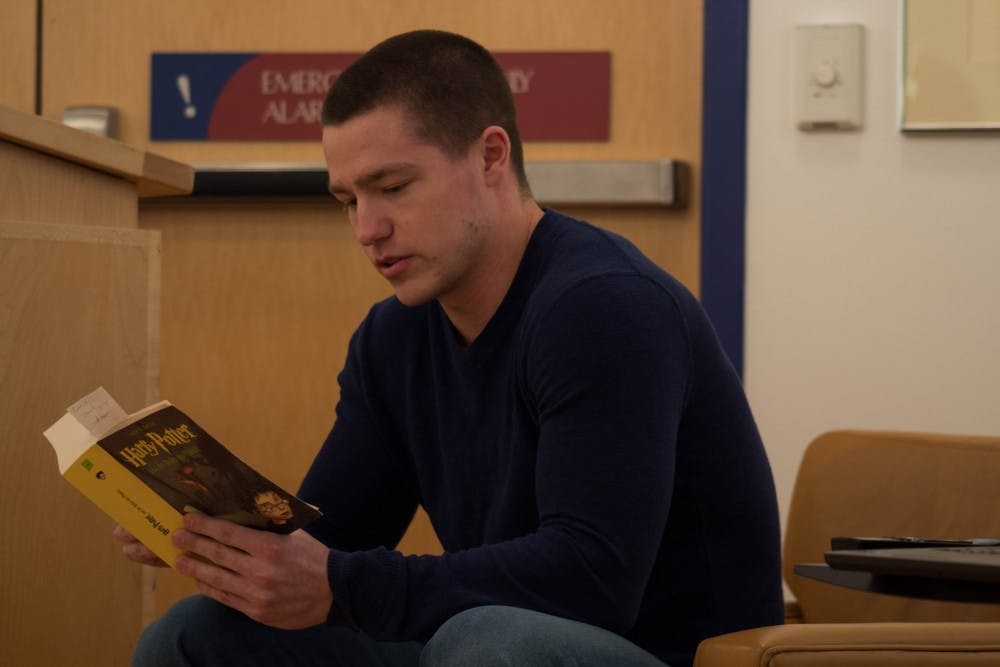 A group-reading of J.K Rowling's novel created a magical environment for Harry Potter lovers from around the world on Central Michigan University's campus.
This was the first multilingual reading of Harry Potter at CMU.
A multilingual marathon reading of "Harry Potter and the Order of the Phoenix" in 13 languages took place from 4:30 p.m. to 10:30 p.m. Feb. 22 in the Charles V. Park Library Baber Room.
The marathon began with Camilla De Bernardi, a freshman from Vigevano, Italy, reading in Italian. The event changed readers and languages every 15 to 20 minutes, depending on how long it took the reader to finish their assigned section. The languages represented were Spanish, Chinese, Polish, Portuguese, Korean, Japanese, French, German, American Sign Language, Italian, Romanian and English.
"I was not nervous to read because Italian is my native language and I feel comfortable reading it," De Bernardi said
The readers included faculty members, international students and CMU students. Daniela Teodorescu, World Languages and Cultures faculty member read in Romanian at the event. Teodorescu was excited to read after listening to the languages before her.
In total, 23 faculty members and students participated.
Bryan Whitledge, archivist manager at Clarke Historical Library orchestrated the event. He said he was thrilled about the turnout.
Students came in and out of the event while enjoying refreshments and cookies. There was non-alcoholic butter beer at the event, which is what the characters in the Harry Potter series drink.
Barryton junior Brock Crystal read in German at the event. German is not his native language, but since he is furthering his education in the language, he decided to read at the marathon.
"It is cool to listen to the different languages, because mine will sound completely different than hers," Crystal said as he pointed to De Bernardi while she read.
Different Harry Potter terms were translated on a television screen during the readings. Summaries of the section being read were displayed in English on the screen.
Zhengzhou, China graduate student Annie Lee read in Chinese. She was nervous about reading until she arrived at the event and saw others perform.
"The Chinese characters or letters are the biggest difference between the Chinese version of Harry Potter and the English version," Lee said. "Sometimes the Harry Potter characters emotions are expressed differently in the Chinese version."
Whitledge hopes this Harry Potter multilingual marathon encouraged CMU students to become interested in foreign language or take a class on one.
Share:
---