SGA's 'Speak Your Peace' event pairs social issues with creative performances
---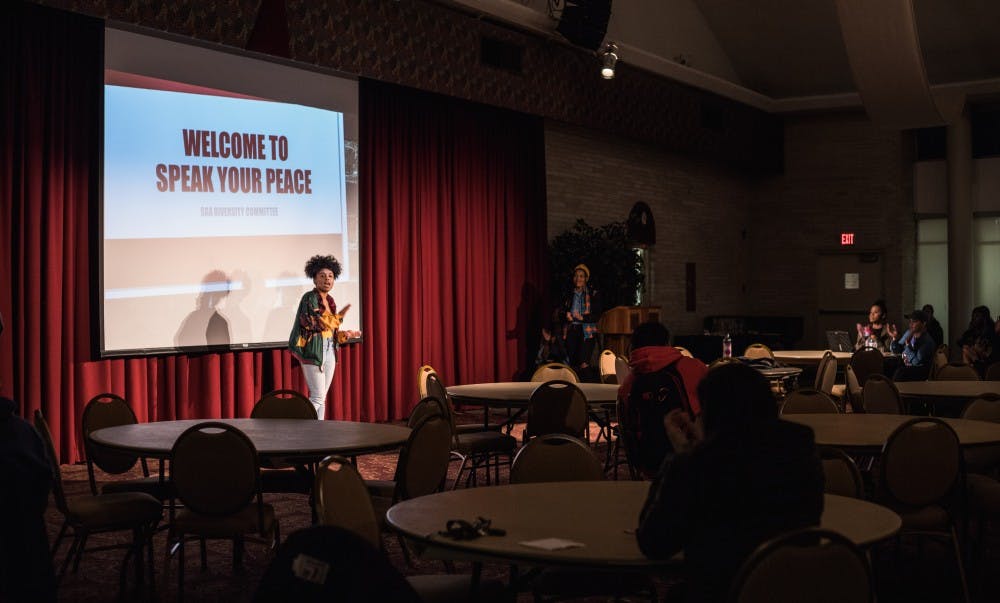 Sixteen students performed during the Student Government Association Diversity Committee's "Speak Your Peace" event Feb. 28, which was organized by SGA Senator Brianna McCrary.
The event mirrored last semester's open mic night of the same name and paired social issues with creative performances.
Canton senior Alize Mott-Jones and Detroit freshman Yasmeen Duncan hosted the event in the Bovee University Center Rotunda Room, opening the evening with a Black History Month PowerPoint.
McCrary purposefully scheduled the open mic night to coincide with the last day of Black History Month and many performers' works discussed being black and living in the U.S.
Midland senior Monyca King used the night as a study break from and a venting session.
"I'm searching through things I've heard as a black woman, so I'm trying to tell a fellow black woman, 'This is what we go through, and it's perfectly OK to be you,'" she said. "Especially picking a major (in the STEM fields) that is predominantly men, it's perfectly fine to be open about yourself."
Topics touched on race, mental illness, sexual assault, family tensions, deafness, politics and humanity.
Livonia freshman Dale Hardeman spoke out regarding the pressures of the schooling system and its effect on students.
"Think back to when you were a child," he said. "Can you remember the things you would think back then? No. I can't say I can remember how I thought as a child. They destroyed that."
He referenced how learning has been the same for a decade and explained it has removed creativity from children.
"What change do we need?" Hardeman said. "You can't say I learn the same way the next person can."
The event didn't produce as large of an audience as the previous semester's did, but students supported their peers as they performed, some creatives entering the spotlight twice.
Duncan closed the night with a poem, summarizing what she said was the theme of the event:
"(It's about) breaking the walls of labels and just being who you are for yourself; not being worried about what anyone else has to say," Duncan said.
Share:
---