Baseball travels to Florida for Stetson Invitational
---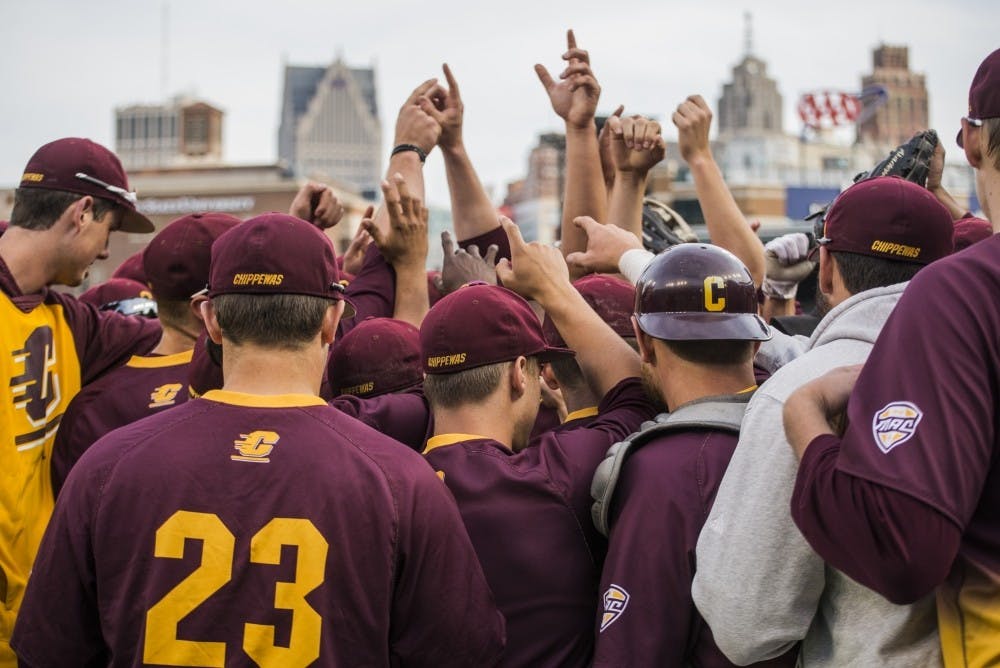 The first Spring Break trip for the Central Michigan baseball team is to the Stetson Invitational in DeLand, Florida.
The Chippewas (2-5-1), led by head coach Steve Jaksa, are set to battle against Purdue (6-1), Stetson (6-1) and Virginia Tech (3-5). After the Stetson Invitational, CMU has five more games in Florida to wrap up its Spring Break trip.
On March 2, Jaksa will send junior right-hander Michael Brettell (1-1, 13.00 ERA) up against Purdue junior left-hander Gareth Stroh (1-0, 2.61 ERA). The following day, junior righty Pat Leatherman (0-2, 5.91 ERA) takes the hill against Stetson junior right-hander Jack Perkins (1-1, 5.73 ERA).
Sophomore left-handed pitcher Tyler Hankins (0-1, 6.97 ERA) will throw off the rubber against Virginia Tech on the final day of the three games.
After the invitational, sophomore right-hander Zach Kohn (0-0, 2.00 ERA) is slated pitch against Seton Hall.
"We have three games, then two, then three," Jaksa said. "We will have to go with a fifth starter somewhere in there, so that'll be predicated on the weekend and who's available. Zach will throw a mid-week game, then we just have to find another starter.
"Dazon (Cole) could be a possibility to pitch a mid-week game."
CMU plays Purdue at 1 p.m., Stetson at 7 p.m. and Virginia Tech at 7 p.m.
In Brettell's most recent outing, the junior allowed 12 earned runs on 12 hits and four walks in 2.0 innings of work. Jaksa said he left pitches up on multiple occasion but trusts his ace will bounce back.
"They put some decent swings on him early and everything just found a hole," Jaksa said. "He was up a little more than he wanted to be, so guys got decent swings on him. I give him credit for hanging in there to show a little something in the second inning, but after two innings, it was enough."
Brettell pitched in CMU's opening game of the season, delivering 7.0 innings of one-run baseball, giving up six hits and striking out 10 batters on Feb. 16 against Stephen F. Austin.
Leading the Chippewas at the dish is redshirt freshman catcher Griffin Lockwood-Powell, batting .500 with one home run and seven RBIs in 20 at-bats. Junior catcher Evan Kratt is right behind Lockwood-Powell, hitting .407 with seven RBIs on the year.
The Chippewas are coming off a 0-3-1 four-game series against New Mexico from Feb. 22 to Feb. 25. During the series, junior outfielder Daniel Robinson cracked eight hits in 19 at-bats. He is batting .242 this season.
"We've watched quite a bit of video from those games and put some clips together. Three of the four games we were in. The bullpen wasn't able to hold the first game in check. At the end of the day, we just didn't get them."
Following the Stetson Invitational, CMU will take on Seton Hall (March 6), Virginia Tech (March 7) and USF for a three-game series from March 9 to March 11.
Share:
---