Women's basketball squeaks past EMU, advances to MAC Tournament semifinals
---
Holding a 35-21 lead at halftime, the Central Michigan women's basketball team had its lead cut to one point by Eastern Michigan with 1:02 left in the game.
Late free throws iced the game for the Chippewas, sending head coach Sue Guevara's team to the Mid-American Conference Tournament semifinals.
The No. 1 ranked Chippewas (26-4, 18-1 MAC) defeated No. 9 Eastern Michigan (11-20, 6-13 MAC), 67-64, on March 7 at Quicken Loans Arena in Cleveland.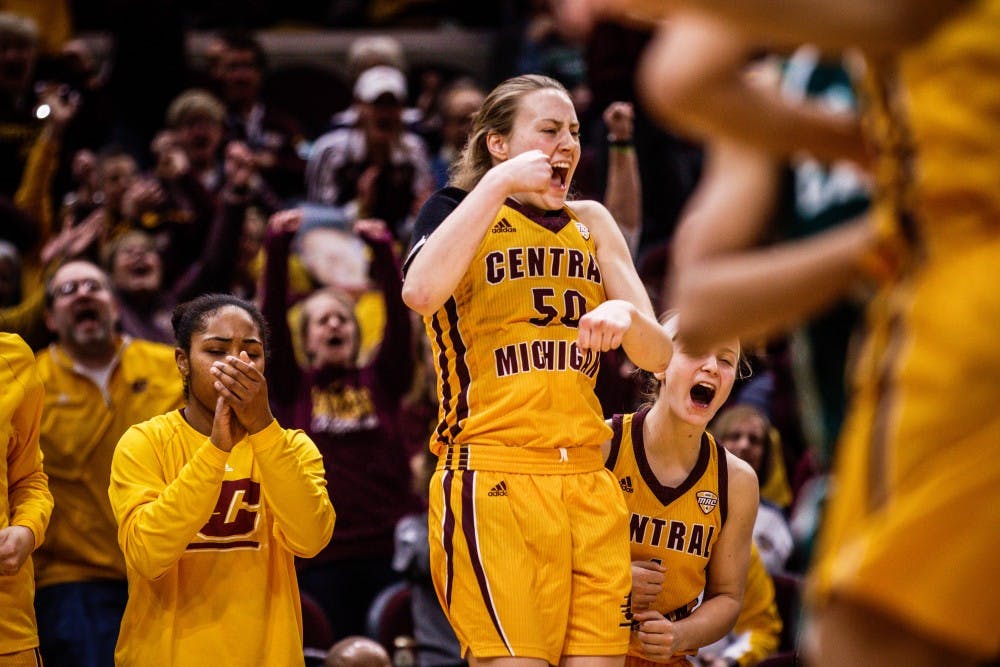 "It's March," Guevara said. "It's survive and advance. Eastern Michigan gave us everything we almost didn't handle. I'm just glad this one is over and we can rest."
Redshirt freshman guard Micaela Kelly drove the lane and scored to open the scoring with 9:12 left in the first quarter at Quicken Loans Arena. Almost three minutes later, junior guard Presley Hudson made it a 7-4 lead on a 3-pointer from the top of the key.
A traveling violation caused senior forward Tinara Moore, the MAC Player of the Year, to take a tumble. She limped to the bench with 4:41 remaining in the first quarter.
Moore's replacement, freshman forward Kyra Bussell, stepped up by registering three points, two rebounds and one block in her absence during the first quarter. Moore returned with 9:10 left in the second quarter.
"Tinara struggled early and (Bussell) did a great job for us," Guevara said. "Tinara was tired and I went back and forth in my mind about bringing (Bussell) back in (at the end of the game), but I went with the (MAC) Player of the Year."
Down 23-5, EMU cut its deficit to 15 points on an and-one layup from freshman guard Courtnie Lewis just 57 seconds into the quarter.
A slashing layup from Kelly extended CMU's lead to 21 points, 31-10, with 3:07 to go in the first half. The Chippewas continued to boost their edge in spite of only scoring two 3-pointers, taking a 35-21 advantage into halftime.
CMU shot 15-of-31 from the field and 2-of-11 from downtown in the first half, while the Eagles managed to go 25.0 percent, converting on 9-of-36 attempts.
"We had a good first quarter and defensive was really important," said CMU junior forward Reyna Frost. "They got on a run and we let them get momentum, so I think that's a big shift we need to make going into our game on Friday.
EMU senior guard Micah Robinson pulled down a rebound and took the ball coast to coast for a and-one layup. Her free throw trimmed CMU's lead to 11 points, 39-28, with 6:47 left in the third quarter.
Redshirt freshman guard Corrione Cardwell's free throws on the next offensive possession made it a single-digit game, 39-30.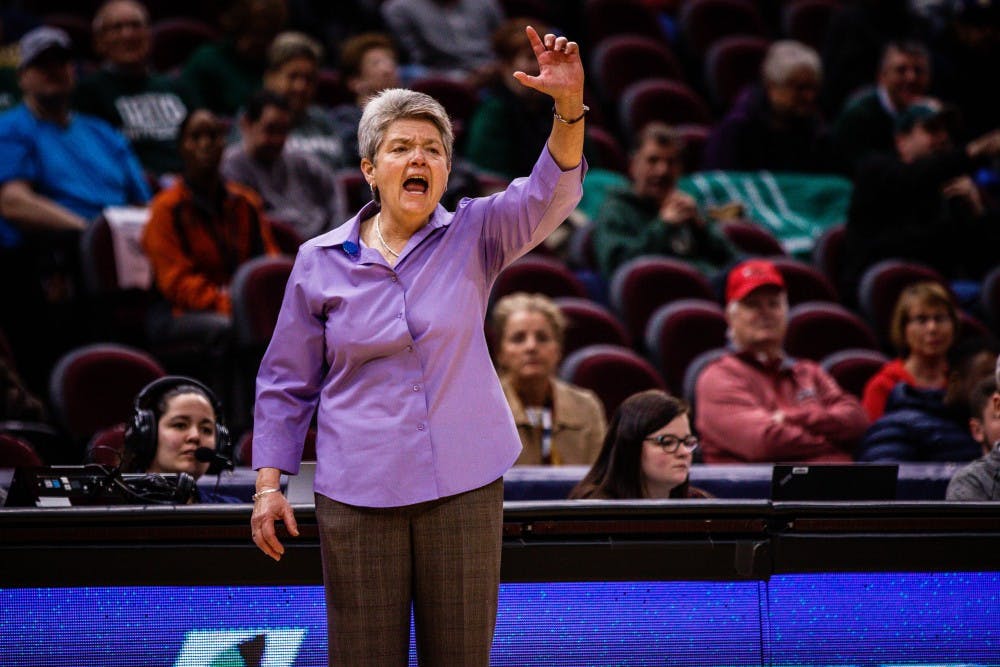 Senior guard Cassie Breen helped push CMU's lead well past double digits on a 3-pointer. The third Chippewa triple gave the team a 48-32 edge with 4:02 remaining in the third quarter.
Kelly and Cardwell traded layups to end the third quarter, making it a 52-41 lead in favor of the Chippewas with 10 minutes remaining in the contest.
All five CMU starters scored in double figures against EMU. Moore led the way with 17 points and eight rebounds. Frost tossed in 14 points and 10 rebounds. Hudson, who fouled out in the fourth quarter, scored 10 points on 1-of-7 shooting from 3-point range.
EMU redshirt junior guard Danielle Minott drew a foul on Moore, scored and converted at the free throw line. The and-one basket trimmed CMU's lead to 54-46 with 7:56 to go in the game.
Led by Hudson's passing and Moore's inside game, the Chippewas clawed ahead by 13 points with three minutes to go in the quarterfinal. However, a 10-0 scoring run for the Eagles made it a three-point game, 62-59, as the clock hit two minutes remaining.
"We had to make our underclassman know to take it one play at a time," Frost said. "We had to stay disciplined and do what we've been doing all season."
Down three points, Minott missed a 3-pointer with 10 seconds left. A jump ball gave the possession to CMU, but Breen missed two free throws with 1.3 seconds left.
On the last play of the game, Minott's triple came up short to end the game in favor of CMU, 67-64.
Minott sparked EMU's comeback efforts with 27 points and three rebounds. Senior guard Sasha Dailey chipped in 13 points, five rebounds and two assists for the Eagles. Lewis scored 12 points.
CMU advances to play in the MAC Tournament semifinal game at 11 a.m. on March 9 against either No. 4 Miami (Ohio) or No. 5 Ohio at Quicken Loans Arena.
"We have one more game to play," Guevara said.

Share:
---