Community members hit the lanes for charity at Mount Pleasant Optimist's Club 23rd Annual Bowling Challenge
---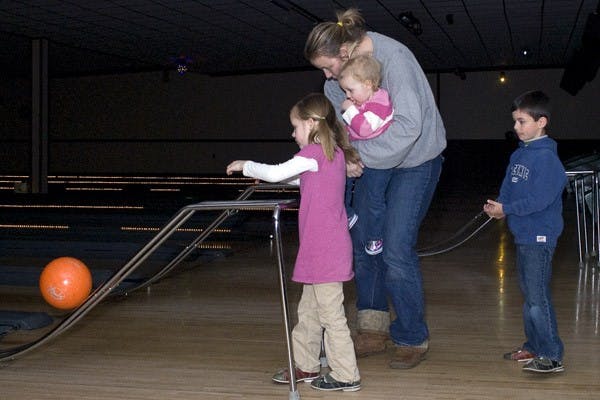 Some knocked down pins, some threw gutter balls.
But it didn't matter for participants at the Mount Pleasant Optimist Club's 23rd Annual Bowling Challenge, who had one goal in mind — raising money for local organizations that directly support the community's youth.
Jim Binder, Optimist Club's former president and a board member since 1990, is very proud of the organization's efforts.
"This is probably our biggest fundraiser," Binder said. "We have given away $15,000 to $20,000 to the community in past years."
The amount raised Saturday at Chippewa Lanes, 1200 S. Mission St., had not yet been calculated.
Most of the money raised will support community youth programs such as Optimist Youth Soccer and Basketball, the Optimist Bike Fair and Big Brothers Big Sisters.
The club's current president, Rosebush resident Vonda Delorenzo, said it was a great year for the bowling challenge.
"We have students from the Youth Advisory Council here and involved in the event," Delorenzo said.
David Smith, another club board member and former president, estimated 150 to 200 bowlers participated in the event.
"It is our major fundraiser," Smith said.
Many were excited to be part of the Optimist Club's efforts to give back to the youth community.
"It is awesome because I do a lot of charity events," Mount Pleasant resident Jim Hathaway said. "I know a lot of people here and it is for a great cause."
Mount Pleasant resident Amy Ervin, the club's vice president, said the group's ultimate goal is to give back to the youth of Isabella County and they achieve it every year.
"The amount of people participating is down overall but up from last year," Ervin said. "We want people to keep coming back each year"
Share:
---