YEAR IN REVIEW #16: Snow cancels class twice in February
---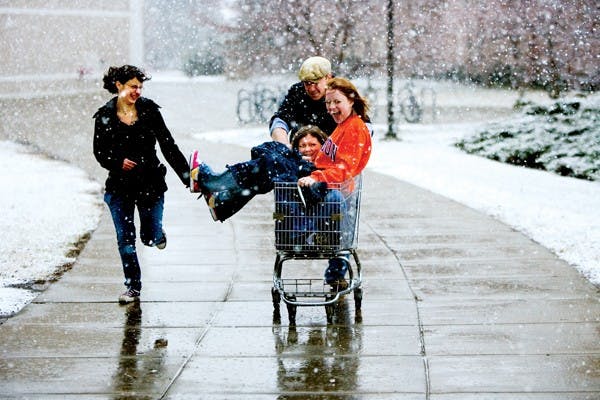 Snow canceled classes at Central Michigan University twice in 2011.
On Feb. 2, all buildings, minus the residence halls, closed after approximately eight inches of snow fell on the Mount Pleasant area. The Charles V. Park Library and Student Activity Center opened at noon, hours after the storm tapered off. The National Weather Service in Grand Rapids issued a winter weather advisory the night before, prompting university officials to email students about the planned closure.
Facilities management had 20 people working through the storm, and had to call in five retirees. Tony Casali, manager of the Isabella County Road Commission, said crews cleared blacktop streets in the county and they would be snow covered again hours later.
"Every storm is different, but this is the worst storm since I joined CMU in 2003," said Steve Lawrence, associate vice president of Facilities Management. The university maintains four-and-a-half miles of roads, 29 miles of sidewalks and 92 acres of parking lots.
University President George Ross said campus events and programs are typically canceled with lower visibility and poor travel conditions.
"Weather is so unpredictable, but NWS is fairly good and accurate with predictions," Ross said. "It's surprising, things develop that you don't foresee. Weather's fairly complex."
Despite the closure, a men's basketball game against Ohio at the CMU Events Center was played as scheduled.
The threat of winter weather struck again just a few weeks later, prompting CMU officials to cancel classes and operations until noon on Feb. 21.
A winter storm warning was issued for Isabella County on Feb. 20, with forecasts for eight to 12 inches of snow and wind gusts up to 30 mph. In an email to students, CMU said it would update students at 10 a.m. on Feb. 21 with the status of classes and operations. The university sent out an alert in the morning saying classes would resume at noon.
Share:
---