UPDATED: Former CMU guard Trey Zeigler charged with DUI, suspended by Pittsburgh
---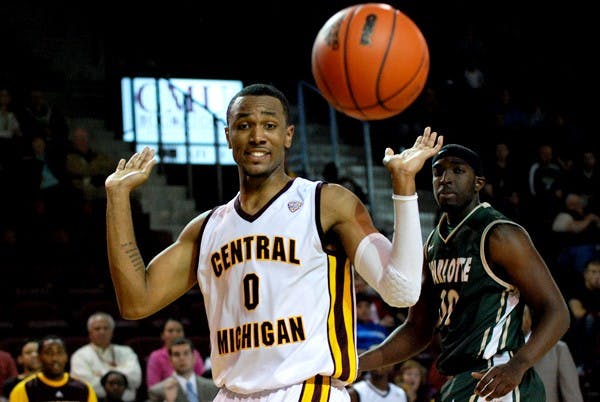 Former Central Michigan basketball guard Trey Zeigler has been charged with driving under the influence and suspended by Pittsburgh head coach Jamie Dixon, according to a report from the Pittsburgh Post-Gazette.
Court records indicate Zeigler, 21, will be charged by Pittsburgh police with two misdemeanor counts of driving under the influence following an incident Sunday in which a cab driver found him passed out in his car at the intersection of Boulevard of the Allies and Craft Avenue in Pittsburgh. His blood-alcohol content level was measured at .129, more than the 0.08 legal limit.
Dixon said he has been "suspended until further notice."
"The incident involving Trey Zeigler is not only surprising but incredibly disappointing," Dixon said in a statement. "Trey has expressed his deep regret to me and understands and respects the importance of accountability for one's actions."
Zeigler, a standout player at Mount Pleasant High School and 2010 runner-up for Michigan's Mr. Basketball award, committed to play for his father, Ernie Zeigler, in the spring of 2009.
Zeigler finished runner-up in Mid-American Conference Freshman of the Year voting in the 2010-11 season, his first in a Chippewas uniform, averaging 16.3 points and 5.4 rebounds per game, despite the team's 10-21 overall record. He posted similar numbers in 2011-12, averaging 15.8 points and 6.7 rebounds per game, while CMU posted a bleak 11-21 record. Ernie Zeigler was fired following the season's end, and Trey Zeigler was one of several players to leave the program.
Recruited by several high-profile programs, Zeigler committed to Pittsburgh last spring. Dixon served as an assistant coach with Ernie Zeigler from 2001 to 2003 at Pittsburgh.
Trey Zeigler has averaged 6.2 points and 1.2 rebounds in six games off the bench for the Panthers.
Share:
---