Night of Louisiana brings southern fun to Mount Pleasant
---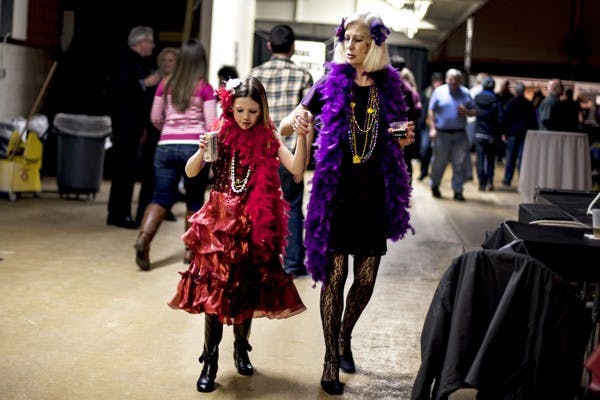 People pulled out their Mardi Gras beads and put on their dancing shoes for the 22nd annual Night of Louisiana Saturday at Finch Fieldhouse.
Drawing Michiganders from all over the state, the night was filled with hundreds of event-goers enjoying traditional hot Cajun and Southern foods, drinks, music and dancing.
"I like to think of this night as a big Mount Pleasant block party, so many groups of people come from around the state to celebrate," Director of University Events Bob Ebner said. "Around this time of the year, the holidays are over, and there isn't much excitement to look forward to. This gives people the chance to get that cabin fever out of them."
The event hosted two 2013 Grammy-nominated bands: Steve Riley and the Mamou Playboys and Andre Thierry & Zydeco Magic.
This was Thierry's first performance at CMU, while Riley has been a recurring performer. CMU alum and Mount Pleasant local Paula Ruter have been attending Night of Louisiana since the early 90s.
"I like the music – it's uplifting and fun. I don't regularly listen to this type of music, and this event gives me the chance to," Ruter said.
A majority of attendees arrived early to the event, giving them the advantage of finding seats and enjoying the Louisianian meal served hot.
The dinner consisted of French Quarter gumbo, Cajun-crusted chicken breast, New Orleans red beans and rice, Mardi Gras slaw, creole vegetables, bayou blackened catfish and Big Easy cornbread with butter.
CMU's radio station WCMU sponsored the event, and radio director John Sheffler was happy to bring Louisiana to Mount Pleasant for an evening.
"I have worked with many university events, and this was just another great opportunity to use our resources and help put on an event that attracts 600 to 700 people. We put ads in newspapers, advertised over the radio, as well as made flyers," Sheffler said. "Everyone has their preferred music choices, and while this may not be everyone's cup of tea, it still is a true celebration of American culture."
While this event did not attract many students, Holly senior Raychel Payne, Harrison Township senior Jessica Lepage and Clinton Township senior Erica Sell came ready to partake in Night of Lousiana.
"We heard about the event through work. I was excited to attend; I literally will dance anywhere," Payne said.
Share:
---