Caught in the moment: CMU alums open photo booth business
---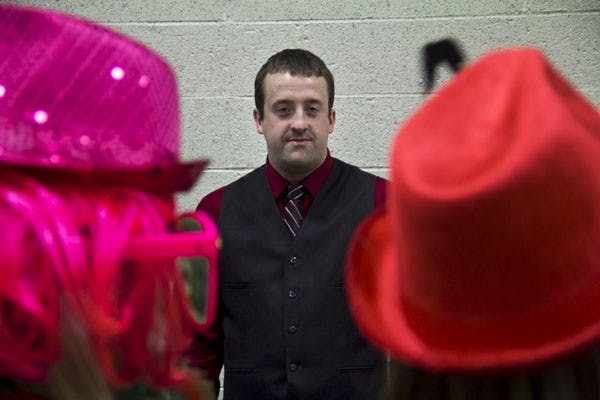 Two Central Michigan University alumni found something that changed their lives in Virginia last year.
Gary and Chrissy Lane, now married with an 18-month-old daughter, came across a photo booth while attending a wedding that had wigs and several props that became the hit of the reception.
"Everybody was going in and out with props, and we took pictures ourselves," Gary admitted. "After looking into it, we figured this was the way to go,"
Both had never seen anything like this before and started planning for their own business in Mount Pleasant, which they promptly named "In a Snap Photobooths."
Gary, assistant manager of technology, said he did not realize how big of a hit their photo booth would become.
"Chrissy's a stay-at-home mom, so we need a little bit of a supplemental income," Gary said. "We provide wigs, hats and speech bubbles for silly props. We have so much fun being at these events."
One of the most popular props at parties has been a large black afro, which covers most of the face and head, he said. Chrissy said she was surprised by how a few simple props can bring out the most in people.
"We did a Valentine's party at my parents' church, where they are mostly conservative," Chrissy said. "And it was fun to watch people you know that wouldn't normally get out of the box put on these wigs and become another person."
Gary built the booth himself, often having trouble with the design aspect during last summer, he said. That was only the first hiccup the couple came across on getting their business off the ground.
After spending so much time thinking up a name for the company, Gary and Chrissy chose one only to discover it was already taken from a business in Detroit.
"You wouldn't think it would be hard, but every single name we came up with was taken," Gary said.
One of Gary's student workers texted him the suggestion of "In a Snap," and after seeing no other match within the state, the company had a name.
A lot of the events booked have been word of mouth so far, he said, but they are having trouble finding new people.
"We are definitely cheaper than anybody around," Chrissy said. "It's just getting our name out there before they hire anyone they used before."
Gary said his next goal for the company is to include a second photo booth, while his wife is always at his side reminding him to take it one step at a time.
"When we have a couple of booths, we'll have to hire employees," Gary said. "We are the ones that run the events. It's a family business."
Share:
---