New Venture Competition turning business plans into futures
---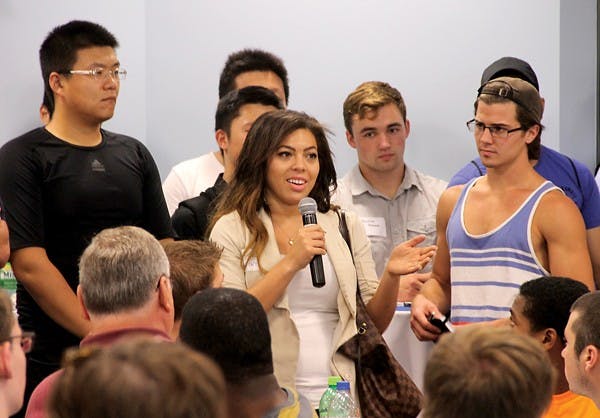 Enterprising business majors across campus are preparing their best sales pitches for Central Michigan University's fourth annual New Venture Competition.
The competition allows students to turn their ideas into potential start-up businesses. Teams receive expertise, guidance and insight from alumni, community leaders and entrepreneurs.
The College of Business Administration and the Isabella Bank Institute for Entrepreneurship created the competition.
Workshops, coaching, mentors, and networking are offered to students over an eight month period, starting in September and ending on Venture Competition Day, March 28.
"We provide workshop training every other week throughout the fall and spring to enable the student teams to learn about the start-up process and elements that make a business successful," said Debra Zellner, executive director of the Isabella Bank Institute for Entrepreneurship. "These workshops include instruction from a variety of experienced entrepreneurs throughout Michigan."
About 50 judges from Michigan and out of state will be attending the competition.
"In addition, there will be community leaders, business professionals, and the entrepreneurial support community," Zellner said. "We estimate over 300 people will join us throughout the day and evening."
CMU business students get the opportunity to compete against other business majors from across the state.
"We invite Michigan Technological University to compete with us," Zellner said. "All participants 'win' in experience and connections."
Awards for winning the competition range from $500 to $30,000. The program is a huge advantage for students looking to start their own businesses.
"This year we will award $75,000 in start-up capital, plus in-kind services to get the businesses started," Zellner said. "Students learn start-up skills, which enable them to differentiate themselves from others."
Last year's winner and Walled Lake graduate Sean Armstrong learned various techniques from participating in the competition. He said New Venture opened him up into the business world.
"It was a transformative experience," Armstrong said. "I gained so many personal benefits being around professionals and people in the entrepreneurial world. The expertise that was offered was extremely valuable."
Armstrong's start-up business "Ring Around the Children" won first-place pitch last March.
The business acquires unused and donated diamonds from people. The company then gave a tax deduction to the donors and the diamonds are resold to young couples getting engaged.
"Couples would take proceeds to children's charities of their choice," Armstrong said. "It really gave a lot more meaning to the ring, and made for a nice engagement story."
Armstrong faced a few financial challenges with his project being not-for-profit.
"I started Ring Around the Children up with my sister as a nonprofit company," Armstrong said. "It became hard to maintain a salary because it is nonprofit, however, it is still very much in business."
Share:
---