CMU students help donate and deliver school supplies
---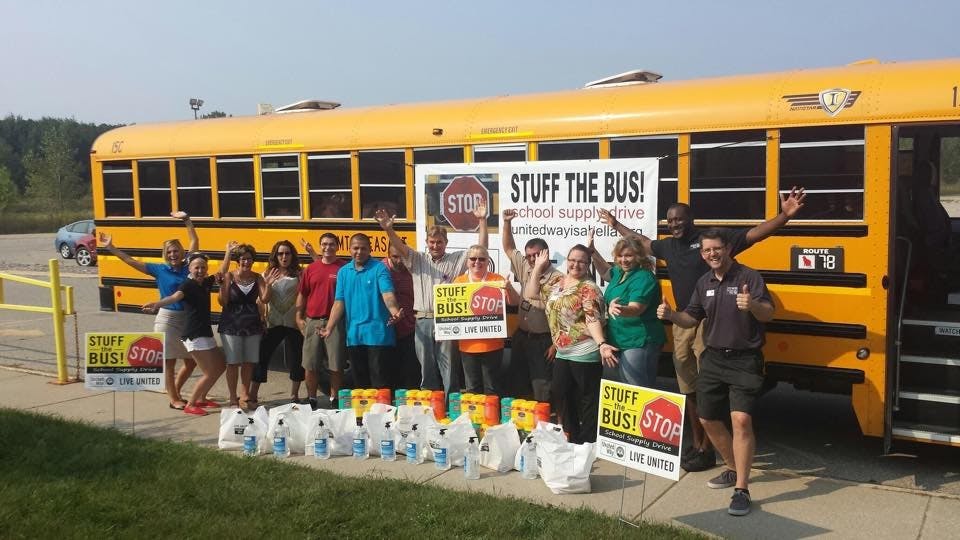 A school bus carried nearly $25,000 worth of school supplies to all 14 Mount Pleasant area schools on the morning of Sept. 2. There are roughly 250 elementary classrooms and 3,500 K-12 students.
United Way has organized a school supply drive called Stuff the Bus for the last three years now. Stuff the Bus is an all-encompassing Isabella County community fundraiser. Multiple groups, associations, businesses, Central Michigan University clubs and organizations contribute in donating. The committee that runs the fundraiser asked schools directly what supplies they needed, and used donations from the community to buy the supplies.
Volunteers loaded up a school bus with the supplies and personally delivered them to the elementary schools. Committee president Tom Olver said his favorite part about delivering the supplies was "seeing the looks on teachers faces and their appreciation for the community."
Most schools in the area have a strict low budget for purchasing new items each school year, somewhere between $50­100 per classroom. It is estimated that Stuff the Bus supplied about 100 items to each school.
"We believe that quality education is a building block to a good quality of life," Olver said.
The bus route started at 8:45 a.m., when volunteers loaded up the bus and headed to Mary McGuire Elementary School by 10 a.m.
"With the current economic trying times, (Stuff the Bus) has been a huge help for the community and students," said Mary McGuire Elementary School Principal Susan Renaud.
Several Central Michigan University clubs participated this year, including Leadership Safari, College of Medicine students, and students from the Student Activity Center, the Mary Ellen Brandell Volunteer Center and Warriner Hall.
Lisa Northrop, a fifth grade teacher and parent at Mary McGuire, mentioned that her daughter had helped stuff the bus in the morning.
"I felt proud as a parent, and blessed as a teacher," Northrop said.
Pullen Elementary School and Saginaw Chippewa Academy were also stops along the bus route. Volunteers unloaded school supplies in front of the bus in the 90 degree weather before they waited for teachers to come outside of the school.
Teachers were grateful of the donations. You truly could see their appreciation for the community, Olver said.
"It's truly a community effort, not just the big businesses, but CMU students, the mom and pop shops and small businesses as well," Olver said. "It is amazing to see what greatness can happen when everyone comes together."
Share:
---