Five teams awarded prizes during Make-A-Pitch 2016 event
---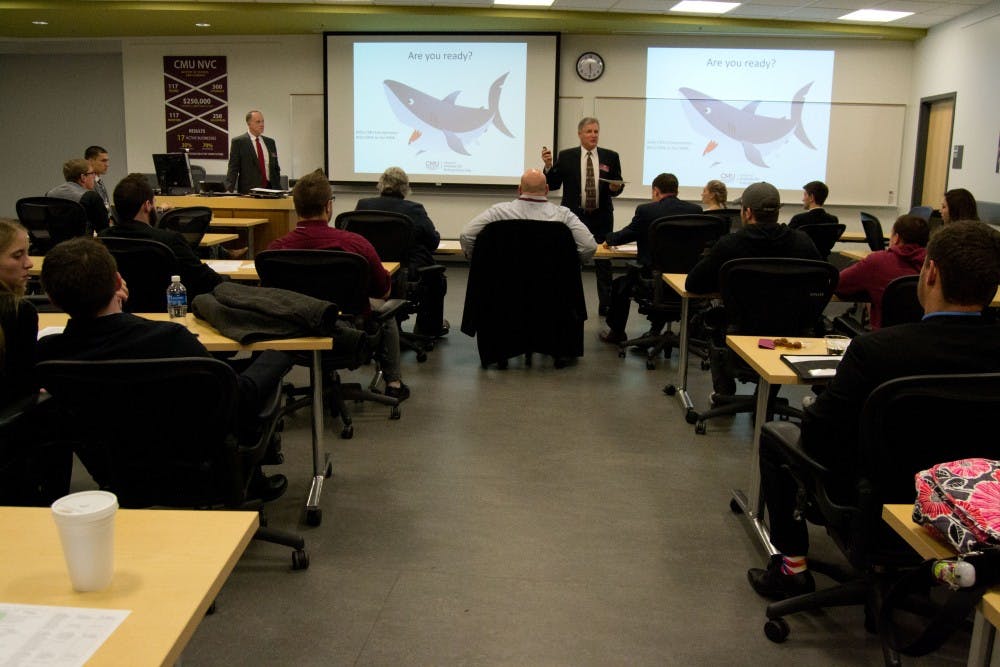 Five student teams were recognized for their unique business ideas on Dec. 1 at the Make-A-Pitch 2016 competition in Grawn Hall.
Hosted by the College of Business Administration, Make-A-Pitch acts as a prelude to the New Venture Competition in the spring.
A record high of 26 teams competed this year.
Each team had two minutes to explain its entrepreneurial idea to a panel of judges, which consisted of professional entrepreneurs and Central Michigan University alumni.
First place prize was awarded to the team of Bryan Caragay and Hailey Polidori, who received a $500 gift card to the CMU Bookstore. Going by the name of Scrappy Technologies, the pair pitched a smart phone app that would function similarly to the Blue Light Emergency Phones on campus.
The app, called Guarded, incorporates features such as interactive maps and text-based notifications to a system that sends alerts to campus police if the user feels like they're in danger.
Caragay has been programming and designing apps for nearly 10 years. Guarded is based off an old idea of Caragay's that Polidori convinced him to revisit. The pair is working with the Sigma Kappa sorority to beta-test the app.
"I think it's shown young entrepreneurs actually can succeed and start a business," she said. "We're told we can't do it right out of college, or that it's not going to work. I think this really helps to show it can actually happen."
Second place was awarded to Spectrum Engineering Team members Allen Warren and Caroline Mitchell. The two proposed a device designed to make it easier and safer for nurses to administer pills to patients unable to take them orally.
Both senior engineering students, Warren and Mitchell, were assigned the project as part of a class final. Warren said the competition was a valuable experience that opened his eyes to a new side of production.
"It was definitely a learning experience for us as engineering students," he said. "It was a whole different perspective of product development, which is where our background is. Pitching and seeing the business side was definitely a learning experience."
The team hopes to have its first prototype built by spring 2017.
The third-place prize of a $50 gift card went to Matthew Skornicka and his plans for a company named Great Lakes Liberation Pet Food. It aims to solve the problem posed by invasive Asian Carp by using the fish to make a cheaper type of dog food.
Two additional student teams received honorable mentions. South Lyon junior Matthew Finneran was recognized for his creation of the Finn Foundation, which works to treat and rehabilitate people suffering from traumatic brain injuries.
Illinois sophomore Jocelyn Stronach was recognized for her company Bonafide Tail-Waggers All-Natural Dog Treats, which offers a healthier alternative to traditional dog treats.
Most participants of Make-A-Pitch plan to continue developing their ideas for the New Venture Competition in the spring. The first New Venture workshop of next semester, Pitch Review and Customer Feedback, takes place on Jan. 13.
Share:
---