Greeks raise $83,500 for child advocacy center, Kristy Malter memorial
---
The Greek community raised $83,500 during the 2017 annual Greek Week. The funds will be donated to the Isabella County Child Advocacy Center and the Kristy Malter Memorial Fund.
More than 3,000 people filled McGuirk Arena Friday night to attend "The Kristy Malter Memorial Greek Week Mock Rock," where Greek Week teams competitively performed song and dance routines they choreographed throughout the week. At the end of the show, the Greek Week chairs announced the $83,500 success. Mock Rock serves as the Greek Week grand finale every year.
This year, Mock Rock was named in honor of Kristy Malter, an Alpha Gamma Delta sorority sister who died last summer from bacterial meningitis.
The 2017 Greek Week organizers set no limits for themselves. Max Sarvello, chairman and member of Sigma Pi, said the co-chairs decided their only goal was to raise more money than last year.
The Greek community has raised significantly more money every year. In 2014, $30,000 was donated to Special Olympics Michigan. The Angel Wings Fund received $50,000 in 2015, and $67,500 was raised for the Derrick Nash Strong Foundation in 2016.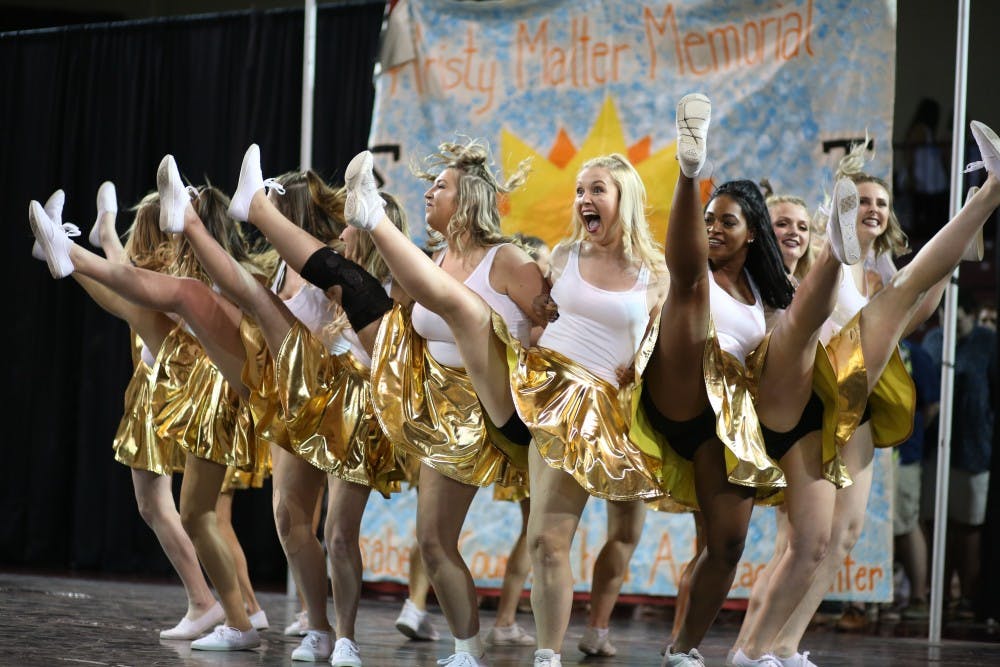 This year's Greek Week raised $16,000 more than last year.
For Mock Rock, each team designed a performance to fit a theme, and competed for points to be added to their total Greek Week score. This year's theme was "Key Words," where the teams chose a word to center the performance around.
Delta Zeta, Sigma Alpha Epsilon and Alpha Phi Alpha, for example, chose "Baby" as a theme. They performed a dance routine to songs such as "Baby One More Time" by Britney Spears and "I want you Back" by Jackson 5.
The performances featured a variety of talents and music. Dance styles ranged from hip-hop, to contemporary to ballet. Greeks performed to songs varying in genre, including country, electronic and classic rock.
The audience roared with cheers during and after every act.
The Kappa Sigma, Zeta Tau Alpha and Kappa Alpha Psi team won Mock Rock with a performance centered around the word "world."
Sigma Pi, Alpha Gamma Delta and Omega Psi Phi were the overall Greek Week winners.
Oxford freshman Maddie Ingalls, attended to support her roommate who was performing. She said Mock Rock was enjoyable, but beyond that the whole week was successful in advocacy.
"I liked the outfit changes and the old classic songs that they did, the songs that everyone can jam to," Ingalls said. "It's bringing people together as a community."
Fenton junior Alyssa Trapp of Phi Mu, a participant in Mock Rock, said Greek Week is great because everything loops back to the philanthropies.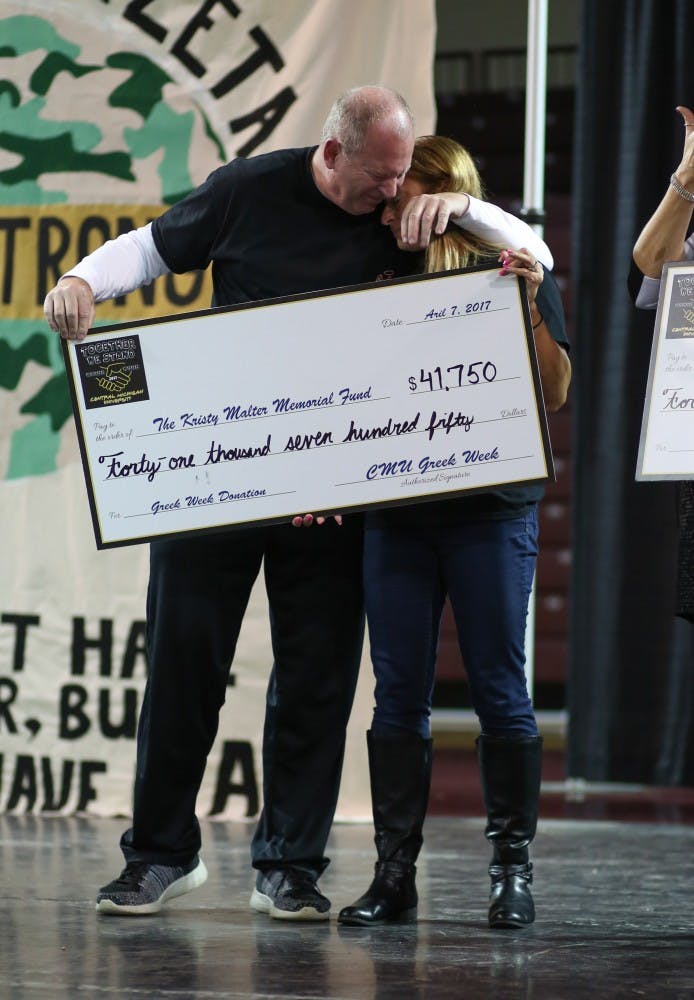 "(Greek Week is) important because Greek Life kind of has a bad reputation," Trapp said. "With philanthropy, we can really show how much of an impact we can have in our community."
Malter's parents, Tim and Donna, spoke at the end of the event, and expressed how grateful they were about the Greek community honoring Kristy.
"This was awesome," Tim Malter said. "To see all of you come together to do what you've done today has touched our lives and our hearts so much."
The Malters' speech brought tears to many in the audience.
"I know some of you don't know us and we've never met some of you, but I feel like you've hugged us today and touched our lives so much," Tim Malter continued. "It's just been so beautiful."
Share:
---