Huda goes from basketball star to lacrosse playmaker
---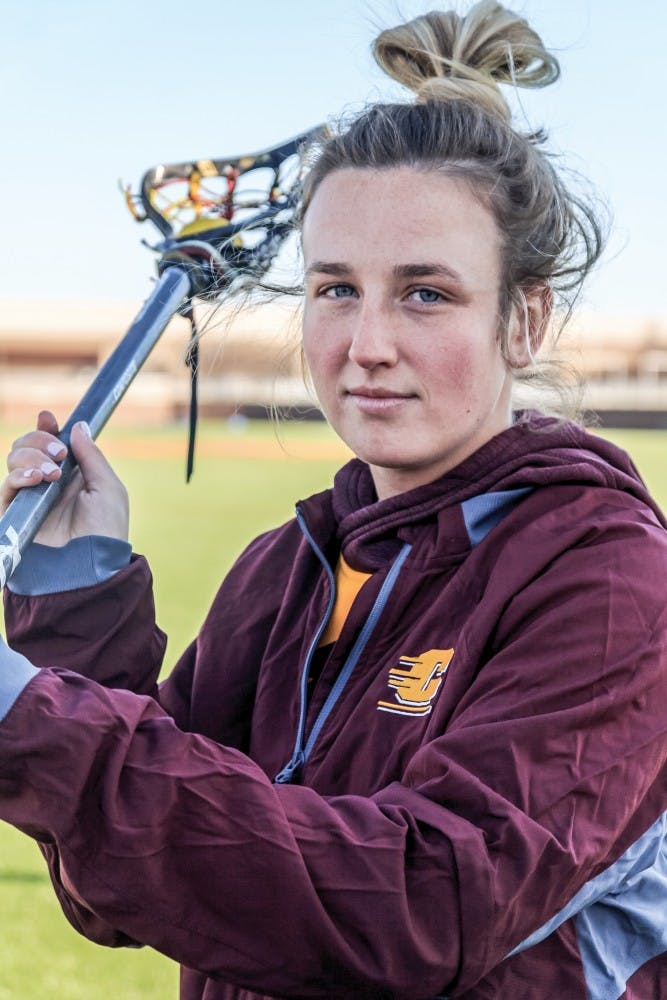 When attending a Central Michigan lacrosse game, it won't take fans long to notice No. 31.
Sophomore attacker Riley Huda dazzles the crowd with her signature spin-moves and precise passing. Her poise and confidence resembles a lifelong lacrosse player, but the Minnesota native is no such thing.
It wasn't until her sophomore year of high school when she first picked up lacrosse. Huda's friend Logan Dobrantz introduced her to the game. Dobrantz attended Lakeville North High School with Huda and now plays lacrosse at Marquette.
"I wanted to try something new with one of my best friends," Huda said. "(Dobrantz) introduced me to lacrosse and it just took off from there."
Huda burst onto the Minnesota lacrosse scene. By the time she was a senior, Huda earned All-conference, All-state and team MVP. When her high school career ended, she left Lakeville North with 56 goals and 31 assists in just three seasons.
It became clear during her freshman season with CMU that Huda had made a good choice in joining the Chippewas. In her first year of collegiate play, Huda led all CMU players with 15 assists. Her 30 points total was tied for the third highest on the team.
After a successful freshman season, Huda has developed into an even better contributor as a sophomore.
She has already surpassed her previous point total with 39 points in only 11 games. Her 25 assists rank second in the Atlantic Sun Conference and first among Chippewas. She has twice broken the single-game assist record, which she currently holds at seven.
Prior to lacrosse, Huda starred on the diamond and the hardwood. At Lakeville North, she was a five-year letter winner in softball and a four-year winner in basketball.
CMU head coach Sara Tisdale said seeing Huda's experience in other sports came into play when recruiting her. Tisdale said she looks for that overall athleticism in her players, and Huda fit the bill.
"To this day, I maybe have more basketball experience than lacrosse experience," Tisdale said. "I love basketball and hockey players, and I look for that kind of player who leads and know what it takes."
Many thought Huda had a future in either basketball or softball, but instead she fell in love with lacrosse.
"Lacrosse was my favorite as soon as I played," Huda said. "Once I started lacrosse, basketball was no longer my main competition."
Although Huda had only three years playing lacrosse, the Chippewas found something they liked in her. Tisdale and her staff saw a high ceiling and extended a scholarship offer to Huda.
"The nice thing is you get to build them up into what you want them (to be) versus having to go back and change some habits," Tisdale said. "It's nice to see players eager to learn and see the growth and progress they make every single game."
Huda seemed to be the perfect player for Tisdale. After developing a relationship with the staff and seeing how she fit in with the program, a trip to Mount Pleasant sealed the deal with the Chippewas.
"I came here and it all fell into place," Huda said. "I really liked the size of the school, the atmosphere and it's not too far from home. It was an overall good decision for me."
With her skill, leadership and ability to get others involved, Huda has turned out to be a pillar for the up and coming CMU lacrosse team, all thanks to a friend and former teammate.
Share:
---