Football blasted by Rockets on rainy Homecoming game, 30-10
---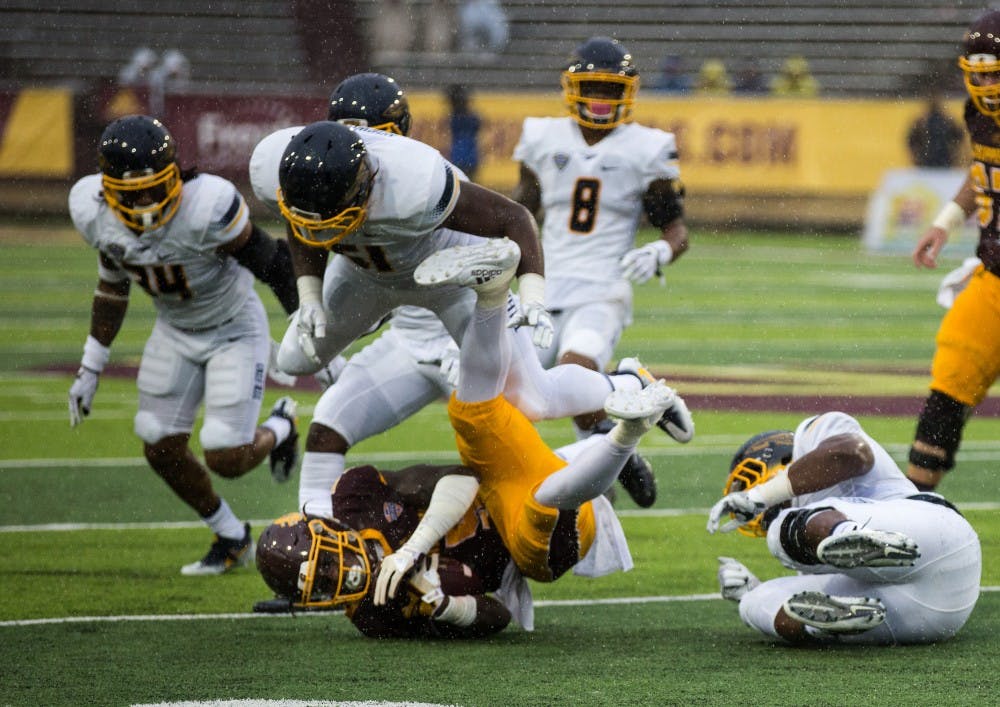 Rain poured down and the scoring deficit increased.
By halftime, the Homecoming crowd of students, alumni and fans was nearly gone.
Central Michigan football suffered its eighth-straight defeat to Toledo as the Rockets blasted the Chippewas 30-10 on Saturday.
The loss was the fourth in five games for the Chippewas.
After climbing back into the Mid-American Conference standings, CMU (3-4, 1-2 MAC) now sits in fourth place in the MAC West Division with five games remaining.
Sloppy Play
Head coach John Bonamego said Saturday's weather interfered with the Chippewas' game plan. He admitted he should have made adjustments.
"When I saw what the weather was going to be like," Bonamego said, "I should have insisted that we make a greater, stronger commitment to keeping the ball on the ground and run it."
CMU was out-gained 218-49 on total yards in the first half and 399-244 overall.
Graduate transfer quarterback Shane Morris completed only 17-of-37 passes for 182 yards. Morris found senior tight end Tyler Conklin for a 26-yard touchdown late in the fourth quarter, but his two interceptions in the second half were the difference.
His receivers didn't do Morris any favors as they dropped several passes throughout the game. The Chippewas were helpless on the ground as well, as they totaled just 69 rushing yards.
Bonamego said his team's 21 carries weren't enough to gain momentum in the contest.
"We could've helped our football team. I could've helped our football team by having a game
plan around running the ball more," Bonamego said. "We could've run it more consistently in the first half. We adjusted, but it wasn't enough."
Running Rockets
Without its star wide receiver, Cody Thompson, Toledo had no choice but to keep the ball on
the ground — something they had no trouble with.
Toledo running backs Terry Swanson and Shakif Seymour combined for a whopping 292 yards
on the ground. Swanson started the game with a 48-yard rushing touchdown in the first quarter and added a 22-yard score in the second quarter.
The Rockets ran the ball 56 times as a team and only passed 18 times.
UT also dominated the time of possession 37:47 to CMU's 22:13. The Chippewas were just 3-
of-13 on third down.
'No Room for Error'
Central Michigan heads to Muncie, Indiana next Saturday to take on the Ball State Cardinals (2-
4, 0-2). Kickoff is at 3 p.m.
After that, CMU heads to Western Michigan on Nov. 1, before returning to Mount
Pleasant to face Eastern Michigan on Nov. 8.
Bonamego said his team has ground to make up in the MAC standings. The Chippewas, he said, can't afford any more losses.
"It's really hard to make it to the MAC Championship game when you lose two games in this
conference. That is just the fact of it," he said. "We have to regroup quick and don't
have room for error."
Share:
---