Haunted Yard attraction helps fundraise for local entities
---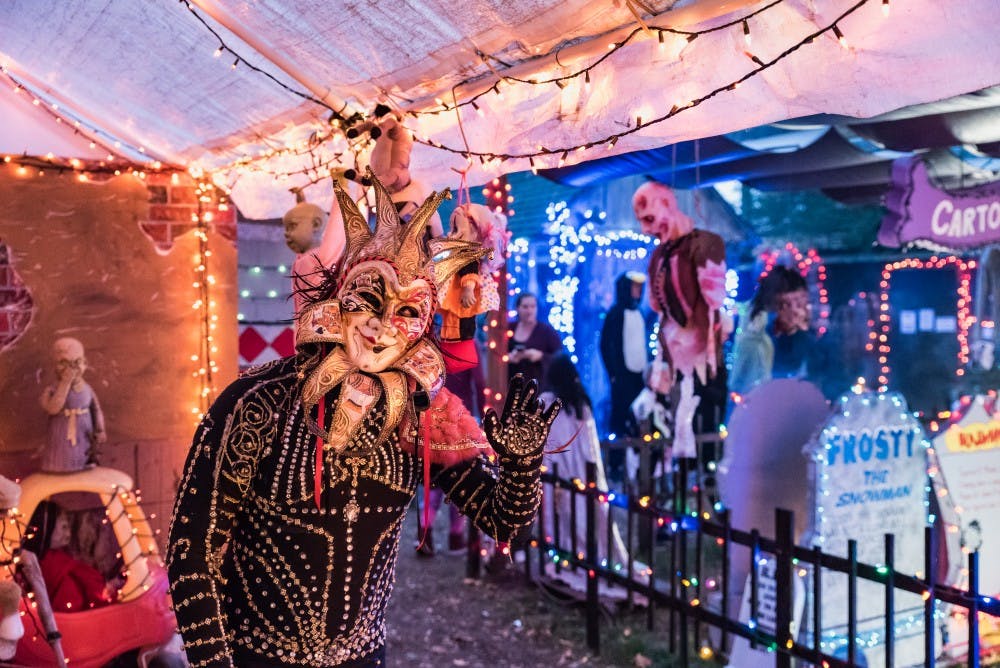 Brave souls who enter The Haunted Yard at 814 N. Lansing St. should be prepared for the fright of their lives.
The Haunted Yard is a Halloween attraction at Mike and Kriss Roethlisberger's house. What started as an arts and crafts project has turned into a popular attraction for families and singles in the Mount Pleasant area. Kriss Roethlisberger said the Haunted Yard attracts about 6,500 visitors each October with up to 2,000 on Halloween alone.
The yard features an eerie maze full of werewolves, spiders and clowns.
The Haunted Yard has free admission, though visitors are encouraged to donate a few dollars to keep it running year to year. In one season, the attraction brings in about $5,000, Kriss said.
The Roethlisbergers don't keep any of the money they receive. Instead, the proceeds are split between three organizations in Mount Pleasant: Epsilon Nu Tau, an entrepreneurship fraternity at Central Michigan University, the CMU chapter of Circle K and the Mount Pleasant High School Key Club.
Members of the organizations volunteer at the Haunted Yard as chaperones during the kid friendly "timid hour" and as scarers during the "haunting hour." During "timid hour," lights stay on in the yard and there are no monsters jumping out to scare people. After 7 p.m. the lights dim and the scares come out.
On Halloween, The Haunted Yard will be open from 5-9 p.m.
Epsilon Nu Tau (ENT) is the nation's first co-ed entrepreneurship fraternity. Based in Ohio, ENT has 14 chapters in eight U.S. states. The Eta chapter at CMU was founded in 2013 by three students as a way to get people from any academic area interested in entrepreneurship.
Swartz Creek junior Devin Murphy is the pledge class educator for ENT. He said the Haunted Yard is their biggest fundraiser of the year, usually bringing in between $1,000-2,000 each year.
Samantha Pina, graduate student and ENT alumna said the money is used to send brothers to leadership conferences throughout the year.
"It's a great way to give back to the community in a way that is untraditional," Pina said.
ENT's other fundraisers, like their discount card they sell, gives customers discounts to local businesses in Mount Pleasant. The money raised goes towards the Sally and John Goodrow Fund in Mount Pleasant. The Goodrow Fund is an emergency fund for community members to pay for food, gas, hotels or medical bills.
"That's something the Mount Pleasant community has really taken to because it helps them, specifically," Pina said.
Circle K and Key Club are part of Kiwanis International, an organization dedicated to improving communities through service projects and fundraisers. The CMU chapter of Circle K was founded in 2003 and is open to anyone on campus who likes volunteering.
Dearborn senior John Deutschman, service chair of the CMU chapter, said students who need service hours can reach out to Circle K to participate in service projects, even if they aren't members.
"Once they find out how fun it is, they usually join," Deutschman said. "They don't have to be members, but they probably will be."
Circle K has been volunteering at the Haunted Yard for eight years. It is their biggest fundraiser of the year. They typically use the money to fund service projects by paying for gas to travel and for other supplies they may need, depending on the project. They also use the money to plan social events with other Circle K chapters throughout Michigan.
Share:
---