Rapid Reaction: Central Michigan 56, Ball State 9
---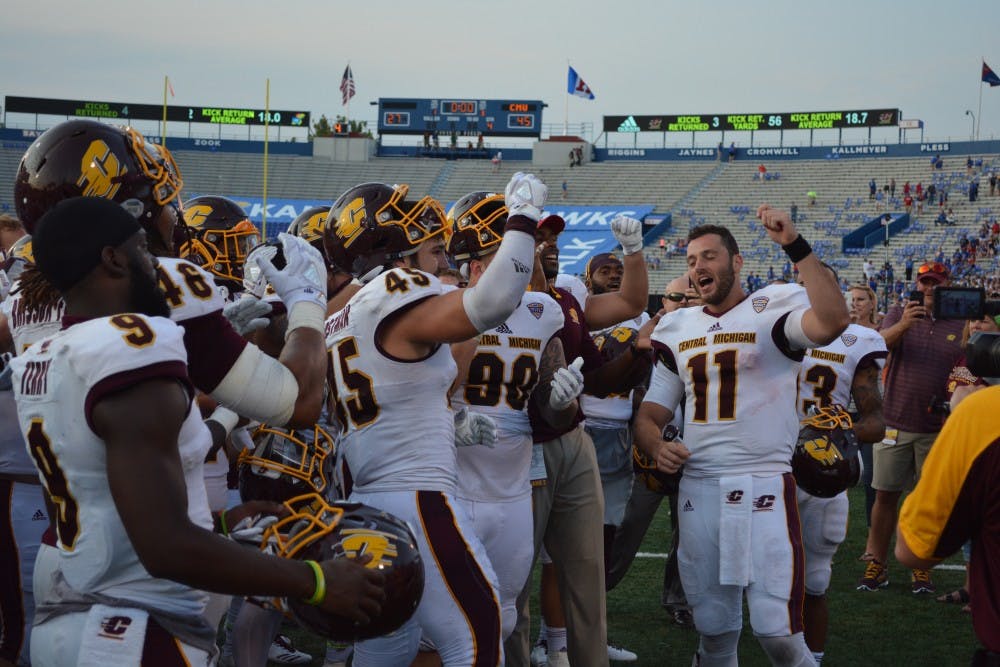 With eight touchdowns, the Central Michigan football team routed Ball State 56-9.
The Chippewas move their record to 4-4, and 2-2 in Mid-American Conference play.
How it happened
Sophomore running back Jonathan Ward opened the scoring with a 16-yard touchdown run on CMU's first possession of the game.
Tyler Conklin caught a 34-yard touchdown pass from Morris, putting the Chippewas ahead 14-6.
Senior wideout Corey Willis caught a 31-yard touchdown reception from Morris, extending the lead to 15 points.
Sophomore Jerrod Davis blocked a punt that the Chippewas landed on top of at the 12 yard line of the Cardinals. It set up a 5-yard touchdown run for Ward, his second of the game, and gave CMU a 28-6 lead into halftime.
Willis caught a 63-yard receptions for his second touchdown of the game to extend the lead to 35-9 for CMU. Then, he caught a 4-yard reception from Morris, extending the CMU lead once more.
Redshirt freshman Alonzo McCoy scored his first-career touchdown on a 27-yard fumble return that sophomore defensive back Sean Bunting forced, making it 49-9 CMU.
The Chippewas out-gained the Cardinals 455-208, with 256 yards on the ground (a season-high) and 199 through the air.
Morris went 16-of-21 for 199 yards, four touchdowns and no interceptions. Willis led the receiving core with five receptions, 98 yards and three scores.
Ward, Ross and redshirt freshman Kumehnnu Gwilly combined for 228 rushing yards and three touchdowns.
The defense sacked the BSU quarterbacks eight times on the day, four from senior defensive end Joe Ostman and three from sophomore defensive lineman Mike Danna.
Whats next
CMU will have 10 days off until its next game against rival Western Michigan at 8 p.m. on Nov. 1 at Waldo Stadium in Kalamazoo.
Share:
---