Men's basketball pummels Lawrence Tech, 91-73
---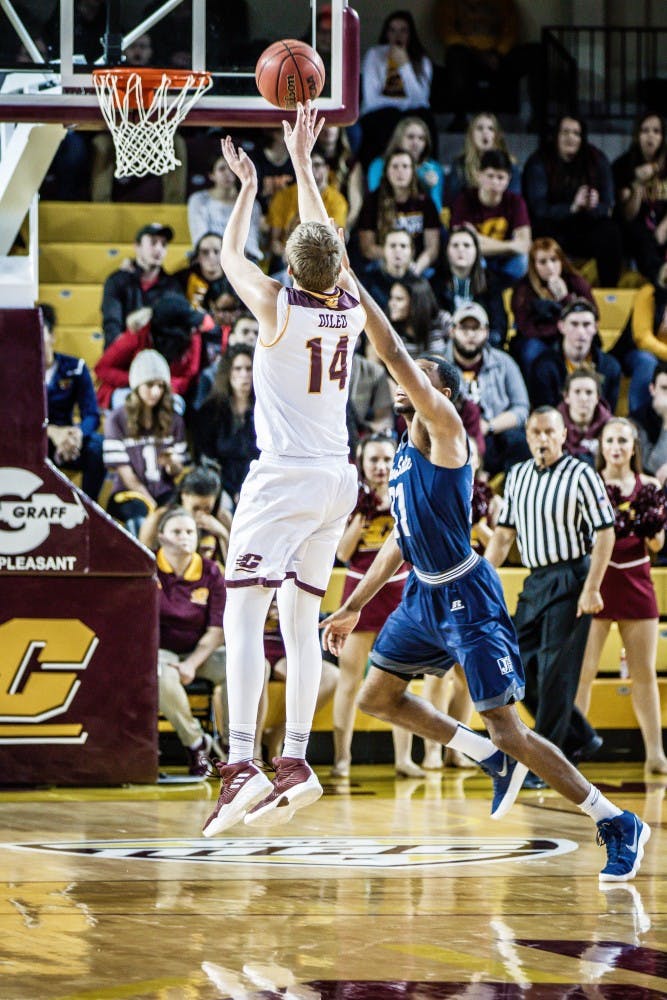 In its final non-conference game of the season, the Central Michigan men's basketball team (11-2) defeated Lawrence Tech (1-14), 91-73, at McGuirk Arena on Dec. 29 to remain perfect at home.
"We knew it was going to be a test for us," CMU head coach Keno Davis said. "We are lucky to come out on top."
Sophomore forward David DiLeo led the way for the Chippewas with 25 points on 7-of-10 shooting from 3-point range.
In the first half, CMU went on a 11-3 run to start, but the Blue Devils were quick to fight back and eventually earn an edge over the Chippewas.
The run was ignited by DiLeo, who drained a 3-pointer to open the game. On Lawrence Tech's first offensive possession, DiLeo stole the ball and threw down a fast break dunk, giving the Chippewas a 5-0 lead.
Lawrence Tech showed fight during the first half, tying the game on a 3-pointer from junior guard Ty'rese Searles. Junior forward Devonte Myles converted on a free throw with 12:20 remaining in the half, giving the Blue Devils their first lead of the game, 23-22.
"They came in really hard, knocking down every shot possible," Davis said. "We needed this (win) before the conference. If they had not played as well as they did, it wouldn't have helped us for conference play."
With six minutes left in the first half of action, DiLeo, junior guard Shawn Roundtree and senior guard Josh Kozinski got hot from 3-pointer range to put CMU into the locker room ahead, 61-36.
DiLeo capped off the first half with a buzzer beater from downtown, giving the Chippewas their largest halftime point total of the season.
At the break, DiLeo, Roundtree and Kozinski combined for 37 points on 11-for-16 shooting from 3-point range.
DiLeo opened the second half with his sixth triple of the game with 18:16 remaining, giving CMU a 26-point edge over the Blue Devils, which proved to be the Chippewas largest lead of the game.
Along with DiLeo's 25-point outburst, CMU earned solid production from senior forward Cecil Williams and Roundtree, scoring 20 points and 16 points, respectively. The trio combined for 67 percent of points for the Chippewas.
"You don't really realize it until you look at the stats," Davis said. "(DiLeo and Williams) combined for zero turnovers. We can win with David and Cecil scoring. We have a lot of guys that can step up and score for us."
Lawrence Tech got an outstanding performance from Searles. He logged 27 points and five rebounds. Myles chipped in 21 points and three rebounds, but foul trouble kept him out of the game during the end of the first half and early stages of the second half.
By earning a 91-73 victory over Lawrence Tech, CMU has set a single season record for non-conference wins with its 11th.
"There's a lot of things we can improve on, but that's why we play the games," Davis said. "It's a lot better to be able to improve on your weaknesses when you're winning."
CMU will remain at McGuirk Arena at 7 p.m. on Jan. 2 to play its first Mid-American Conference game of the season against Ohio.
"It's a tough game," Davis said. "It's going to be our one game before students get here. When the community comes out as we continue to build this program, that's going to help us win games.
"There will be plenty of good seats available on Tuesday."
Last year, the Chippewas defeated Ohio on the road at the Convocation Center, 97-87.
Share:
---