Football coach John Bonamego signs contract extension through 2022
---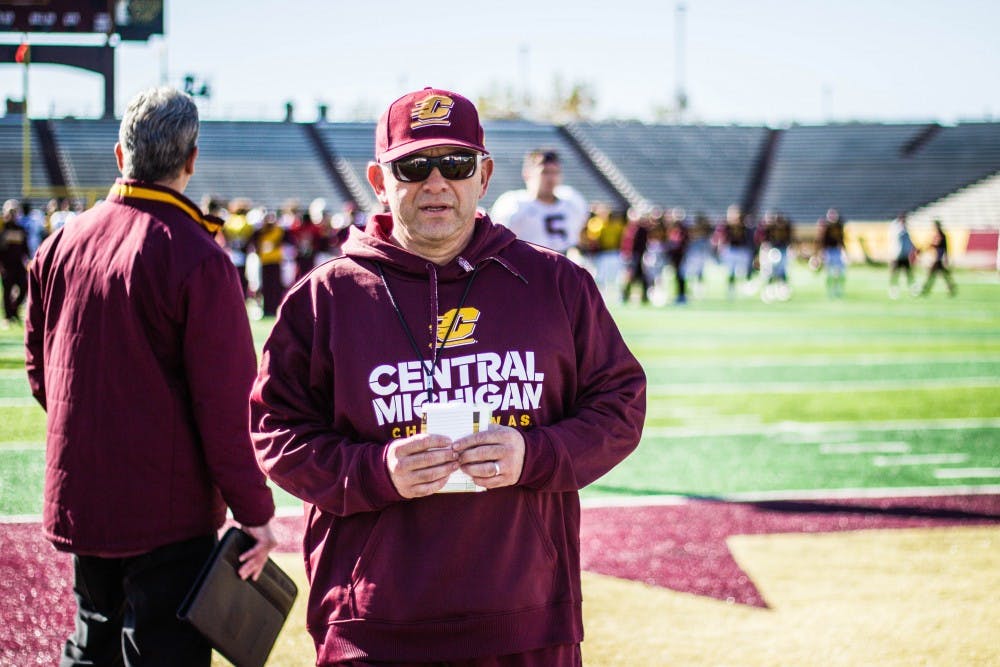 On Dec. 19, Central Michigan Athletic Director Michael Alford announced a contract extension for football head coach John Bonamego.
Bonamego, who has coached the Chippewas to a 21-17 record over three seasons, will remain with his alma mater as the head man through the 2022 season.
"John is a tremendous leader, and his passion for CMU is unmatched," Alford said. "He has developed his players academically, athletically and socially and has worked tirelessly to push our program forward. He has earned this commitment, and I am excited about the future of our football program under his leadership."
Following his graduation from CMU in 1987, Bonamego earned an assistant coaching job at Mount Pleasant High School. Then, he earned assistant coaching jobs at the collegiate level for Maine (1988-1991), Lehigh (1992) and Army (1993-1998).
The 54-year-old spent time from 1999 to 2014 in the National Football League with the Jacksonville Jaguars, Green Bay Packers, New Orleans Saints, Miami Dolphins and Detroit Lions.
Bonamego never held a head coaching position until he was hired at CMU in 2015. After the announcement, Bonamego described the head coaching position at CMU as his "dream job."
This season, Bonamego has helped the Chippewas to an 8-4 regular season and 6-2 Mid-American Conference record. CMU is set to play Wyoming in the Famous Idaho Potato Bowl on Dec. 22.
In three seasons as the head coach for CMU, Bonamego has led the team to three bowl games. After fighting through cancer during the 2015 season, he was named the 2017 Pete Schmidt Award winner.
"I'd like to thank President (George E.) Ross, Michael Alford and the Board of Trustees for their continued confidence to lead the CMU football program," Bonamego said. "I'm very excited about the future of this program."
Share:
---