Football starts bowl practice, spreads out normal routine
---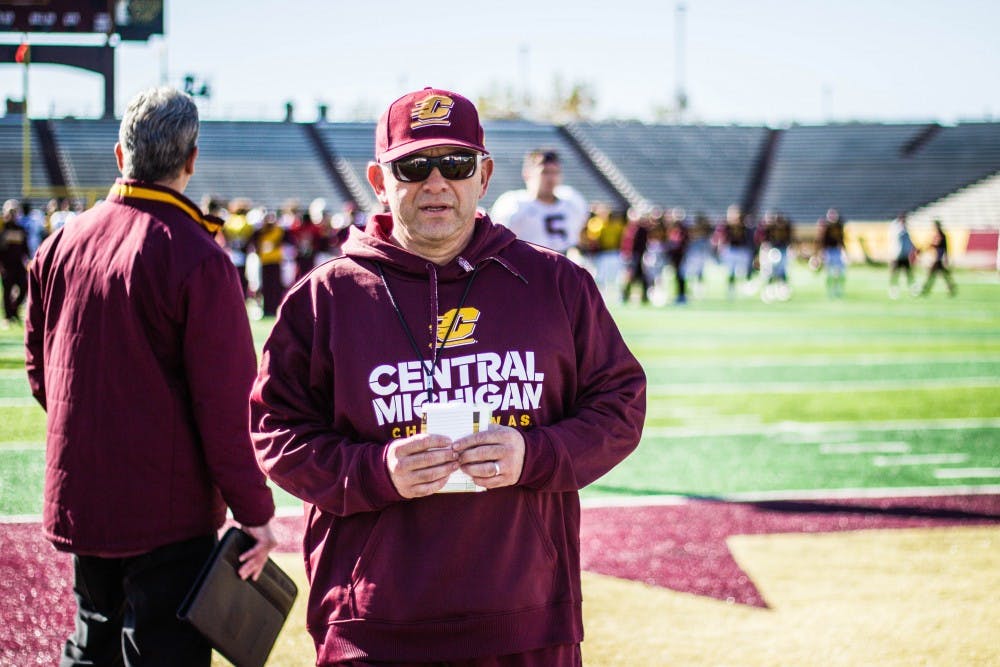 Back to work.
The Central Michigan football team was back out on the practice field Wednesday for the first practice since being invited to the Famous Idaho Potato Bowl this past Sunday.
The Chippewas (8-4, 6-2 Mid-American Conference) are prepping to take on Wyoming (7-5, 5-3 Mountain West Conference) on Friday, Dec. 22 at 4 p.m. in Boise, Idaho.
Here's a look inside the Chippewas first week of bowl game practice.
Extending days
Head coach John Bonamego said the team was still going through its normal routine today, but they are now going to stretch out that routine over a few weeks.
"Today was the first real day of preparation so we are staying to our normal routine," Bonamego said. "I think what are doing a little different is instead of taking a normal in-season Tuesday, which is generally first and second down plus short yardage, we're spacing it out over two days and keeping practices shorter."
Bonamego said this gives some of the younger players a chance to work on the fundamentals of the system.
"Now some of our guys who don't play as much get the chance to go out there and work a little more," Bonamego said. "It should help them be ready if they are needed in the bowl game."
Saturday and Sunday will be a lot like a normal Wednesday practice, according to Bonamego, with some added time off next week for final exams.
Game planning for Allen
Bonamego said it's no secret they have to find a way to disrupt UW's quarterback Josh Allen's comfort level in the big game.
"This guy isn't just a passer, but (Allen) can run a little bit when you watch the film," Bonamego said. "When he has people around him in the pocket he doesn't get flustered, he keeps his eyes down field and runs it if he has to.
"He can break a lot of tackles and is very strong, I'm very impressed in him and it'll be a challenge for us."
Allen has thrown for 13 touchdowns and 1,658 yards this season along with six interceptions, but for his career he's thrown for 41 scores and 4,912 yards with 21 interceptions.
Protecting the football
When Bonamego was asked about how nice it's been to have a defense leading the NCAA in turnovers this year, he said the Chippewas offense needs to be prepared for the turnovers the Cowboys can create.
"We have to remember what they can do as a defense because they are pretty high in that category themselves," Bonamego said. "Their defense is very stingy and don't give up a lot of points or yards and not enough credit is given to Wyoming as a defense."
The Cowboys have tallied 16 interceptions this season to go along with 14 recovered fumbles, giving them 30 total turnovers which is tied for second in all the Football Bowl Subdivision.
CMU leads the nation with 31 turnovers gained.
Sophomore defensive back Sean Bunting said they need to "play their hearts out" to be the better defense.
"We have to go out there and play CMU defense with a passion," Bunting said. "We have to go out with a bang after ending the season the way we did."
Senior teaching
Bonamego said he is extremely proud of how the seniors have embraced the leadership role with the team and expects that trend to continue approaching the bowl game.
"Leadership isn't something you just pick up, you have to really work at it and our senior class has done just that," Bonamego said. "They have really established an understanding for the underclassmen of how to prepare and take accountability in games and that has helped."
Senior defensive back Josh Cox said this game means everything to him and he wants to go out on a high note.
"Being here for four years and seeing the seniors go out on a low note would suck," Cox said. "But if it happens everyone below us can learn a lesson."
Share:
---