Men's basketball earns first true road win in overtime
---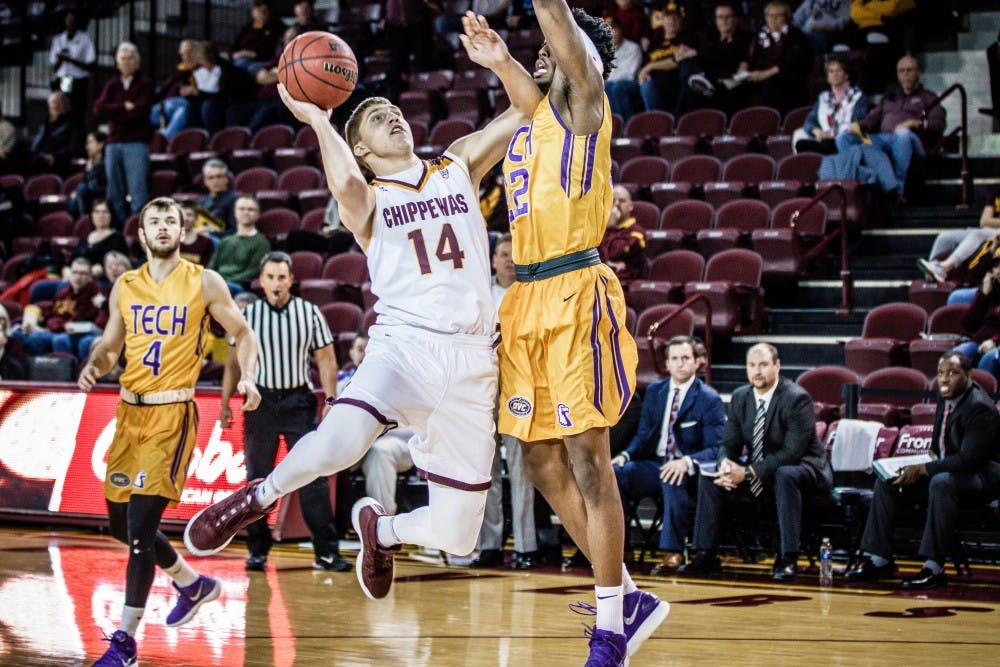 Shawn Roundtree led Central Michigan basketball to an overtime win against the University of Missouri - Kansas City when CMU was facing possibly back-to-back losses for the first time this season.
He scored 23 points, with 19 of them in the final 15 minutes of the game to push CMU (9-2) past UMKC (3-10) in overtime 92-86 in Kansas City on Tuesday night.
"We had to make a lot of plays in this game with a sort of banged up team to come through in a gut-check time," said CMU head coach Keno Davis. "Road wins are never easy, and that one fits the bill. It, by no means, was easy."
The win marks the first overtime win for the Chippewas of the 2017-18 season.
Summary
To start the game both teams would go on a 5-0 run, but a backdoor cut from UMKC guard Mo Ahmed would lead to an easy layup and a timeout from CMU trailing 7-5.
Ahmed continued to come up big for the Kangaroos, making a pair of layups and blocking a shot followed by a UMKC guard Xavier Bishop triple to hold a 19-12 lead with 11:33 left in the half.
CMU sophomore forward David DiLeo hit back-to-back 3-pointers — cutting CMU's deficit to 28-26.
UMKC led 40-33 at halftime. Kangaroos scored in the first half. They never trailed the Chippewas and forced seven turnovers.
CMU made 10-of-28 (36 percent) shots from the field, and DiLeo who led the all scorers with 14 points, had four of those makes. The Chippewas allowed seven Kangaroo offensive boards with led to nine second chance points.
DiLeo continued his hot shooting night with a put-back bucket followed by a 3-pointer to cut into the Kangaroo lead making it just 47-44.
Freshman guard Matt Beachler would hit a corner 3-pointer for CMU to tie the game at 53 all with 11:20 to go.
DiLeo would give CMU a 57-55 lead with his sixth 3-pointer of the game, but a few possessions later UMKC guard Marco Smith hit a deep triple to give the Kangaroos a 61-58 lead with 8:01 remaining.
The back and fourth punches continued.
Ross netted a 3-pointer, followed by a Roundtree triple to tie the score at 70, before Ross would counter with his fourth made 3-pointer putting UMKC ahead by three points.
With the score knotted at 77 all, DiLeo caught an inbound pass with one second remaining and had a look at a 3-pointer but put it up too strong, forcing overtime.
CMU would get a couple more layups from Williams and Roundtree and use free throws to hold the lead and earn the victory.
DiLeo led all scorers with a career-high 29 points on 8-of-17 shooting with six 3-pointers, while recording a double-double by adding 15 rebounds. Roundtree's late surge gave him 23 points and Williams finished with 21 points, respectively.
Davis joked after the game about cutting DiLeo's minutes down to "just 42" on the night.
"We thought we'd give him an easier night," Davis said. "But really he is a talented player and the effort he brings really matches it. He can really bring it and we've got 10 or 11 other guys that can as well."
UMKC did force 15 turnovers on the Chippewas compared to 13 of its own, but CMU out-rebounded the Kangaroos 48-41 on the night, 34 of them coming on defense.
The Chippewas will head back to Mount Pleasant for a matchup with Southern Illinois University of Edwardsville on Dec. 22 at 7 p.m. in McGuirk Arena.
Game notes
Through the first nine games of the year, CMU held its opponents to under 40 points in the first half. Against Southern Utah and now UMKC, CMU has allowed 40 points or more at the break.
CMU sophomore guard Kevin McKay did not play with a sprain ankle. In his place was Matty Smith, a sophomore guard who was rumored to be redshirted according to Davis, played 20 minutes and scored four points with four assists. Davis said Smith should be in the rotation for the "foreseeable future".
CMU went 26-of-33 (78.7 percent) from the free throw line, 2.3 percent worse than their season average of 81 percent from the charity stripe coming in. That mark is currently the second-highest percentage from the free throw line in all of Division I NCAA college basketball.
Share:
---