Trustees vote to offer in-state tuition rates to qualified out-of-state students
---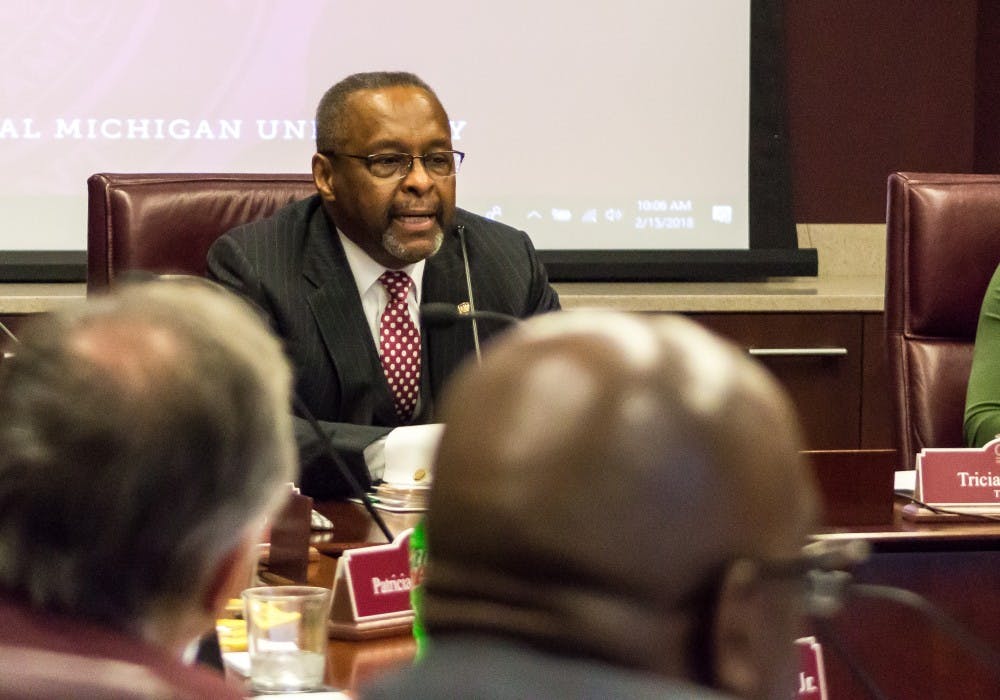 Undergraduate, graduate and doctoral students who are U.S. residents will qualify for in-state tuition rates starting Fall 2018.
Central Michigan University's Board of Trustees convened Feb. 15 for its formal meeting, which also included a discussion on the president search and a reiteration of its sexual misconduct, harassment and discrimination policies.
Barrie Wilkes, vice president for Finance and Administrative Services, said the decision to end charging out-of-state tuition was to help make CMU more competitive and to address some tuition inequities. For instance, Global Campus students paid in-state tuition for online classes but were charged out-of-state tuition for classes taught on the main campus.
Wilkes said 85 percent of students from outside of Michigan currently receive the President's Award. For years that program has allowed CMU to offer out-of-state students the in-state tuition rate if their high school grade point average was higher than 2.75. The policy change will now extend that discount to almost all students who live outside Michigan. Wilkes said he doesn't think the change will affect in-state students.
"The amount of money we get from the state is about 17 percent of the budget," Wilkes said. "That used to be an argument of why there's an out-of-state rate because in-state people were paying taxes that were supporting the institution. While that's still true today, it's still a small percentage of what our budget is."
Trustee Richard Studley was the lone trustee to vote no for the motion, citing the unclear language of the resolution.
Trustee Tricia Keith, who serves as vice chair of the board, introduced who will serve on the 13-member advisory committee in the presidential search. President George Ross will step down July 31.
The committee is composed of:
Tricia Keith, committee chair
Brad Swanson, Academic Senate chair
Anna Owens, Student Government Association president
Melinda Kreth, department chair of English Language and Literature
Steven Johnson, vice president of Enrollment and Student Services
Robert Wardrop II, trustee
William Kanine, trustee
Richard Studley, trustee
Tom Olver, president and CEO of United Way of Gratiot and Isabella Counties
Sid Smith, CEO of Smith Equities and former trustee
David Keilitz, former CMU athletic director
Pam Murray, alumna and senior benefits administrator at Van Andel Institute
Rene Shingles, professor, program director and internship coordinator in the School of Rehabilitation and Medical Services
Trustee Patricia Mooradian will serve as a committee alternate.
"I am excited about the construction of this committee and the quality of the people who have agreed to invest their time and experience in this," Keith said.
Trustees planned to interview five search firms Feb. 15 and hire one of them next week. Keith said forums and online feedback will take place as part of efforts to engage the community in the process that she also described as a "confidential search." Trustees voted to approve a confidentiality statement and code of ethics for its advisory committee and approve an Affirmative Action statement.
Keith said the board will look for diversity and leadership in the search process.
"We're committed to sharing a transparent process and bring everyone along the path so that we can ensure a successful transition from President Ross to the new president and then continue to move the university forward," Keith said.
Keith said it is more important to "get the right candidate" than trying to fill the role by July 31. Trustees meet April 19 and June 28.
In his report to the board, Ross spoke at length about the university's sexual misconduct, harassment and discrimination policies. The board requested that Ross reiterate the policies after the sentencing of ex-USA Gymnastics doctor Larry Nassar for sexual abuse. Michigan State University is being investigated by Michigan Attorney General Bill Schuette.
Ross praised the work of the Office of Civil Rights and Institutional Equity, the Central Michigan University Police Department and Sexual Aggression Peer Advocates (SAPA) for promoting safety among students, faculty, staff and community members. He said CMU takes all allegations seriously and actions will "not be tolerated."
"It's on everyone's mind," Ross said of the Nassar case. "I wanted to try to briefly explain what we do at Central to reinforce what we've been doing for more than two decades, but also reinforce that sexual harassment does happen. We still have to be vigilant."
The board also approved the following:
Motion authorizing the president to ratify and sign a collective bargaining agreement for 2018-2019 and beyond with Central Michigan Command Officers Association (CMCOA)
Motion authorizing the absorption chiller replacement project.
Ross said the public launch of CMU's capital campaign, groundbreaking of Center for Integrated Health Studies and hiring of a Chief Diversity Officer are expected to be completed this spring.
Board Chair William Weideman was not in attendance.
Share:
---