Men's basketball knocked out of MAC Tournament by Buffalo, 89-74
---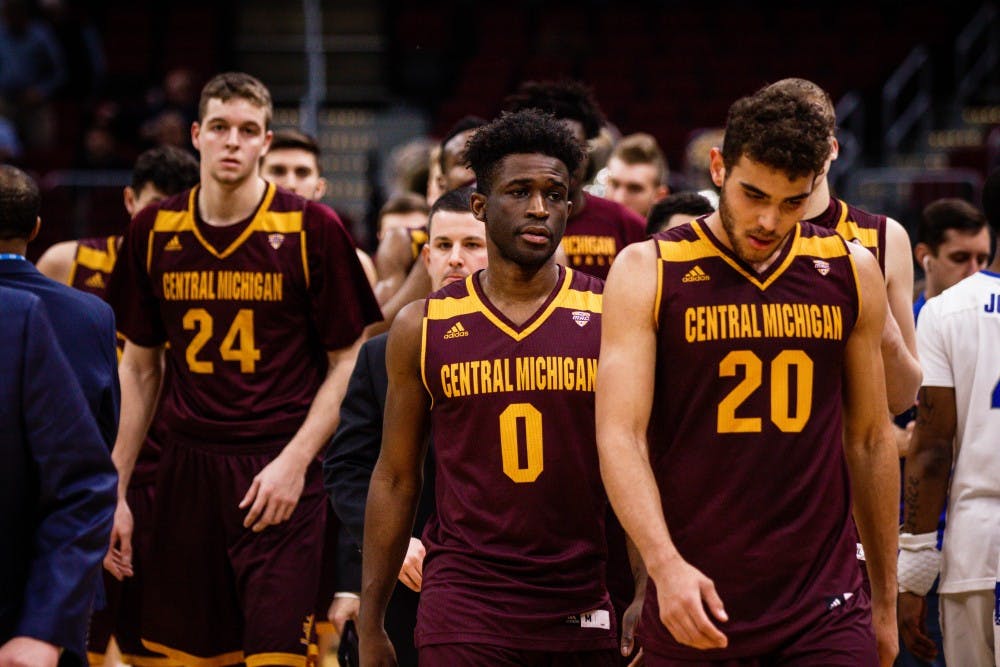 In the quarterfinal round of the Mid-American Conference Tournament, Central Michigan men's basketball cut its deficit to two points with only 5:30 to play.
However, Buffalo (24-8, 16-3 MAC) prevailed to prove its No. 1 rank with an 89-74 victory over the Chippewas (19-14, 7-12 MAC) on March 8 at Quicken Loans Arena in Cleveland, Ohio.
"Everybody knew Buffalo is deserving of the number one seed with how good they are," said CMU head coach Keno Davis. "I'm really proud of our effort to be able to battle and give ourselves a chance at the end of the game."
CMU took its first lead of the game on a 3-pointer from junior guard Shawn Roundtree, giving his team a 6-3 edge with 17:59 remaining in the first half.
Sophomore guard Kevin McKay entered the game a few minutes in and got hot from the field to keep CMU within four points, 20-16, of Buffalo just under halfway through the first half of action.
Following a short run from the Bulls, McKay got past junior forward Nick Perkins en route to an and-one layup. On the ensuing defensive possession, he earned a steal and turned it into a bucket, cutting CMU's deficit to 27-22 with 8:07 to play in the first half.
Buffalo junior guard CJ Massinburg gave his team a 32-22 edge with 7:11 to go before halftime on a 3-pointer from the corner.
With 18 seconds left in the first half, senior forward Cecil Williams dropped in a step-back 3-pointer, making CMU's deficit 47-38 at the break.
Williams led the Chippewas on offense, logging 21 points and 13 rebounds in the loss. Off the bench, McKay added 16 points and four rebounds.
"I wish (Williams) had a couple more years," Davis said. "I think his best basketball has yet to come. If he gets an opportunity to play professionally, I'm going to keep a close eye on him. He always had a great attitude and worked hard. He put the team first."
On Buffalo's first possession of the second half, Massinburg made a 3-pointer to push Buffalo's lead to 50-38.
Senior guard Josh Kozinski pulled up from downtown, drew a foul, dropped in a triple and made the free throw. Following Kozinski's clutch play, baskets from Williams and Roundtree cut CMU's shortage to 55-49 with 17:06 to go in the game.
Roundtree finished the game with 10 points, eight rebounds and three assists on 2-of-13 shooting from the field.
CMU junior guard Gavin Peppers drew a foul and scored inside. His free throw to complete the old-fashion 3-point play made it just a five-point hole for the Chippewas with 9:43 left to play at Quicken Loans Arena.
After an offensive rebound and foul, McKay made both shots from the free throw line to put CMU down by just two points against top-ranked Buffalo. At that time, just 5:30 remained.
"We were right there until the very end," McKay said. "It's another situation where if we hit a few shots, we win. We executed well on defense, but shots just weren't falling."
Both teams went back-and-forth for five minutes, but Massinburg opened the game back up on a 3-pointer, handing Buffalo an 83-74 lead with 1:26 to play in the game.
Harris led the way for Buffalo with 27 points, 10 rebounds and three assists.
"He's a great player," McKay said. "When he was taking tough shots, he was finishing them. He can score in a lot of different ways, so it's tough to contain him."
Massinburg trailed with 18 points, five rebounds and four assists. Coming off the bench, Perkins dropped in 16 points. Buffalo outrebounded CMU, 51-36.
"(Central Michigan) gave us a tough game," Buffalo head coach Nate Oats said. "We knew they would be tough. The guys really took care of the ball today."
Late free throws iced the game for the Bulls, who earned an 89-74 victory to advance one round deeper in the MAC Tournament.
With the victory, Buffalo will play in the tournament semifinal game against either No. 5 Kent State or No. 4 Ball State at 6:30 p.m. on March 9. The winner of the MAC Tournament receives an automatic bid to the NCAA Tournament.
Share:
---