Jamaican student comes to CMU on scholarship, wants to help bring more international students to campus
---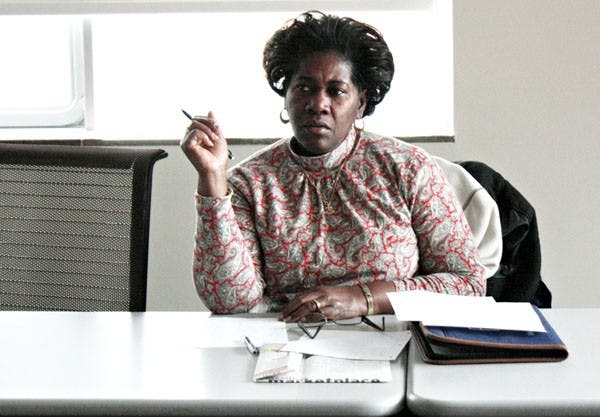 Maureen Nelson's soft Caribbean lilt carried stories of her island nation's culture to the center of Michigan.
When the Jamaican graduate student first came to Central Michigan University in July 2009, her goal was just to further her education and return home to her position as vice principal at Montego Bay Community College. But Nelson soon discovered another passion.
"I try to do things so that persons can be aware of what Jamaica is all about ... and what we have to offer," Nelson said.
She hopes to spread the word about Jamaica by speaking to international groups and joining CMU's International Education Council, a standing committee of the Academic Senate and advisory body to the senate and Office of International Affairs.
"Even though we are (a) third world country, we do have things to offer that (America) can't offer us ... I want to let (people) know we really do exist," Nelson said.
She said students can learn more about other cultures by just having conversations with one another.
Nelson has helped expand the IEC's recruitment points of interest to the Caribbean Islands.
"I've been able to share with the IEC the needs to be addressed ... I try to push the Caribbean as part of that discussion," Nelson said.
Nelson came to CMU on the Fulbright Scholar Program, which selects only a handful of educators a year regionally to study abroad. Nelson was chosen from hundreds of applicants and she selected CMU for its program in administration and leadership.
In Sept. 2010 Nelson decided to join the IEC because of the chance to recruit students from the Caribbean.
Nelson is taking her doctoral classes this semester, where she has met friends she now considers family.
Jeannie Jackson, director of the Office of Civil Rights and Institutional Equity, has been in class with Nelson and said she is very ambitious in her goals.
"As an international student she has volunteered to work with other international students and acted as a mentor (and) volunteer," Jackson said.
When Mount Pleasant graduate student Mary Jo Davis met Nelson in class in the fall of 2009, Davis knew she found a friend.
"We hit it off right away," Davis said. "We've done a lot together ... she is a sweetheart."
Nelson said Davis is like a family member to her, and they often discuss her culture when they go shopping or to dinner.
"She is very proud of her heritage and culture and she wants to share it with anybody who is interested," Davis said.
Share:
---