Union members say CMU's handling of contracts leaves uncertainty, financial instability
---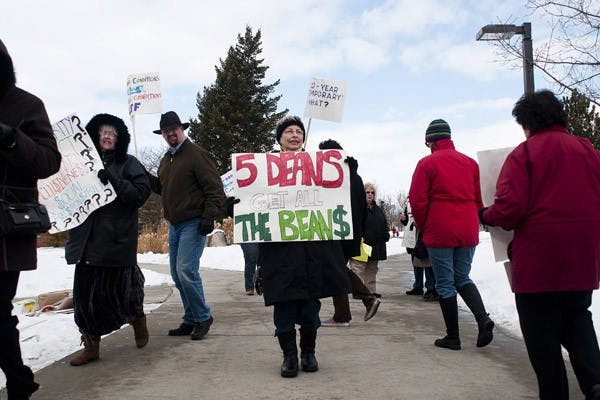 Sue Murphy has not left Central Michigan University despite what she considers unideal circumstances.
The English language and literature instructor picketed Monday outside the Education and Human Services Building with about 15 other temporary faculty members of the Union of Teaching Faculty.
"I love teaching," she said. "I love my students."
Like her colleagues, Murphy is dissatisfied with the university's contract offers for temporary faculty. She said her salary is $20,700 for teaching nine credit hours after working 11 years at CMU.
UTF is asking for multi-year contracts, salary increases, regular cost-of-living adjustments, a reappointment and layoff system based on seniority and protection of existing benefits. UTF has 350 members.
Jim Eikrem, assistant communication and dramatic arts professor and president of UTF, said the union presented its preferred proposal, but the university wants to stick with the "old system."
"We presented a proposal which the university reviewed," Eikrem said. "They have come back with an unacceptable agreement."
Steve Smith, director of public relations, said in a statement the university has been in negotiations with UTF since January.
"The university will continue to negotiate in good faith as we work to achieve a contract which is fair and equitable to both parties," he said.
'It's time'
Eikrem said temporary faculty are the biggest unit of teachers and teach more classes than any other faculty group on campus.
"The average temporary faculty member has worked here for six years," he said.
Erin Fox, a communications and dramatic arts instructor who teaches 12 credit hours, was among the protesters.
"It's time we get a paid a living wage and receive a sense of job security," she said.
Fox said she joined the Organizing Committee in June 2010 after realizing her lack of job security was causing her teaching and personal life to suffer.
"I found it incredibly difficult to give great consideration to choosing a quality textbook, planning assignments and class exercises, gathering teaching resources and materials ... when I didn't even know whether or not I would be employed again for the next semester," Fox said.
She said she was not given an employment offer until several weeks before classes began for many years, which affected her preparation time for students. Fox said she wants to settle down and start a family with her husband, but feels she cannot do so without knowing the future of her job.
"While non-tenure-track faculty were told there wasn't enough money to cover basic cost-of-living increases, CMU simultaneously hired a new president for $350,000 plus a $50,000 signing bonus, a new provost for $253,000, and medical schools deans for $1.37 million," Fox said.
UTF member Michael Ostling said he is making enough to get by, unlike many of his colleagues.
"Job security is my problem," the assistant professor of philosophy and religion said. "I have a wife and three children. We moved here from Canada so I could take this job, but we just don't know from year to year."
Ostling said his middle child will enter high school soon; not being able to tell his son what school he will attend is difficult.
He said students should consider the amount of time that passes between their sophomore year of high school to their senior year of college. That is the average time span temporary faculty teach without being guaranteed their job for the following year, Ostling said, which leaves a lot of uncertainty.
"We want to provide our students with the best education possible, but that can be difficult when we feel vulnerable and unappreciated," Murphy said. "A quality contract for UTF will alleviate these concerns."
Share:
---