NEW VIDEO: Two players ejected in women's basketball brawl; CMU beats Ohio 67-53
---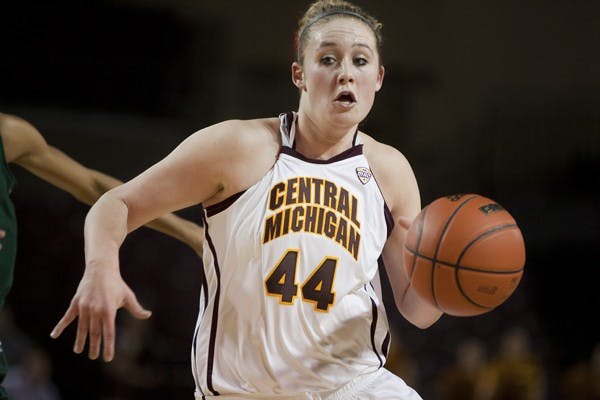 If you simply looked at the score you'd think it was an ordinary 67-53 win for the Central Michigan women's basketball team over Ohio University Wednesday night at McGuirk Arena.
It was anything but ordinary for the 543 people at the game.
Early in the first half during a timeout CMU freshman forward Jas'Mine Bracey and Ohio junior forward Porsha Harris started a fight on the court. Punches were thrown by several players, benches were cleared and both Bracey and Harris were ejected from the game.
"Central Michigan University, the athletic department, and our teams stand for the highest degree of sportsmanship. Any of our student-athletes who do not adhere to this standard will be held accountable," said CMU in a statement from its athletic department and Athletic Director Dave Heeke.
"The incident will be reviewed by the department and by the conference office. Until that process is done and we clearly understand what occurred, it would be premature to comment any further."

A benches clearing brawl broke out during the first half of Wednesday night's women's basketball game between Central Michigan and Ohio University at McGuirk Arena in Mount Pleasant. Ohio's Porsha Harris and Central Michigan's Jas'Mine Bracey were ejected following the altercation, and the Chippewas went on to beat the Bobcats 67-53. (Andrew Kuhn/Staff Photographer)
After a long break for the officials to clear up the situation and assess the fouls and ejections the game continued and the Chippewas (12-9, 4-3) rolled over the Bobcats (9-12, 2-5).
CMU head coach Sue Guevara would not comment on the fight after the game, and players were not available to talk to reporters.
Guevara adjusted the starting lineup putting in sophomores forward Taylor Johnson and guard Niki DiGuilio in place of sophomores guard Kylie Welch and Jordan LaDuke and it paid off greatly.
Johnson led the team in scoring with 16 points. She also had seven rebounds and three steals, while DiGuilio had 10 points and two steals.
"I liked the lineup change," Guevara said. "We had our top five leading scorers and four of our top five rebounders so instead of bringing them off the bench we started off with them and it worked."
Freshmen guards Crystal Bradford and Jessica Green also had big games for CMU.
Bradford had a double-double scoring 10 points with 11 rebounds to go with her four blocked shots.
"Crystal (Bradford) is a baller, but she doesn't quite get it yet," Guevara said. "She's still learning to play with other people."
Green had a big game as well with 15 points, six rebounds, six assists and two steals.
"I thought Jess Green did a really good job of pushing the ball today," Guevara said.
It was a much needed win for the Chippewas after losing their last two against Kent State and Eastern Michigan.
"It's a confidence builder to get back on the winning streak," Guevara said. "I think for our freshman, after the game against Kent State, have to understand you have to come in from the get go."
CMU needs the confidence with defending Mid-American Conference champions Bowling Green come at 3 p.m. Saturday to McGuirk Arena.
Share:
---