YEAR IN REVIEW #13: Gov. Rick Snyder's first year in office filled with cuts, controversey
---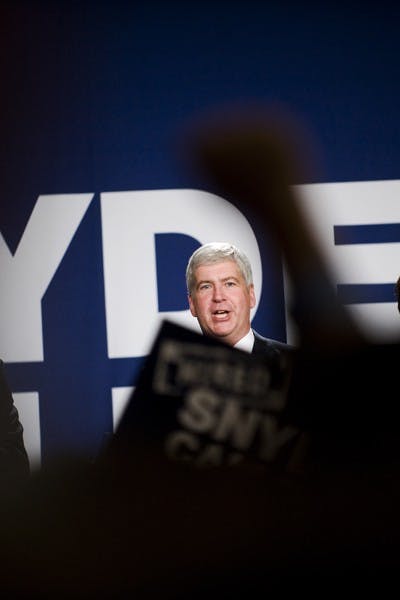 Inaugurated Jan. 2, Gov. Rick Snyder implemented a series of budget cuts and fiscal policies, some of which had a direct impact on Central Michigan University and students.
A 23.3 percent cut in state funding to CMU went into effect after the school failed to stay below Snyder's 7.1 percent maximum raise in tuition. It is the greatest drop in state funding among Michigan's public universities, according to an internal communication from University President George Ross.
While no school raised tuition that much to cause the higher cuts, state money toward public universities was still slashed.
State appropriations were cut by 15 percent for public universities in the state of Michigan
The budget, passed May 26, also made large cuts and modifications to the funding of K-12 education, health insurance and pension programs. Other programs such as Michigan's tax incentives for the filmmaking industry and Bridge Card food assistance faced large cuts during Gov. Snyder's inaugural year.
The Republican-controlled state House of Representatives passed the controversial House Bill 4214, which Snyder signed into law March 17. The new law allows for state financial authorities and the governor to appoint an emergency manager to any local government declared to be in a financial emergency.
The emergency manager has sole control of a government's budget, along with having the authority to terminate any contracts, end collective-bargaining agreements with labor unions and dissolve the municipal government.
Beyond expanding the powers of the emergency managers already in place in Benton Harbor, Pontiac and Ecorse, Snyder also appointed Michael Brown as the emergency manager of Flint.
Share:
---