Students protest 'fracking' Thursday in Mount Pleasant
---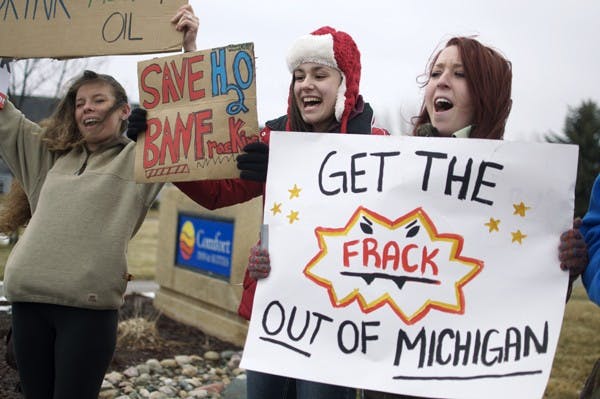 Chants of "Hell no, hydro-fracking has got to go," were heard near the Mount Pleasant Comfort Inn and Conference Center on Thursday.
Members of the Student Environmental Alliance and Taking Back the Tap were protesting from 2 to 6 p.m. outside the Inn, 2424 S. Mission St., where the Michigan Oil and Gas Association was holding a seminar.
A Facebook event was created by Saline sophomore Chloe Gleichman, president of SEA, to raise awareness by protesting. About 70 people attended the event, coming and going over the four-hour time period.
Gleichman said if water is poisoned, there is no turning back.
"Water is a basic necessity for life," she said. "If there's no water, there's no life."
Walled Lake sophomore Mariah Urueta, SEA member, held a sign that read, "You can't drink money and oil."
"We are here in opposition and protest of hydraulic fracturing," Urueta said. "Fracking is absolutely outrageous and horrible."
A fact sheet on the Michigan Oil and Gas Association's website said fracking is, "a safe, proven and essential process for recovering natural gas and oil from reserves found deep below the earth and often in tight rock."
Ureta said fracturing, "fracking," is extracting natural gas from marcellus shale, and the process includes pumping gas that includes more than 600 chemicals into the ground that goes to the water table.
According to msetc.org, marcellus shale is "a geological formation that was formed by the accumulation of sediment into a sea. This formation was eventually buried over many thousands of years and compressed to produce an organic-rich black shale."
Urueta said fracking is not in Mount Pleasant yet, but it's prevalent in areas north like Pennsylvania with marcellus shale.
The problem with fracking, Urueta said, is it contaminates clean water sources.
"It affects people's health and farming," she said.
Hazel Park senior Carlos Coronado held a sign that said, "Poisoning our water."
"I'm going to be here all day," he said. "It's a very unique opportunity on a local level to raise awareness."
Coronado said many people are unaware of what fracking is, and this is a way to get the word out. People are recognizing what we are doing and honking to support us, he said.
"Previously, the list for fracking-fluid was a disclosed list," he said.
Saline resident Kurt Gleichman came to support his daughter and spread awareness by holding up a sign that read, "Fracking jobs are grave digging our children."
He said the fracking process harms the environment and the water supply. There have been accidents that have contaminated the water supply, specifically in Pennsylvania, he said.
"A lot of (it) flows back out, and they take those toxins and eject them into wells in the ground," he said. "We are trying to nip it in the bud before it comes to Michigan."
Share:
---