Men's basketball has no answer for WMU, loses 76-59
---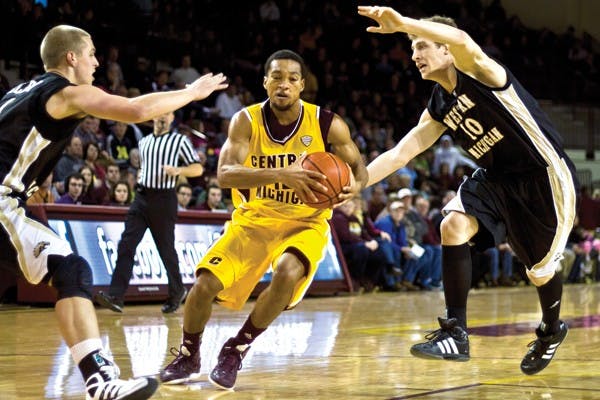 With 10:04 to go freshman forward Blake Hibbitts hit a three-pointer to cut the men's basketball team's deficit to 10 and bring the crowd to its feet.
But, just like all night, Western Michigan had an answer and quickly silenced the 3,419 fans who packed McGuirk Arena to see the Broncos beat the Chippewas 76-59.
"They had a response for every run we had," Hibbitts said. "The whole game, it seemed they were shooting well from everywhere."
It was the theme of the night. For every run CMU went on, WMU had an answer and then it continued to pour on points.
With 14:44 to go freshman Derrick Richardson Jr. hit a three-pointer to make it a six-point deficit for the Chippewas.
That was the closest CMU got in the second half, as the Broncos out-scored the Chippewas 30-19 the rest of the way.
"I felt the same way (that WMU had an answer)," said head coach Keno Davis. "This will be a learning experience. We don't have much room for error."
WMU kept the pressure on CMU shooting by 46 percent from the field and 38.1 percent from beyond the arc.
The Chippewas couldn't keep up, as they shot 29.8 percent from the field.
"It was everything that concerned me (about Western Michigan)," Davis said. "The strength, the experience, the guard play ... they play hard for 40 minutes."
The Broncos size also contributed to CMU's struggles.
Six-foot-10 junior center Shayne Whittington dominated as he scored 20 points while six-foot-seven senior forward Nate Hutcheson scored 12 as WMU controlled the paint, outscoring the Chippewas 28-10 down low.
The Broncos also cleaned up on the glass, out-rebounding CMU 42-27.
"It was a hard-fought, physical game," Hibbitts said. "Anytime you give up that many points in the paint, it's going to be tough."
Hibbitts led CMU in scoring with 14 points, while senior guard Kyle Randall put up 12 points as the two played in the rivalry game for the first time.
"It was a great crowd with a lot of energy," Hibbitts said. "I've heard a lot about the rivalry and knew it was going to be a hard-fought game, and we just came out on the short end."
Another highlight for the Chippewas was the play from freshman guard Chris Fowler who scored eight points, had six assists and recorded four steals.
But, it wasn't enough, and now CMU will look for a road win Wednesday against Buffalo as it'll try to snap a two-game losing streak and get the overall record back to .500.
"We didn't shoot well tonight, and we're capable of shooting better," Hibbitts said. "Our defense has got to be a little better and not give up so many open looks, but we'll be fine"
Share:
---