Art department restructuring class offerings due to low enrollment, down $1.6 million in revenues
---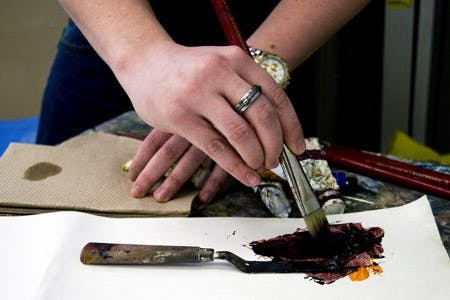 The College of Communications and Fine Arts' art department is feeling the pressure of campus-wide low enrollment, igniting a major restructuring and a rotation of its course offerings.
The college as a whole is down nearly $1.6 million in projected revenues from last year. In effect, some fixed-term faculty members teaching 2D and 3D studio art classes might be out of a job.
"They're being laid off and will be collecting unemployment soon," said David Stairs, a graphic design professor and head of the graphic design unit. "Some of them have been here since the mid-1990s; some are alumni. I'm sure they're disappointed."
According to CCFA Dean Salma Ghanem, the art department has experienced a significant drop in enrolled student credit hours, which has caused nearly a 32-percent drop in enrolled student credit hours.
In 2011, the department had students enrolled in 6,713 credit hours. That number fell to 5,576 in 2012, and dropped again to 4,767 in 2013. These numbers reflect the totals at the beginning of each fall semester.
Other units, such as the communication and dramatic arts department, have experienced a downward trend in enrolled student credit hours as well, but not nearly to the degree of the art department, Ghanem said.
The drops in enrollment manifested in low head counts in key courses, leaving officials with two options: Either cut classes or rotate the offerings around to ensure greater interest and more students.
"What was happening was that we had some classes being offered that were too small to be offered," Ghanem said. "It is not feasible to offer a class of five to six students."
For Ghanem, the solution is not in cutting course offerings, but rotating course offerings each semester.
"What we're looking at are degree plans in such a way where the course rotation can be offered to guarantee that students will graduate on time," she said. "We're trying to avoid the idea of class cancellations and be a lot more strategic in how we're offering courses. If you have five or six students in the fall offering, we might rotate that offering and only offer it in the spring."
While these rotations help to avoid removing courses for students, it does mean a reduction in teaching opportunities for fixed-term faculty.
"If we don't have enough classes for the faculty, I have to cancel a class," Ghanem said. "If there are not enough classes, our priority is courses for tenured and tenure-track faculty. Then we think about fixed-term faculty."
Tackling budget woes
Ghanem said no plans for restructure, such as strategy and implementation, have been finalized. In order to finalize these plans, a departmental vote must take place.
No such vote has occurred at this time, she said, yet art department chairperson Larry Burditt held a meeting with art department faculty last week to let them know just how serious the situation is.
Burditt refused to comment on both the restructuring and the meeting.
Aside from low enrollment, CCFA is also experiencing financial stress as its operating expenses have increased as enrollment and revenues have decreased. Operating expenses include staff and faculty salaries, insurance benefits, worker's compensation, supplies and equipment costs.
In 2012-13, the department tallied about $18.5 million in operating expenses, with a total revenue stream of $38 million. Projected expenditures for 2013-14 have been tallied at $18.7 million, with revenues down to $36.5 million.
Ghanem said her college is tackling both the enrollment and budget woes with a two-pronged strategy – one that includes active recruiting around the state and the greater Chicago area at various art fairs and classrooms, in addition to the rotation in courses.
Stairs applauded the recruitment efforts of his unit and others in the art department. He questions whether heavy recruitment is the answer at a time when instructors are getting laid off.
"There's always talk about reviewing the curriculum and updating it," he said. "It's complicated, but there's been a lot of effort into that. If the enrollment challenge comes around and you've cut programs, you've made yourself less flexible. It's a crap shoot and a guessing game. You take your best shot and hope you'll be right."
Stairs doesn't believe the department is specifically going after fixed-term faculty as a remedy. Ghanem made it a point to emphasize how hard it is to tell an instructor they might not have a teaching job that semester.
"Fixed-term faculty members understand that their employment is contingent on enrollment," she said. "However, every time we cannot have a fixed-term faculty member teach a class that has been teaching for a long time, it's not easy (to tell them). If the students aren't there and the class is not available, that's just how the system works."
In Stairs' opinion, fixed-term studio art instructors are victims to the circumstances. Moreover, he understands their plight, even as a tenured professor.
"Back in the '90s, when I was not tenured, enrollment was not an issue at that point," he said. "But for so many years, I did not have a teaching job, just trying to survive as an artist. It's not fun. I can imagine what these people are going through"
Share:
---