Hethorn first to visit campus for CCFA Dean interview
---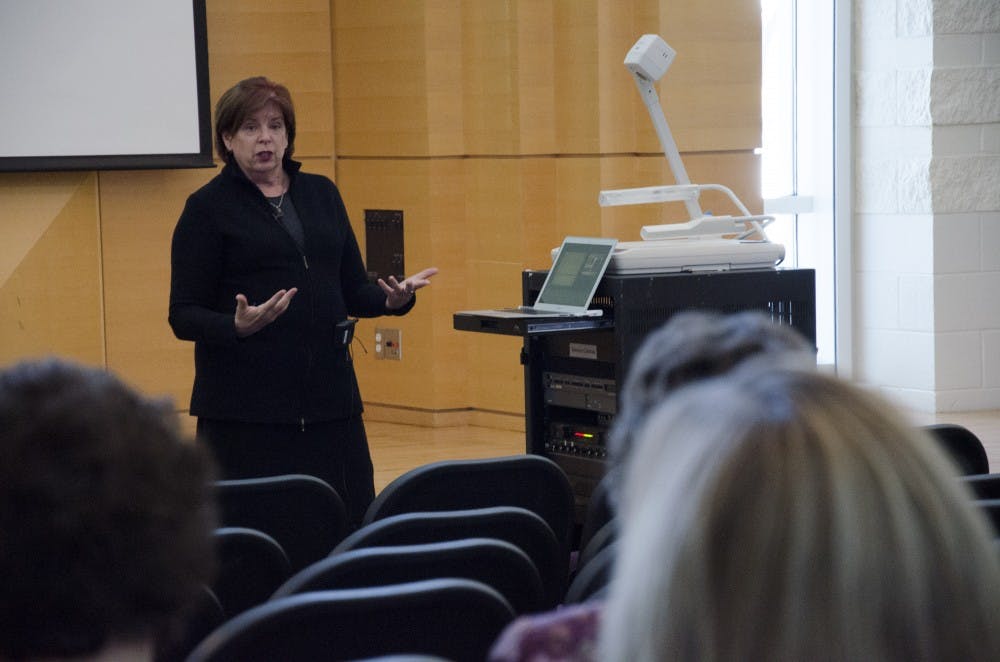 Though Janet Hethorn specializes in design, she thinks her skills can be applied in innovative ways.
Hethorn is one of three candidates going through the interview process for the College of Communication and Fine Arts dean. Shelly Hinck became the interim dean of CCFA in August 2014, after Salma Ghanem resigned. Hethorn said listening to multiple ways of thinking is a key aspect of her leadership style.
Hethorn became the director of the Delaware Design Institute at the University of Delaware in 2009, and has a PhD in design from the University of Minnesota. Hethorn had a forum in Chamichian Hall on Wednesday, Feb. 25.
"From what I know about Central Michigan University and the College of Communication and Fine Arts, it seems to me you're doing all kinds of really amazing things and you need an advocate and someone who will help you collaborate to create the impact that's possible," Hethorn said.
During her five years as chair of the art department at the University of Delaware, she faced challenges because of the department's high expenses, which she said are common for communication and fine arts departments.
Hethorn said she's been successful in raising funds, though she'd like to be more successful. Some of her successful strategies have been hosting events and promoting student projects.
"The way to get funding is to tell your story and make it relevant for the person who has the money to give it," Hethorn said.
She said she is familiar with funding that is dispersed at the college-level because the University of Delaware uses what they call responsibility-based budgeting.
"I think the good thing about this kind of budget model is you're able to develop programs, develop initiatives, support and sustain projects that directly impact your vision and strategic plan," she said.
When asked how she would address the decline of high school graduates in Michigan, Hethorn said it's important to consider how to expand the CMU's audience.
"The first thing I would do if I were to come onboard is to work with each of the departments and programs to find out where you view your strengths in attracting students (and) where (students) who don't come here (are) going-that's really telling," she said.
She said she wants to work collaboratively to find real issues. Hethorn mentioned team teaching and expanding online classes as priorities.
"It's not just a quick fix; it's a matter of staying on top of data and trends and knowing where all that's going, but also figuring out what you do have control over and how you can shape it in meaningful ways," Hethorn said.
When asked about assessment, she said it's not all about testing, but the data shows what kind of impact the college is having.
Share:
---